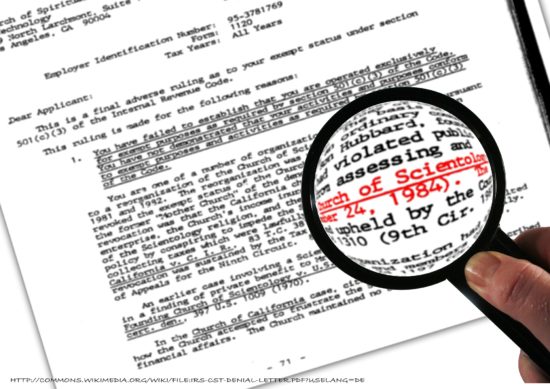 With the multitude of documentaries and television shows about Scientology in circulation right now, it is hard not to think about it occasionally. Leah Remini's show 
Scientology: The Aftermath 
has shown a light on how much the religion can drain from a single person but how much is it taking from its members' pockets? The wealth of Scientology may surprise you.
Was L. Ron Hubbard a Millionaire?
Prior to beginning the Church of Scientology, L. Ron Hubbard was a relatively successful author. He'd also come into a sizable amount of cash through an inheritance at an early age, making money a non-issue throughout much of his life. This led L. Ron Hubbard to be a millionaire long before the Church was ever started but it wasn't a huge source of wealth for the institution.
Wealthy Celebrity Scientologists
When you talk about the wealth of Scientology, you can't ignore the fact that a large number of people who are Scientologists are wealthy celebrities. Below are just a few stars who are Scientologists, along with their net worth.
Beck: Musician Beck was born into Scientology and has a net worth of $25 million.
Danny Masterson: In 2017, the Church of Scientology allegedly helped Masterson cover up the sexual abuse of four women. He is worth $16 million.
Isaac Hayes: Hayes voiced the character Chef on South Park for years. Scientology is what led him to leave the show, creators say. He has a net worth of $12 million.
Sonny Bono: Bono, who died in 1998, was a long-time member of the Church. When he left in 1991, other members tried to coax him into returning. At his time of death, Bono was worth $4 million.
Jerry Seinfeld: Jerry Seinfeld never actually joined the Church of Scientology but he does contribute some success in his 20s to Scientology courses he took. Seinfeld has an astounding net worth of $860 million.
There are also a number of wealthy but not necessarily famous families that donate to the Church of Scientology each year. In fact, some of these donors are what keeps the religion afloat, outside of its membership fees and propaganda.
The Wealth of Scientology
As you may have noticed above, the wealthiest of celebrities among Scientologists never actually joined the Church. Many members find themselves giving millions of dollars to Scientology with nothing to show for it.
"There is no other religion that I know of that requires two and a half hours of your day, a quarter of a million dollars minimum, and at least 40 years of your life," former Scientologist Leah Remini said. Remini spent millions during her time in the Church. And, in truth, this is where the true wealth of Scientology lies.
To become a member of the Church of Scientology, you must spend thousands of dollars on books by L. Ron Hubbard, which all benefits the Church. Remini, who has been speaking out against the Church, detailed the costs of being a member to Business Insider.
According to Remini, there are about 12 basic books you need. These books cost around $4,000 and you'll need to buy new material when it is published. The Church updates its literature regularly, making it necessary for members to continuously spend money on them. The Church also encourages members to buy and donate sets of these books ($4,000 in value) to local libraries as well.
Scientology Introductory Courses and Lectures
There are several introductory courses members pay for as well. Each costs about $35 but Scientologists are required to take them. Other required courses can cost as much as $650 each and require 13 hours of studying a day, seven days a week. If they don't, they are in danger of being removed from the Church. They also won't ever reach spiritual freedom if they don't pay for and take these courses, according to the Church.
Not to mention, you'll need to purchase Hubbard's lectures on audio, donate to the Church's causes, and pay a membership fee. All in all, becoming a Scientologist will cost you about $250,000. So, there's really no wonder as to why so many celebrities are involved. Not many others would be able to afford the hundreds of thousands, and possibly millions it may cost to join.
Because the church is tax-exempt, the bulk of that goes right into its pockets and members are able to deduct donations. Although church representatives have denied all negative claims against Scientology, there is little room to doubt the source of the religion's wealth.
If you're interested in Remini's show, Scientology: The Aftermath, check out the clip below. The show is scheduled to return for its third season in the fall.
Readers, what do you think about the wealth of Scientology? Let us know in the comment section below or sound off in the Saving Advice forums. 
Read More