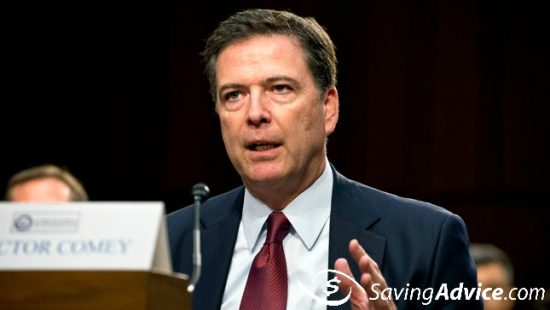 Upon watching the FBI press conferences yesterday I got to thinking about the government, its employees, and how much money they make. If you've been following some of our most recent net worth stories you know that the
Trump Administration
is one of the wealthiest administrations in United States history but what about other government officials like, say, James Comey.
As you may know, Comey is the 7th director of the Federal Bureau of Investigations (FBI), but what is the salary for that position? What is James Comey's net worth?

---
James Comey's Profile:
Net worth in 2017: $11 million
Profession: Director of FBI
Age: 56
Source Of Wealth: Political Career
Residence: Westport, Connecticut
Citizenship: U.S. Citizen
Marital Status: Married; Patrice Failor
Education: University of Chicago
---
James Comey's Career
James Brien Comey, Jr. was born on December 14, 1960 in Yonkers, New York. He grew up in New York with his family and went on to attend the College of William and Mary. At William and Mary, he studied chemistry and religion. Three years after receiving his Bachelor's degree Comey received his Juris Doctor (J.D.) from the University of Chicago School of Law.
Comey received his first job as a law clerk for a U.S. District Judge in Manhattan shortly after graduating from the University of Chicago. He later joined the U.S. Attorney's Office for the Southern District of New York (1987-1993). During his time there he served as Deputy Chief of the Criminal Division and helped prosecute the Gambino crime family.
He moved away from the city and served as the Managing Assistant U.S. Attorney in charge of the Richmond Division of the U.S. Attorney for the Eastern District of Virginia. Comey acted as the deputy special counsel to the Senate Whitewater Committee and lead prosecutor in the Khobar Towers bombing case. He also spent time as an Adjunct Professor of Law at the University of Richmond School of Law.
After spending some time in Richmond Comey moved back to New York to continue work as a U.S. Attorney. In 2005 he announced that he would be leaving the Department of Justice and moving to Lockheed Martin, the largest independent contractor for the U.S. Department of Defense. He served as the General Counsel and Senior Vice President of the company until 2010. In 2010 he announced that he would leave Lockheed to join Bridgewater Associates, an investment firm.
Former President Barack Obama appointed Comey as the Director of the FBI and, on September 4, 2013, Comey was sworn into the director's office for a 10-year term. Now Comey is the face of one of the most-talked-about news items in the world: the Trump Administration. Is Comey wealthy like most of the new Administration? Can he be persuaded with cash? What is James Comey's net worth?
James Comey's Net Worth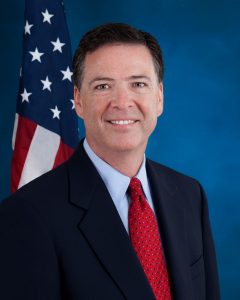 FBI director James Comey's net worth is about $11 million, a pretty large number for an appointed government official (though maybe not in today's current administration). How did Comey generate this kind of wealth?
Well, a majority of Comey's net worth comes from the jobs he held prior to becoming the director of the FBI. It was reported that James Comey raked in $6 million in one year while working at Lockheed Martin. He was also able to pull in a significant amount of income while working at Bridgewater Associates. When Comey announced he was leaving Bridgewater he was given more than $3 million in profit sharing from the time he served there (about six years).
When he was appointed as the director of the FBI Comey had to report all of his assets, which included a stock portfolio with an estimated worth of $5 million. It was also reported that in 2015, two years after his nomination, Comey was attempting to sell his $3 million Westport, Connecticut home (which has also contributed to his overall net worth).
Now Comey is earning about $200,000 per year as the director of the FBI (in addition to lifetime benefits and a number of other perks) and will continue to make that amount of money until 2023 when his term is over. Comey will also likely continue dabbling in the stock market, which may or may not increase his overall net worth. One thing is for certain though, Comey has an interesting few years ahead of him working with the Trump Administration.
What do you think about the recent FBI news conferences? Let us know your thoughts in the comments.
Related Articles
Mike Pence's Net Worth
Dave Ramsey's Net Worth
How Much is Apple Worth
Facts About Bill Gates
Like Saving Advice? Subscribe!
Subscribe to get the latest Saving Advice content via email.