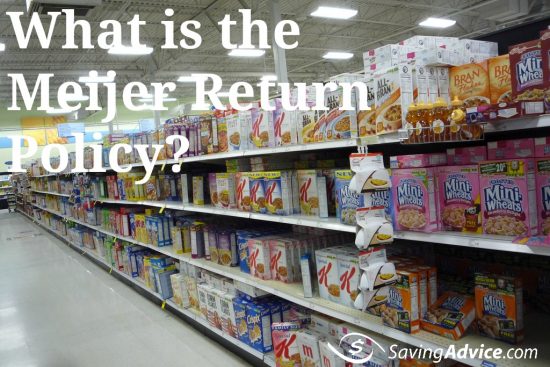 Shopping, whether it be for groceries or anything else, can be stressful. Before you leave the house you write a list (and usually forget it), you've got to get your grocery bags together, get in the car, drive to the store and once you get there you are supposed to just zip through the shopping process and leave.
Sometimes things get mixed up or the product you purchased is bad and you need to make a return so it is a good idea to know your specific store's return policy. So, what are Meijer? What is the Meijer return policy?

Can You Make Returns at Meijer?
There is good news. If you need to make a return at Meijer, you can. You will, however, want to make sure you know the Meijer return policy before taking your item(s) back for a swap or refund. Below you will find the ins and outs of the Meijer return policy.
The Meijer Return Policy
According to the company's website, Meijer strives to make the checkout and return process as easy as possible for customers. That being said, the return policy is pretty standard. Here's what you need to know:
General Meijer Return Policy
Returns must be made within 90 days of the purchase.
If you want to make a return without a receipt you may receive the lowest sale or promotional pricing as a refund.

You may be asked for identification if you want to make a return without a receipt.
*Meijer can look up your receipt within 90 days of the purchase as long as you used your Meijer's perks card or a credit card.*

Additionally, if you purchase the item during a Meijer sales event at a discounted price you will only receive the sale price of the item as a refund (not the regular price).
Every refund made by Meijer must be in the same payment type. So, if you used a credit card your card will be refunded.
Without a receipt you will not receive a cash refund but you will instead receive a Meijer Return Card (in the amount owed).
Meijer Return Policy on Groceries
Meijer stands by the quality of its food items and will provide refunds and exchanges on grocery items purchased in its stores.
Meijer will provide customers with a full refund for all consumable food items.

You can return grocery items with or without a receipt, like other items in the store.

You cannot receive a refund WIC-approved food items at Meijer if they were a part of a WIC transaction (you used WIC to pay for it).

You may, however, exchange the item for an identical item in the store.
Meijer Return Policy on Other Merchandise
After 90 days you will no longer be able to return your item(s) to Meijer.

The manufacturer's warranty will still apply (if applicable).

You do not have 90 days to return the following items:

Electronics without data storage (MP3 players, tablets, computers, call phones, memory cards, game systems), photos, books, magazines, gas-powered equipment all must be returned within 30 days to receive a refund.

The "electronics without data storage" must be returned to store stop unopened and unused.
Airbeds, electronic media (video games, DVDs, CDs) and tents must all be returned to Meijer unopened to receive a refund.

If the item is opened but defective you may make an even exchange but you will not receive a refund.
Additionally, Meijer will offer a refund for any product with the "Meijer" brand with or without a receipt (unless it is a WIC item). Meijer stands by its brand proudly and aims to keep its customers happy. Of course, Meijer also reserves the right to refuse any return or refund.
Items You Can't Return at Meijer
There are a few things you can't return at Meijer though. These items include:
Alcohol
Tobacco
Any nicotine-based product
E-cigarettes
Ammunition
Prepaid items (phone cards, gift cards, etc)
Open packages of collectibles (like cards)
Open blood glucose monitors
If you shop at a store regularly it is important to know what the return policy is. Now that you know the Meijer return policy you know that you can easily return most items at Meijer without issue.
Have you ever run into an odd return policy? Share your experience with us.
Photo: Rex Roof
Like Saving Advice? Subscribe!
Subscribe to get the latest Saving Advice content via email.