Passengers with a low Uber rating could have access to the ride-sharing app revoked, according to a statement made by company officials Wednesday morning. It will begin booting riders with a "significantly below average" rating from being able to use the app. Here's what you need to know about the latest changes.
What It Means to Have a Low Uber Rating
The company hasn't yet specified what it will consider being a low rating. However, an Uber spokesperson did say the low ratings will vary from city to city. Individuals will also receive a warning and have the option to improve their overall Uber rating before being kicked off the app.
If you're booted from Uber, you'll lose access to the other Uber-owned services as well, including Uber Eats and its scooter service, Jump. This decision comes just before Uber will release a safety transparency report this year.
"Respect is a two-way street, and so is accountability. Drivers have long been expected to meet a minimum rating threshold which can vary city to city," Kate Parker, Uber's head of safety brand and initiatives, stated. "While we expect only a small number of riders to ultimately be impacted by ratings-based deactivations, it's the right thing to do."
How Safe is Uber Really?
Riders aren't the only individuals in the wrong when it comes to ride-sharing though. When the company went public a few weeks ago, it warned the safety transparency report may have an impact on public opinion of Uber.
Investigations in the past found more than 100 Uber drivers in the United States had been accused of sexual assault and abuse. But the company hopes to provide transparency about these issues and how it has chosen to resolve them.
Uber plans to launch a campaign to better educate individuals about the ride-sharing app's community guidelines. This campaign will include emails and alerts through the app itself. Any rider in danger of being booted from the app will be given tips on how to improve their ratings.
"From in-app messages and email to signs in Greenlight Hubs, we'll get the word out to customers and partners," Parker said. "By educating customers and partners about the Community Guidelines, asking them to confirm they understand, and holding everyone accountable, we can help Uber be welcoming and safe for all."
How to Find Your Uber Rating
According to an article published by Business Insider in 2015, riders with a 4.6 out of 5 stars or below could be booted from the app. Although that hasn't been verified in the latest statements from the company, it is important to know how and where to locate your Uber rating.
To find your rating, open your Uber app. Click on the upper left-hand corner where the menu is located. When the menu opens, you'll be able to see your Uber rating underneath your name. As you can see below, mine is five stars.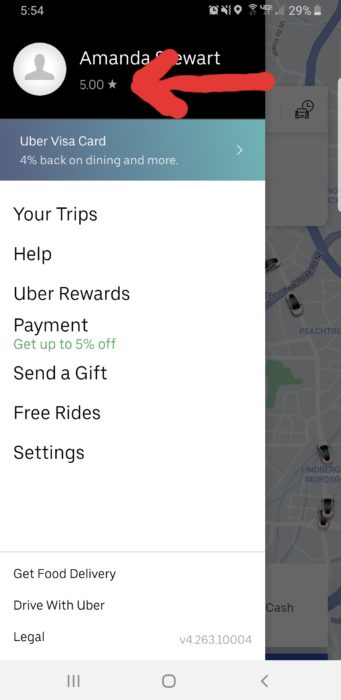 If you have less than five stars, you can typically go in and see which drivers rated you less than five and why. Anyone who is concerned about losing access to their Uber app should be on the lookout for further communication from the company in the near future, letting you know what steps you need to take to improve your score.
Read More