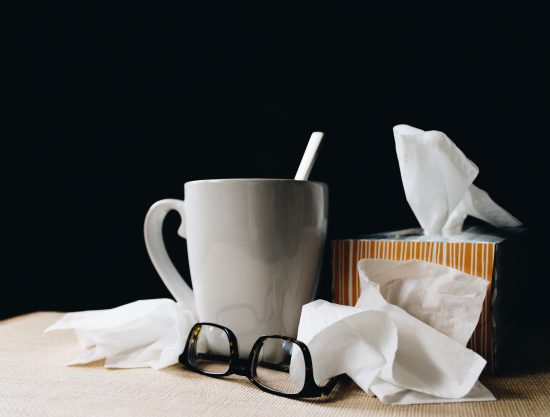 Last year's flu season was one of the worst seen in the United States in 40 years – resulting in as many as 80,000 deaths. With that in mind, many doctors are urging patients to get their flu shot now before the sickness begins spreading.
The 2017-2018 Flu Season Was Deadly
According to new data from the Centers for Disease Control and Prevention, there were 80,000 flu-related deaths during the 2017-2018 flu season, 180 of which were pediatric deaths. Additionally, there were about 900,000 people hospitalized for the flu, resulting in the highest rate of hospitalization in modern history. Although these numbers are just preliminary, it was undoubtedly one of the deadliest flu seasons the U.S. has ever seen.
"Last year was just a horrible season. It was just a tremendous amount of disease. – Daniel Jernigan, head of the CDC's influenza division"
Last Year's Flu Shot
Part of the reason the 2017-2018 flu season was so terrible was the strain going around. The influenza A strain H3N2 spread quickly and vaccines were only 25% effective against it. The vaccine still saved lives though. It was 40% effective in preventing the flu from all three major strains last season. In age groups known to be at a higher risk, its effectiveness was even better.
Throughout the 2012-2013 flu season, 56,000 people died. The vaccine, which was relatively ineffective against H3N2, could have prevented more than 10,000 of those deaths.
Although Americans were urged to get a flu shot last year, the average number of people who got the vaccine remained largely unchanged. Eighty percent of the children who died last year were not vaccinated.
Doctors are reporting some cases of influenza already popping up in school-age children this year. Although the flu season doesn't normally get into full swing until after November, now is the time to get vaccinated.
How Effective is the 2018 Flu Shot?
If you're asking yourself how effective this year's shot will be, you're not alone. Plenty of people are wondering if it will be worth the time.
However, there's no way to tell how effective the vaccine will be until the flu season is in full swing. This year's flu shot does look promising though. The Food and Drug Administration, World Health Organization, and the CDC review data each year to determine which strains to include in that year's flu shot. Officials chose what strains to include in March to have vaccines ready for fall.
One of the reasons last year's flu season was so deadly is that the virus continued to mutate. "We guessed right about the common strains that dominated last year's flu season," FDA Commissioner Scott Gottlieb stated. "It's now believed that part of the reason that the vaccine was not as protective is that the flu strain used to manufacture the vaccine mutated very subtly during the development process."
Currently, flu patterns in the Southern hemisphere depict the 2018 flu shot should be effective.
"One of the challenges in fighting flu is that the viruses can change their genetic make-up rapidly — not only between flu seasons, but also during the course of a single season," Gottlieb said. "As a result, the seasonal influenza vaccine needs to be evaluated annually to see whether its composition needs to be adjusted."
CDC officials are planning to release more information later this year about how much illness the vaccine prevented during the 2017-2018 flu season. However, the agency's message is fairly clear. Make sure to get your flu shot this year.
FDA and CDC officials recommend the flu shot for children 6 months and older. They also recommend it for pregnant women, senior citizens, and very young children.
Read More
Like Saving Advice? Subscribe!
Subscribe to get the latest Saving Advice content via email.