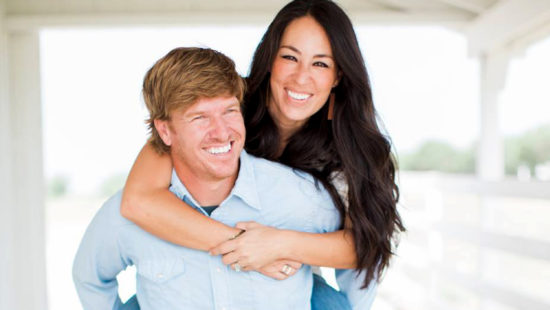 With the launch of several new "Flip or Flop" programs also comes a bit of bad news. It was announced today that Chip and Joanna Gaines will no longer be hosting "Fixer Upper" after season five. The couple announced that they'd be leaving the show on their personal blog and said that the decision was a hard one to make. After all, it has substantially contributed to Chip and Joanna Gaines' net worth.
---
Chip and Joanna's Profile:
Net worth in 2017: $5 million
Profession: Entrepreneurs
Source Of Wealth: Small businesses, home renovations
Residence: Waco, Texas
Citizenship: U.S. Citizens
Marital Status: Married
---
About Chip and Joanna Gaines
Like many of HGTV's latest stars, Chip and Joanna Gaines started out fairly low-key. Their thrifty ways are what made them shine to producers at the network. Joanna has always been able to provide the style and design side of things, while Chip provides the contracting.
What you may not know about the HGTV couple is that the Gaines' didn't start out in real estate. In fact, the couple owns a number of businesses in Waco, Texas. Each business holds a place in the couples' hearts.
Among their many ventures areMagnolia Homes, their renovation business; Magnolia Silos, boutiques located in Waco and online; and even Magnolia Realty. Magnolia Homes, the couples' renovation business, is what gained them recognition by HGTV. Their idea behind Magnolia Homes is that they would make Waco beautiful "one home at a time."
That's where "Fixer Upper" came in. While Chip and Joanna felt they were doing important work in their hometown, HGTV saw a show in the making. And it has been wildly successful, as many of their home improvement and house-flipping programs are.
Controversy and Leaving 'Fixer Upper'
During their time in the spotlight, the Gaineses have been favored by many, even though they had a small blemish on their social record. In late 2016 the couple was called out in a Buzzfeed article for attending church with a pastor who is anti-LGBT and accused the Gaineses of being anti-LGBT as well. While they didn't have any direct response, Chip Gaines wrote a blog post in early 2017 that is thought to address the issue. He called on everyone to "change the conversation" and treat one another with "dignity and love."
As you know, the couple announced this morning this season will be the fifth and last season of the show. It is not yet clear if the aforementioned controversy is to blame or not. Here's what they had to say:
The Gaines spent years on the show and there is no doubt that it had a serious impact on Chip and Joanna Gaines' net worth. They made approximately $30K an episode. So, how will moving away from HGTV affect their wealth?
Chip and Joanna Gaines' Net Worth
As mentioned above, Chip and Joanna have been extremely successful in their small businesses before making the jump into the spotlight. (And they'll likely continue to be successful long after). Together, Chip and Joanna Gaines' net worth sits around $5 million. Their success hasn't been completely linked to becoming HGTV stars though. In fact, the Gaines' success seems directly linked to diversifying their income.
Of course, the $30K per episode for five seasons of "Fixer Upper" definitely helped their net worth along. However, much of their financial success can be attributed to their "Magnolia" branded company. They have three brick-and-mortar boutiques, Magnolia Homes, and Magnolia Realty. In addition to these ventures, the couple also produces a quarterly magazine called "Magnolia Journal," which has around 700,000 paid subscribers ($20 annual subscription fee, plus advertising).
Let's not forget that the Gaines family also has a vacation rental in Waco that is booked fairly regularly. The property, which has a $695 per night minimum cost, is booked through the rest of the year. So, it is safe to say they are making cash here too. They also have their own line of paint that costs around $46 per gallon and Joanna will be starring in her own "Fixer Upper" spinoff that will air alongside the fifth and final season.
It is safe to say that the Gaines family is financially stable but HGTV has provided a fair amount of income for the couple in recent years. Now that "Fixer Upper" is over, what will happen to Chip and Joanna Gaines' net worth? Will it continue to increase? What do you think? Leave your thoughts below. 
Photo: Today
James Hendrickson is an internet entrepreneur, blogging junky, hunter and personal finance geek. When he's not lurking in coffee shops in Portland, Oregon, you'll find him in the Pacific Northwest's great outdoors. James has a masters degree in Sociology from the University of Maryland at College Park and a Bachelors degree on Sociology from Earlham College. He loves individual stocks, bonds and precious metals.