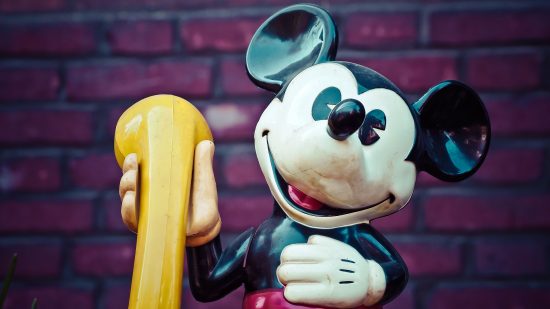 Disney announced its plans to launch a streaming service where it will stream all of its films and television. This will include Disney, Pixar, Star Wars, and Marvel. If you're a fan of any of those, hold on to your seat, because the Disney streaming service will only cost you $6.99 per month. But what all is the company promising and how does it stack up to Netflix?

About the New Disney Streaming Service
Disney Chairman and CEO Bob Iger announced in the summer of 2017 that the company was looking into a streaming service under its own brand. Previously, Disney had worked with Netflix and Hulu to stream some of its movies here and there. The only problem was, Netflix (or whatever streaming service it was) only had the films for a short period of time.
The decision to break off and start Disney+ (the name of the streaming service) cost licensing relationships with Netflix and added pressure to compete. Of course, Disney sees the $159 billion leader in streaming, Netflix, as its main competition.
Despite the huge reach Netflix has (more than 140 million paid subscribers), it is still no match for Disney's global presence or brand. Not to mention, Disney has a closer connection to its consumer base.
"While I think Netflix has done a good job of creating brand value, and name value and a product that I think is considered of great value to a lot of people, they're still building their brand in many respects," Iger said.
Get a $10 Costco Shop Card
How Does It Compare to Netflix?
While both companies are offering streaming services, there really is no comparison between the two. Disney knows it has an advantage over competitors because it is offering exclusive content. All of your favorite Disney, Marvel, Star Wars, and Pixar movies and shows will be in the same place (and you won't be able to get it anywhere else).
Price wise, Disney is also offering an extremely competitive monthly and annual rate. If you pay for a full year, you get a bit of a break ($69). However, if you choose the month-to-month option, it is still only $6 per month. You can't really beat that, especially when you're getting Disney movies that are locked in the vault and can't be bought. And when you look at Netflix's recent price hikes, it is a really great value.
When Will Disney+ Be Available?
You'll be able to start streaming with Disney+ starting November 12. As mentioned above, you'll get the streaming service for $6.99 per month or $69.99 per year. Unlike other streaming services, Disney+ is also offering its customers unlimited downloads. This will give people the ability to view Disney+ content offline.
All in all, if you are a huge fan of anything Disney owns, the new Disney streaming service may be a must-have! Best of all, it won't break the bank.
Readers, will you subscribe to the Disney streaming service?
Give the gift of savings! Learn more
Read More
Amanda is a full-time website manager and blogger. She is currently hacking her debt by saving money and investing, all while trying to kickstart a family and enjoy her adult life. In her free time she enjoys spending time with friends, entertaining (throwing parties), reading, doing puzzles and kayaking.