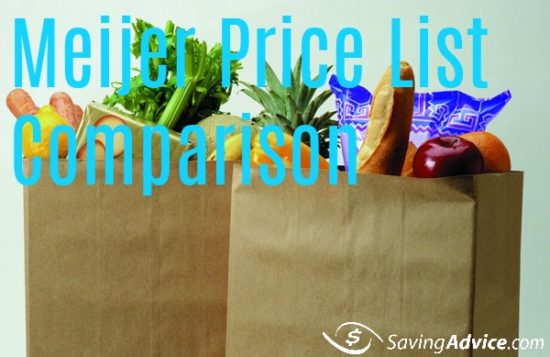 There are a number of things you need to do before heading to the grocery store. You usually need to take inventory of your kitchen (see what you need), write a list and then you'll want to check what stores have the best prices. Every store will vary on their prices on different items so, to get the best deals, you should compare prices store-to-store.
If you're a regular Meijer shopper, you're probably familiar with their prices. New customers, however, may want to see a basic price list and compare.

Meijer Price List
Meijer is a grocery store chain located in the Ohio-Michigan area of the United States. Many regular Meijer shoppers cite amazing prizes and awesome customer perks as the reason they continue to return to the grocer. How do Meijer's prices compare to other grocers?
Meijer Produce Prices
Granny Smith Apples – $3.99 for a three-pound bag
Avocados – $3.99 for a bag of four
Bananas – $2.76/bunch
Oranges – $4.99 per five-pound bag
Broccoli – $1.49 per bunch
Carrots – $0.89 per 16 oz. of whole carrots
Corn – three for $1
Tomatoes – $1.99 for 16 oz. Campari tomatoes
Unlike many other grocers, Meijer also offers a produce box for its customers. The boxes cost $20 and $25 and come with a wide variety of fruits and veggies.
Meijer Dairy Price List
Butter – $3.19 for 16 oz. Meijer-brand butter
Cheese – $3.19 for 8 oz. of Meijer-brand sliced cheese
Eggs – $0.89 for one dozen Meijer-brand eggs
Margarine – Imperial Margarine $0.89 each
Milk – $1.99 per gallon (Meijer Milk)
Yogurt – Yoplait Yogurt 10 for $5
Like many things, the Meijer dairy prices are subject to change. If you're wondering about a specific item, visit the company's website for more price information.
Meat Prices at Meijer
Bacon – 12 oz. Meijer Bacon $3.49
Breakfast Sausage – Meijer Sausage Links and Patties 2 for $5
Ground Beef – Meijer Ground Beef $3.79 per pound
Chicken Breast – Meijer Frozen Chicken Breast 4 lb. bag $9.99
Whole Chicken – Meijer Young Chicken $5.45 each
Hot Dogs – Ball Park Hot Dogs $2.89 each
Lunch Meat – 16 oz. Meijer Thin-Sliced Turkey $3.99
Pork – Thin-Sliced Pork Chops $5.39/lb.
Please note that Meijer's meat prices are subject to change based on the current market. These are the standard prices for these items but sales and other factors may change them from time-to-time.
Meijer Bakery/Deli Prices
Deli Meats – Armour Deli Ham $4.99/lb.
Deli Cheese – Meijer American Cheese $5.99/lb.
Bread – Meijer Split Top Wheat $1.06
Buns – Meijer Hamburger and Hot Dog Buns $1 each
Cake – 14 oz. Angel Food Cake $3.29
Donuts – Meijer Assorted Dozen $5.99 each
Party Trays – Pre-Made Meijer Meat and Cheese Tray $8.99 each (16 oz.)
It is important to note that in addition to meats and cheeses Meijer's deli also offers rotisserie and fried chicken at a competitive price as well as sides and other commonly-found deli items. The bakery also has a plethora of other goodies for sale. For more information on specific deli and bakery prices, visit their website.
Comparing the Meijer Price List
When you take a look at the prices above you may notice a difference from the store you currently shop at. For some items, Meijer's price may be lower and for others it may be higher. Meijer is showing competitive pricing in many areas though, especially in meat and dairy ($2 for a gallon of 2% milk and rather cheap ground beef). The best thing to do if you're thinking of switching to Meijer is to compare this Meijer Price List and the prices on the website to what you're spending now. If it'll save you money, head to Meijer!
If you are interested in shopping at Meijer you may want to read more about How to Save Money at Meijer. 
Photo: Blogspot
People who liked this article also enjoyed: 
Like Saving Advice? Subscribe!
Subscribe to get the latest Saving Advice content via email.