Meijer
grocery stores
are a great place to save money on your weekly grocery bill as well as save casino health, household, apparel and beauty items. The company offers various rewards programs and accepts competitor, in-store and manufacturer coupons. But how do you successfully shop and save money at Meijer?
Meijer Shopping Guide
Going to a new grocery store (even if it will save you money) can be a little overwhelming. Things are stored in different places, sales are different and even the coupons that are accepted can differ. Luckily for you though we've created a Meijer Shopping Guide.
Meijer Store Layout
No Meijer location is laid out the same so it is hard to give you an exact guide to Meijer grocery stores. However, you can plan ahead and visit the store before you go shopping.
By visiting the store ahead of time you can make your grocery list and organize your coupons in the order the store is laid out. This will save you both time and money.
Sales at Meijer
To view the most recent Meijer sales you will either have to visit their website or a paper copy from your local newspaper or Meijer location. Most Meijer locations have weekly sales, Friday & Saturday sales and regular PriceDrops.
Most weekly sales at Meijer run from Sunday through Saturday. However, Friday & Saturday sales do not occur every week so you'll want to keep an eye out for weekend sales. PriceDrop sales will be both listed in the weekly ad and in the store. You cannot get a rain check on PriceDrop items though.
Rain Checks at Meijer
If you can't rain check PriceDrop items, what can you get a rain check on at Meijer?
Rain checks are available on sale items only and expire within 30 days after being issued. You can get the sale price on the rain checked item but if you are looking to cash in on additional promotions involved in the sale you may not be able to get them. You are allowed to use a coupon with a rain checked item though.
Meijer Coupons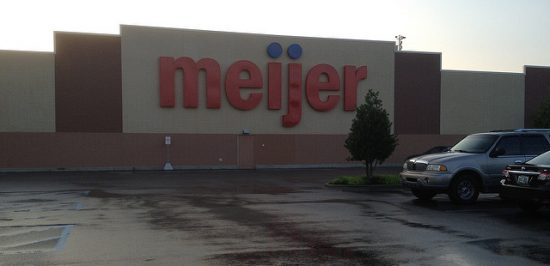 Meijer accepts almost all coupons. Below are the
types of coupons
that Meijer takes and any stipulations that may be associated with the deal.
Competitor Store Coupons at Meijer
Some of Meijer's locations will take competitor store coupons for grocery and pharmacy items. If you are wondering whether or not they will take the coupons you have you can contact them online.
Double Coupons at Meijer
There are some grocery stores that allow you to double your coupons up to a certain dollar amount. Meijer stores double the first two manufacturer's coupons up to $1.00. You can also stack manufacturer's coupons with in-store coupons.
Meijer Rewards Programs
You can get in-store programs through one of the Meijer Rewards Programs.
Meijer's mPerks Coupons
Meijer has a great digital coupon program called mPerks. The program uses your phone number as your account number. When you're at the check out you can enter your phone number on the keypad followed by your pin and any coupons you have will be taken away automatically. You can sign up for free. Use the mPerk coupons on baby items, food, produce, meat, dairy, clothing, furniture and a number of other items.
Meijer MealBox Coupons
Meijer MealBox Coupons are printable store coupons that you can stack with manufacturer's coupons, just like mPerks coupons. You don't need to sign up for MealBox coupons but you want to check them out before you head to Meijer.
Simply go to the website and click the "Specials" tab (located on the right side of the page). When you see an item you plan on purchasing click "add to shopping list." Once you've added your coupons to your list, print your coupons to bring to the store.
Ongoing Meijer Rewards
You can get personalized rewards from Meijer as well. Personalized rewards are determined by the amount of money you spend at the grocery store. The amount you spend is counted before any coupons you use so if you get a reward like "Earn $5 off your next purchase when you spend $50 in Produce" you can have a total below $50 after your coupons and still reap your rewards. You can track these rewards through your mPerks account.
Another ongoing rewards program at Meijer is Baby Rewards. You can earn $10 off your next trip to Meijer id you spend $100 on baby products. The $100 doesn't have to all be spent at once either! Your purchases can be carried over. Like the personalized rewards, the amount you spent is counted before coupons and can be tracked through mPerks.
Meijer also has Pharmacy Rewards. When you get five prescriptions filled at Meijer you get one credit. A Meijer credit can be used to get coupons for Meijer gas stations or in the store.
Now that you've learned about Meijer's great deals, where are Meijer grocery stores located?
Meijer Locations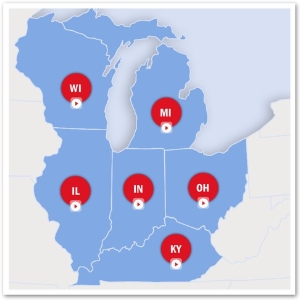 Meijer grocery stores aren't available in every states. Meijer is located in Ohio, Illinois, Indiana, Michigan and Kentucky. If you're lucky enough to live in a state with a Meijer you can locate the store nearest you using the
Meijer store locator
.
Have you shopped at Meijer? Share your Meijer shopping tips and experience with us!
Photos: MLive, Meijer and Mike Kalasnik
Like Saving Advice? Subscribe!
Subscribe to get the latest Saving Advice content via email.