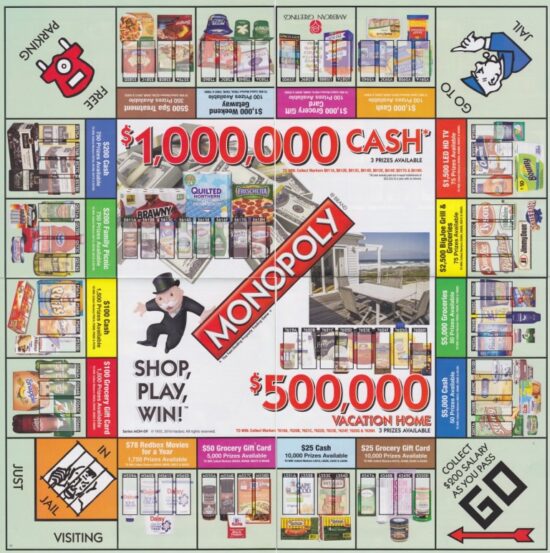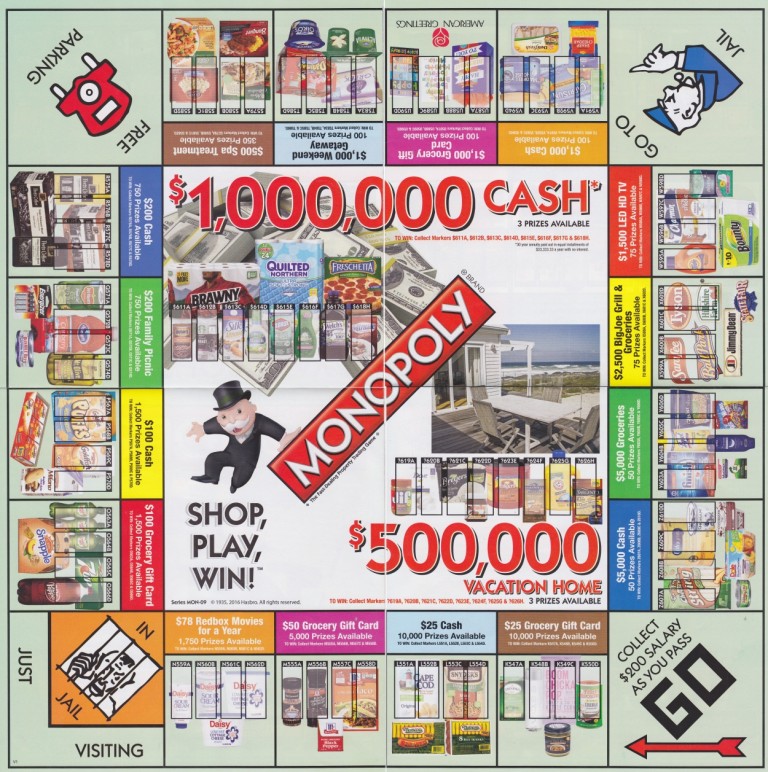 "
Albertsons Monopoly
" has been one of the most Googled items in the past few days. Usually when you Google these two words together you would get information about the grocer's monopoly on their prospective business. However, Albertsons released its Monopoly contest for 2016 on February 3 and it is already getting the attention of millions of people.
The contest in which people win millions of dollars has been a highly-anticipated event each year since it started eight years ago. Since Albertsons is continually growing, the contest is continually growing as well. This year, the prizes are twice as big as last year and the probability of winning is much higher than previous years.
The best part is you don't even have to send any information through the mail to claim your winnings. In fact, all you have to do is go shopping at an Albertsons-owned store for your groceries (groceries that you'll buy anyway). Then, you collect the game pieces and you can play online.
Related Articles:
How to Play Albertsons Monopoly Online
Where to Find Rare Game Pieces for Albertsons' Monopoly
How to Win Albertsons Monopoly 2017
Tricks To Win Albertsons' Monopoly 2017
How to Safely Trade Monopoly Pieces From Albertsons
The Odds of Winning the Albertsons Monopoly Game
To play online, you simply fill out a submission form. You enter information like your name, email address, address, phone number, etc. Practically 2,300 stores across the United States will be offering game pieces to its customers. This year is the first year Safeway shoppers will be eligible to play. Safeway, Randalls, Tom Thumb, Vons, Pavilions, ACME, Jewel-Osco, United Supermarkets, Shaw's, Star Market and a number of smaller, local stores are all offering the Monopoly game pieces and a chance to win $1 million to its customers.
When you get a Monopoly game piece, you enter the online code into your "play monopoly" account and begin collecting your game pieces. You have to get matching game pieces to win or two of the "rare" game pieces. Prizes include three $1 million prizes and the total pool of smaller prizes are worth more than $165 million (twice as much as last year). Of course, eight years ago (when it first started), Albertsons had far fewer stores and far fewer Monopoly game pieces being distributed.
No one pays to play Albertsons Monopoly which is an added bonus. From now until May 3, you will have the option of collecting the pieces when you go shopping at Albertsons®, Safeway®, Pavilions®, Carrs®, Vons®, Randalls®, Eagle®, Pak 'n Save®, Tom Thumb®, ACME Markets®, Jewel-Osco®, Shaw's Supermarkets®, Star Markets®, United Supermarkets®, Market Street®, Amigos®, United Express®, Albertsons Market®, Lucky® (Southern California only) and Super Saver® stores ("Market Stores").
You can also enter through the United States Postal Service by sending a self-addressed envelope to the Albertsons Monopoly at MONOPOLY MON-09 Collect and Win Game Ticket Request, Attn: Promotions Coordinator, P.O. Box 965068, Marietta, GA 30066. These should be handwritten addresses on the envelope and they can also be post marked no earlier than February 3 and no later than April 26, 2016. Of course, they must also be received before the contest is over (May 3).
However, most people will be playing online and entering to win some really great prizes, including the $1 million grand prize.
Like Saving Advice? Subscribe!
Subscribe to get the latest Saving Advice content via email.