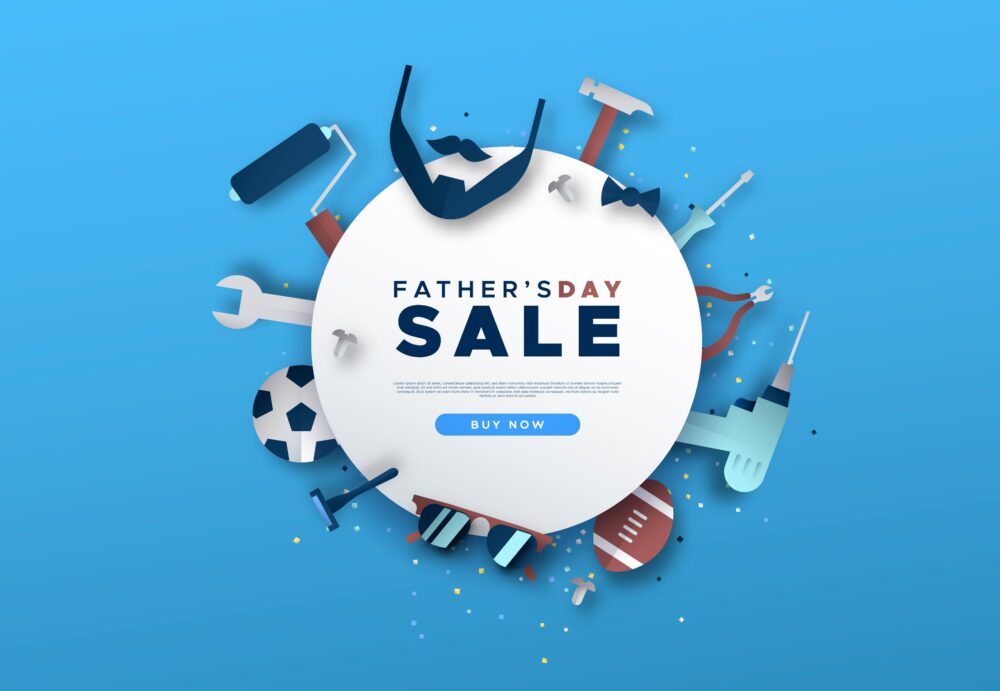 In 2022, Father's Day falls on June 19. It's a time when people often purchase gifts for the dads in their lives. Plus, many people look to take advantage of various deals and freebies that might happen because of the holiday. Overall, there are some bargains to be had, particularly for savvy shoppers and diners. Here's a look at what kinds of discounts you usually find this time of year, as well as a list of Father's day deals and freebies to show you some examples of what's available.
What Kinds of Deals and Freebies Are Available on Father's Day?
Usually, you'll find specific kinds of deals on Father's Day. Most often, discounts are focused on gifts and activities that a father might enjoy. As a result, you'll find lower prices on outdoor items, grilling equipment, attire, sporting goods, electronics, and many other products.
For the freebies, you'll find most food-oriented options specifically for dads. However, some may also be associated with gifts, such as bonus gift cards with a purchase.
Father's Day Deals
Baskin Robbins
$5 off an ice cream cake pre-order purchase of $35+ by June 15 with code GRILLMASTER
Bass Pro Shop
10 % off gift cards for Father's Day through June 18, plus discounts on popular gifts, including fishing, camping, boating, and hunting items
Best Buy
Save on gifts for dad, including $80 off a Samsung soundbar, $150 off a MacBook Pro, and other select deals
Cabela's
10 % off gift cards for Father's Day through June 18, plus discounts on popular gifts, including fishing, camping, boating, and hunting items
Einstein Bros. Bagels
20 % off e-gift cards through June 24
Home Depot
Save up to 30 % off on gifts for fathers, including grills, tools, and more
Lowe's
Save up to 50 % off on gifts for dads, including tools, outdoor gear, grills, and more
Father's Day Freebies
BJ's Restaurant & Brewhouse
Free commemorative Father's Day glass and a 20 % off VIP card for a future purchase
California Pizza Kitchen
Buy one pizza, pasta, or salad on June 18 or June 19, and get a free one on your next visit
Fazoli's
Get a free order or five boneless wings with a $10+ purchase by using code FATHER when ordering through the app between June 15 and June 19
Michael's
Make a "You Rock Dad!" canvas at Michael's for free on Father's Day
Pluckers Wing Bar
Dads get a free meal (worth up to $18) when dining in on Father's Day if they or another member of the party are club or club lite members.
Spruce Crafts
Free printable Father's Day cards available at Spruce Crafts
Shutterfly
Free photo card with code CARD4U
Do you know of any other fantastic deals and freebies for Father's Day 2022? Are you planning on taking advantage of any of the options above? Share your thoughts in the comments below.
Read More:
Come back to what you love! Dollardig.com is the most reliable cash back site on the web. Just sign up, click, shop and get full cash back!
Tamila McDonald has worked as a Financial Advisor for the military for past 13 years. She has taught Personal Financial classes on every subject from credit, to life insurance, as well as all other aspects of financial management. Mrs. McDonald is an AFCPE Accredited Financial Counselor and has helped her clients to meet their short-term and long-term financial goals.