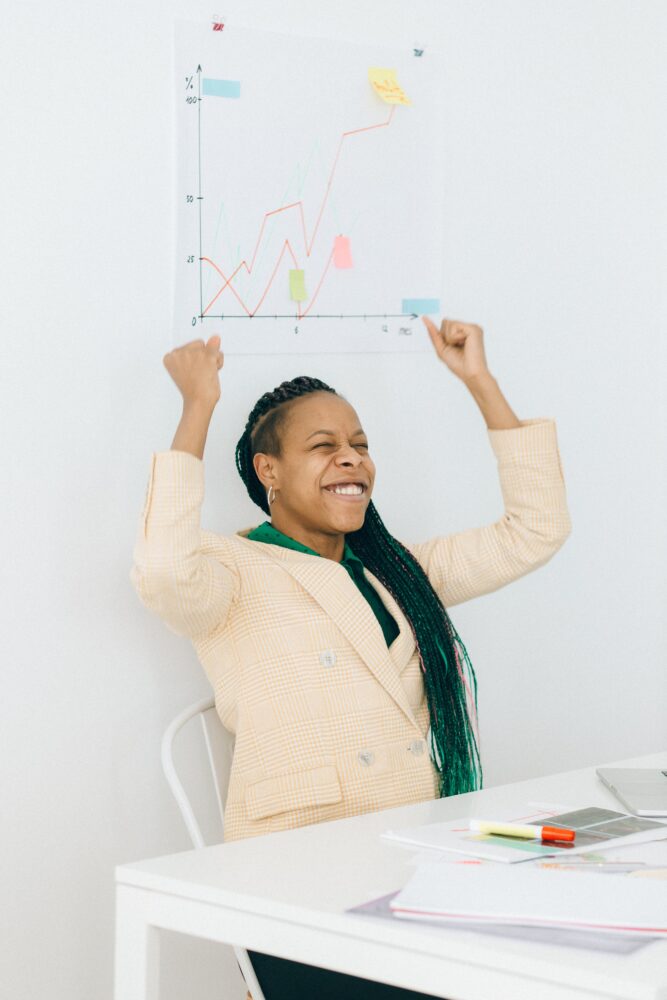 If I'm being honest, money management isn't the most exciting task in the world. Even as a personal finance writer who usually enjoys tinkering with budget spreadsheets, sometimes I don't want to analyze my spending or do my taxes. After a long stressful workday, I'd probably prefer to turn off my brain and binge-watch Netflix than crunch numbers.
But I realize keeping tabs on my money is important if I want to get ahead financially, so I've devised ways to make money management more fun. Here are some of my favorite ways to end budgeting boredom.
Schedule Regular Money Dates
One of my favorite ways to motivate myself to check up on my finances is scheduling money dates with my partner twice a month. Just like our other date nights, we try to make these money dates special. We pour ourselves a nice beverage like a mocktail or chai latte, turn on some music, and set some mood lighting.
If it's within our budget, we may even have our money date at a coffee shop or a quiet restaurant to reward ourselves. Reviewing our finances in a relaxing environment helps curb some of the stress or boredom we may feel when it comes time to manage our money.
Putting our money dates on my calendar also holds me accountable and makes it harder to neglect the financial tasks on my to-do list. Just like my other commitments, I try not to cancel these dates unless I'm sick or dealing with an emergency.
Make Spending Less a Challenge
Challenging myself to spend less money and turning saving into a game also helps me manage my finances better. Every month I try to get great deals on essentials like groceries and see how low I can keep my spending. Using this approach, I've recently reduced our household grocery budget from $600 per month to just $400.
Gamify Saving and Money Management Using Apps
Bright Money can pay off your cards faster and save you money on interest charges. Start with their low-interest balance transfer to pay off your high-interest cards, then use Bright to make smart payments on all your cards automatically, giving you more free time to have fun. You can also gamify your finances by doing no-spend or money-saving challenges, such as the $20 savings challenge. It involves setting aside $20 per week for a year to show you how fast saving small amounts of money can add up.
There are even apps that can help you turn saving and managing your finances into a fun game. Long Game, for example, allows you to earn coins whenever you save money, which can be used to play casino-like games. If you win a game, you'll either get more coins or real cash as a prize. The potential to win real prizes can motivate you to save more money.
Fortune City, another popular personal finance app, helps you track your spending by allowing you to build and expand your virtual city every time you record your expenses in the app. If you enjoyed Sim City or Farm Town as a kid, you'll definitely like Fortune City. The app even organizes your expenses into tidy graphs so you can easily see where your money is going, and securely stores your financial information.
Set Small Rewards
Rewarding yourself for certain behaviors can help reinforce them, which is why game-based personal finance apps work so well. They help us save more because we want to rack up coins or get to the next level and feel the natural high that comes with achievement.
Game-based apps don't always work for me, however, because I'm not super into technology. I try to stay off my phone and computer as much as possible because I know it's better for my health to reduce my screen time. So instead of relying solely on game-based apps to celebrate my savings achievements, I also set small real-world rewards for myself when I reach my goals.
This could be anything from watching a few episodes of a favorite TV show, taking the day off work, buying something inexpensive on my Amazon wishlist, or going and getting a smoothie.
I prefer smaller, more frequent rewards than large, infrequent ones. But you may have an easier time sticking to your savings target if you know a vacation or other big reward awaits you when you achieve your goal. Just make sure you don't spend all or most of the money you saved up on rewarding yourself!
Wrapping Up
Sometimes we all dread money management tasks, but making them more fun can help us achieve our financial goals. How do you gamify your finances so you stick to your budget and meet your savings targets? Let me know in the comments section below!
Read More
How to Buy in Bulk Without a Warehouse Store Membership
6 Financial Drawbacks to Living in Tucson Arizona
10 Great Retirement Gifts For Your Parent's Retirement
Come back to what you love! Dollardig.com is the most reliable cash-back site on the web. Just sign up, click, shop, and get full cashback!
Vicky Monroe is a freelance personal finance and lifestyle writer. When she's not busy writing about her favorite money saving hacks or tinkering with her budget spreadsheets, she likes to travel, garden, and cook healthy vegetarian meals.