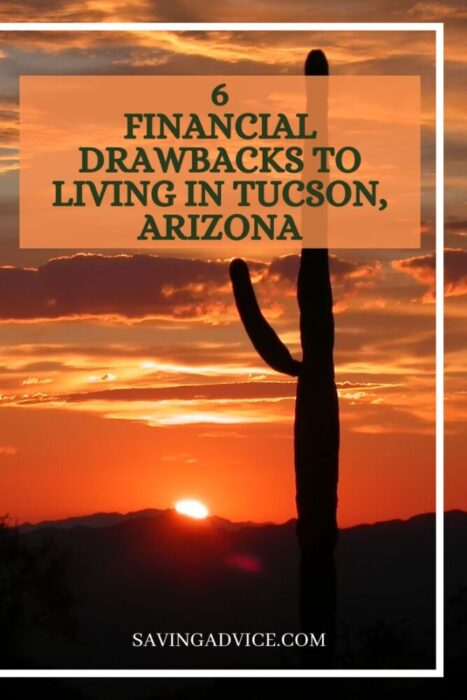 Nearly eight years ago, my family and I moved from the suburbs of Chicago to the suburbs of Tucson, Arizona. We moved here for a job, and the environment couldn't be more different from Chicago. We love some things about the area, but we notice 6 financial drawbacks to living in Tucson, Arizona. If you're thinking of moving to this area as many around the country are, knowing these drawbacks is important.
Rapidly Rising Housing Prices
When we moved here eight years ago, we were excited because the housing prices were much more affordable than in the Chicago suburbs. That's still true, but housing prices are rising rapidly, especially since the start of the pandemic.
According to the Phoenix Business Journal, "Arizona added roughly 269 people every day in 2021." All of those people need housing, creating a smoking-hot housing market. Since we bought our house, it has doubled in value. However, most of that growth has been in the 25 months since the pandemic hit the United States.
Housing in Tucson is cheaper than much of the country, but it is not as affordable as five years ago.
Air Conditioning Bills
If you move to Tucson, be prepared to run your air conditioning more often than not—eight months of the year. Tucson is HOT! Thanks to global warming, "in 2020, temperatures in Tucson reached over 100 degrees for a total of 108 days" (The Daily Wildcat). Tucson has 149 days per year when the temperature is over 90.
We try to conserve our air conditioning use. We set the air conditioning at 79 degrees during the day and 78 degrees at night. At this temperature, you can still work up a sweat indoors if you're doing light work, which can be uncomfortable. However, even with conservation, our air conditioning bills usually run between $250 and $300 or higher during the months of May through September. If money were no option, I'd likely set my air conditioning to 77 or 76.
High Gas Usage
Tucson is the epitome of urban sprawl, "spread out over 200 square miles" (Movoto). My family lives in the Northwest suburbs of Tucson. That means for most doctor and dental appointments, we drive at least 30 minutes. Nothing here is close. In the eight years we've lived here, I've added 130,000 miles to my vehicle. Keep in mind, two of those eight years were when we hardly left home because of the pandemic.
If you live in Tucson, expect to drive—a lot. As a result, you'll need to fill up your gas tank frequently, which can get expensive. In 2019, when gas was only $2.62 a gallon, my husband and I were easily spending $300 to $450 a month on gas because we each had to drive so far every day.
High Water Bills
Tucson is in a desert, so the city tries to use water responsibly. Most houses here have gravel for yards rather than grass. Landscaping is comprised of plants that don't require much water. Still, if you're like us, in the heat of the summer, you'll need to take a shower twice a day—once in the morning and once at night. If you have any vegetation in your yard, you will likely need to water it because Tucson averages only 12 inches of rain a year. Most of that moisture comes during December and in the monsoon season in July and August. Don't forget all of the dust you'll need to wash off your car regularly.
My family is conservative with water usage, but even so, our water bill averages $100 to $110 a month.
Besides household water needs, don't be surprised if you don't want to drink your tap water. Tucson's water is hard, and even though I drank tap water all my life, I don't care for the taste of Tucson's. We've had to install a water filtration system to fight the hard water. Even with this system, our bathroom faucets and toilets still develop heavy limescale, despite regular cleaning.
In addition to our full-house filtration system, we've also had to buy a separate water purifier to make the water taste okay to drink.
Crime
While I feel safe living in the suburbs, crime is rampant in downtown Tucson. When we first visited Tucson before we moved here, my husband met with one of his future coworkers who lives in downtown Tucson. She loved living in the city and being close to everything. However, she told us if we lived downtown, we should expect someone to steal our car. According to her, everyone who lives downtown has their car stolen at one point. Statistics bear this out. As Ackerman Security reports, "Residents of Tucson have a 1 in 20.2 chance of becoming a victim of property crime."
Sun Damage to Your Car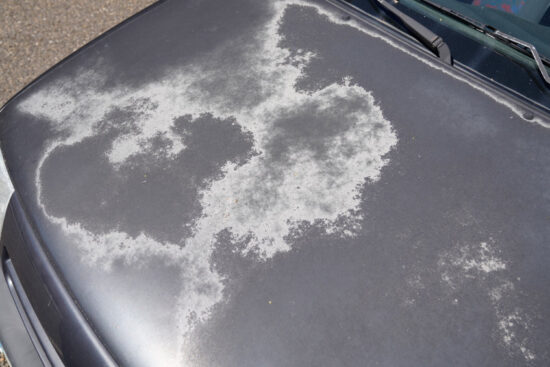 One of the minor, but annoying, financial drawbacks to living in Tucson Arizona is the sun damage to cars' paint jobs. Arizona has suffocating heat, but the sun is just as intense. Throw in wind and blowing dust, and your car suffers if it is parked outside regularly. We park our van outdoors, and the paint has cracked and peeled. Seeing cars in this condition in Arizona is typical. You can't escape the sun and intense heat here.
You can avoid paint damage by parking your car in the garage and in the shade when outside, but good luck. Many people don't park in the garage because Arizona houses have very little storage and no basements, so they need to store household items in the garage. Also, go to any parking lot here, and you'll be lucky to find two spaces in the shade.
If you need to repaint your car, expect to pay $1,000 or more.
Final Thoughts
Living in Tucson has many good aspects, most notably that you can escape the cold and snow that much of the rest of the country suffers with. However, before you move here, be aware of the 6 financial drawbacks to living in Tucson, Arizona. These will impact your everyday life and your wallet.
Come back to what you love! Dollardig.com is the most reliable cash-back site on the web. Just sign up, click, shop, and get full cashback!
Read More
Free Things to Do in Phoenix, Arizona
Melissa is a writer and virtual assistant. She earned her Master's from Southern Illinois University, and her Bachelor's in English from the University of Michigan. When she's not working, you can find her homeschooling her kids, reading a good book, or cooking. She resides in Arizona where she dislikes the summer heat but loves the natural beauty of the area.