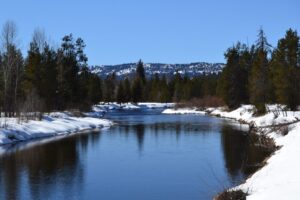 When people try to choose a state for retirement, Idaho doesn't often come to mind. However, the Gem State has a lot to offer, especially to retirees who enjoy the outdoors and natural settings. If you are wondering whether this state should be your destination, here's what you need to know to retire well in Idaho.
Cost of Living
When choosing a place to retire, it's smart to examine the state's cost of living score. These metrics give an overview of how expensive a region is in comparison to the national average. As a result, cost of living scores can be markers of affordability.
The national average cost of living score always comes in at 100. When a state is above that point, it's a sign that the state is more expensive. A score below 100 means it's more affordable than average, which may make it a stronger choice for retirees on limited budgets.
Idaho's overall cost of living score is 94.3. Additionally, the state scores below the 100 mark in four major categories. Groceries (93.3), housing (90.3), utilities (83.4), and healthcare (95.4) costs are all lower in the Gem State as well.
The one area where Idaho has a higher than overage score is transportation. However, it's only slightly above the 100 mark, coming in at 101.3.

Tax Considerations
Before you choose a place to retire, it's always wise to research local tax rates and requirements. Paying taxes can take a big bite out of your income, dramatically impacting your monthly budget.
Idaho does have state income taxes. The Gem State uses a bracket system. Depending on your income level, you could end up paying anywhere between 1.125 percent and 6.925 percent.
Now, Social Security income is exempt from taxation on the state level. Additionally, once you reach age 65, public pension income qualifies for a deduction. However, other forms of retirement income – like 401(k) and IRA withdrawals – are taxable.
Idaho also has a sales tax. The state rate is 6 percent, though some cities, particularly resort towns, also have local sales taxes that increase that rate.
As for property taxes, Idaho's rates are generally considered low. Additionally, some retirees may qualify for tax breaks, such as the 100% Service-Connected Disabled Veterans Benefit, Homeowner's Exemption, or Property Tax Reduction or Deferral. These options aren't limited to seniors, though they could still benefit retirees.
Part-Time Job Opportunities
In many cases, part-time job opportunities are reasonably available in Idaho, particularly in larger cities. The Gem State wasn't as harshly impacted by the coronavirus. While Idaho had an unemployment rate of 11.8 percent in April 2020, that was far below the national average of 14.7 percent for that period.
As the economy continues to recover, unemployment rates fell. As of August 2020, Idaho was already down to 4.2 percent, which is half of the national average for that period, which came in at 8.4 percent.
Now, the situation caused by COVID-19 remains precarious, as a resurgence could lead to an increase in unemployment. However, since the current unemployment rate in Idaho is fairly low, retirees can likely find part-time jobs at the moment.
Best Cities for Retirees in Idaho
When it comes to choosing a city, Idaho has some great options for retirees. If you prefer lakeside living, Sandpoint could be a great fit. It's a smaller town with lots of recreational opportunities, particularly for those who enjoy the outdoors.
Idaho Falls is another great option. It's near the Grand Tetons and Yellowstone National Parks, is home to a minor league baseball team, and has a thriving arts community.
Garden City, near the Boise River, is a favorite destination for seniors as well. It's close to Boise but offers quieter living, allowing you to enjoy the city when you want but return home to a peaceful town.
How Much Money You Need to Retire Well in Idaho
With Idaho's cost of living resting just below average, you can retire there comfortably as long as you have a moderate income. Now, the city you choose does play a role, as higher cost areas mean you may need a bit more savings.
But if you have about $59,777 a year in income, it's possible that you can retire well in the Gem State. Along with being able to cover your needs, you should be able to afford some wants. That way, your retirement can be filled with more of what you want without you having to break the bank.
Do you have any other tips that can help someone retire well in Idaho? Share your thoughts in the comments below.
Read More:
If you enjoy reading our blog posts and would like to try your hand at blogging, we have good news for you; you can do exactly that on Saving Advice. Just click here to get started. If you want to be able to customize your blog on your own domain and need hosting service, we recommend trying BlueHost. They offer powerful hosting services for $3.95/month!