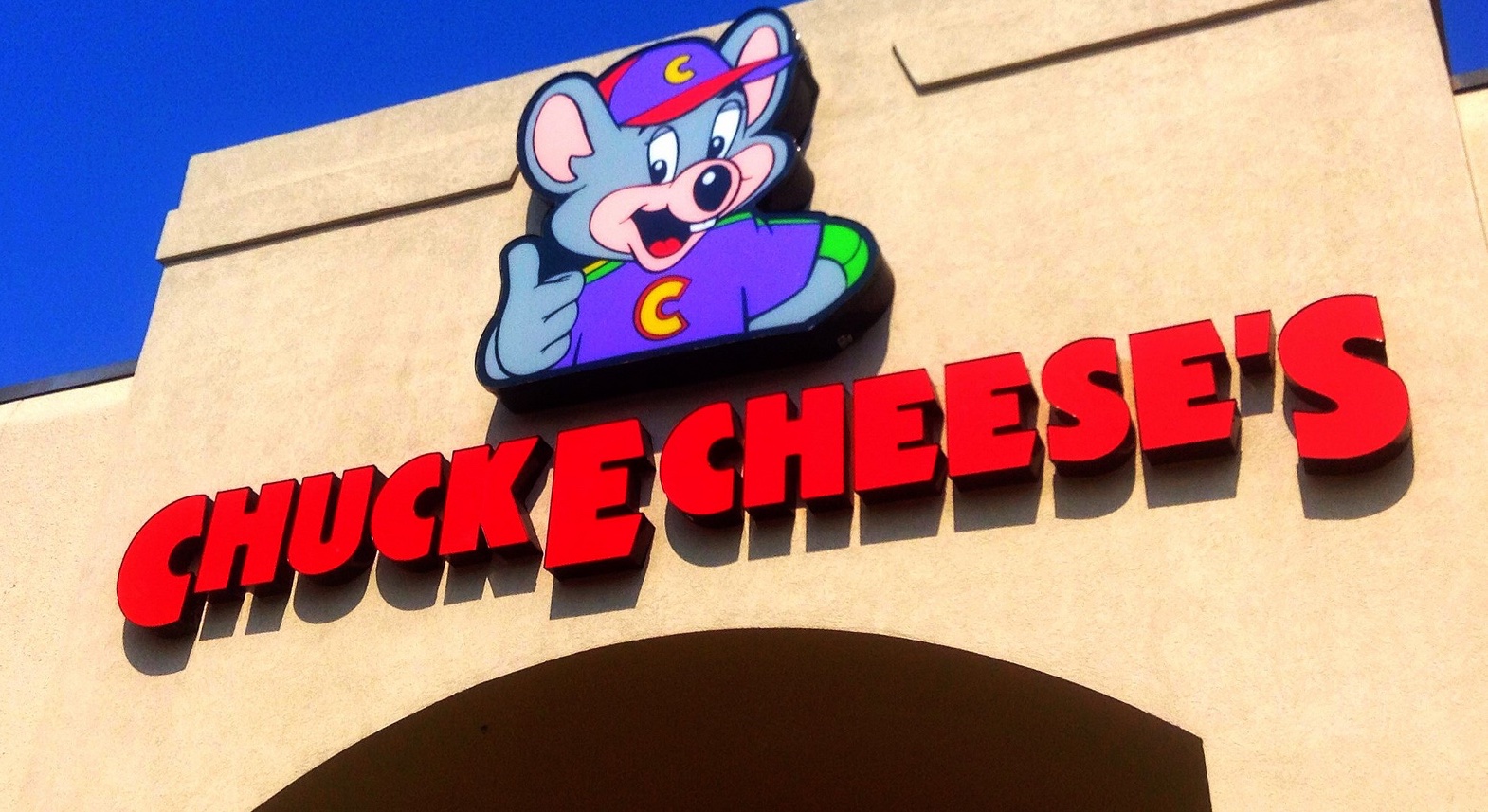 For over 40 years, families have been going to Chuck E. Cheese to play games, eat pizza, and have a great time. Chuck E. Cheese offers old-fashioned arcade games, new-fangled console games, playground equipment, and even some amusement park-style rides, like tractor, plane, and train rides. Wondering if it's open today? Here are Chuck E Cheese hours and holiday schedule.
What's At Chuck E. Cheese Anyway?
Kids of all ages can enjoy playing games to collect tickets and win prizes, or get some exercise crawling through the playground's sky tubes and whooshing down its slides. Every hour on the half-hour, Chuck E. himself gets on stage to lead the kids in a group dance and sing-along. Afterward, he'll mingle with the crowd, meet the kids for selfies and high-fives, and give out some prize tickets. And, of course, when you've worked up an appetite, you can sit down to a meal of pizza, wings, sandwiches, or salad.
You can make lasting memories during a big, family holiday get-together, or make the most of the kids' day off from school. With new payment options such as All You Can Play passes that let kids play unlimited games for a set period of time, family outings to Chuck E. Cheese are more affordable than ever. But before you get everyone in the car, you need to know whether Chuck E. Cheese is even open on holidays. The last thing you need is to get the kids all excited, and drive all the way to Chuck E. Cheese, possibly in the snow, just to find out that they're closed because it's a holiday.
Fortunately for most families seeking a safe and wholesome good time, most Chuck E. Cheese locations are open on most holidays. That being said, you may not be able to expect this pizza restaurant and arcade to be open on every holiday. Make sure your location is open before you travel to it, so you and your kids aren't disappointed.
Chuck E Cheese Hours
Opening hours for Chuck E. Cheese restaurants vary by location. Most Chuck E. Cheese restaurants open at 11:00 a.m. and close at 9:00 p.m., although many locations may close later on Fridays and Saturdays. Typical opening hours for Chuck E. Cheese restaurants are as follows:
Monday: 11:00 AM-9:00 PM
Tuesday: 11:00 AM-9:00 PM
Wednesday: 11:00 AM-9:00 PM
Thursday: 11:00 AM-9:00 PM
Friday: 11:00 AM-10:00 PM
Saturday: 10:00 AM-10:00 PM
Sunday: 11:00 AM-9:00 PM
Check your nearest location to verify its opening hours before making the trip.
Chuck E. Cheese Holiday Schedule 2018
If you're stuck at home on a holiday and the kids are driving you up the wall, you'll be relieved to know that most Chuck E. Cheese locations are open on most holidays. Wondering whether your nearest Chuck E. Cheese location will be open on a specific holiday? Consult the following list of holidays to see whether Chuck E. Cheese is likely to be open or closed:
New Year's Day – open
Valentine's Day – open
Martin Luther King, Jr. (MLK) Day – open
Good Friday – open
Easter Monday – open
Presidents Day – open
Mother's Day –  open
Father's Day –  open
Memorial Day –  open
Independence Day –  open
Columbus Day – open
Labor Day – open
Cyber Monday – open
Black Friday –  open
Halloween – open
Thanksgiving –  closed
Veterans Day –  open
Easter Sunday –  closed
Christmas Eve –  open
New Year's Eve –  open
Christmas Day –  closed
Chuck E. likes to spend the holidays with his family like everyone else, but he also enjoys spending time with your family on occasions like Christmas Eve, Halloween, and Independence Day. That's why Chuck E. Cheese is open for at least limited hours on most holidays.
Chuck E. Cheese Holiday Hours
Many locations will have limited hours on holidays on which they are open. It's a good idea to call ahead before visiting Chuck E. Cheese on a holiday, just to make sure their hours for the day will accommodate your plans to play games and eat pizza as a family. Make sure you'll have plenty of time to spend in the arcade and on the playground, as well as enjoying a delicious family meal.
Photo Credit: Mike Mozart
Read More
Sam's Club Hours and Holidays
Target Holiday Schedule and Hours
Federal Holiday Schedule
Like Saving Advice? Subscribe!
Subscribe to get the latest Saving Advice content via email.