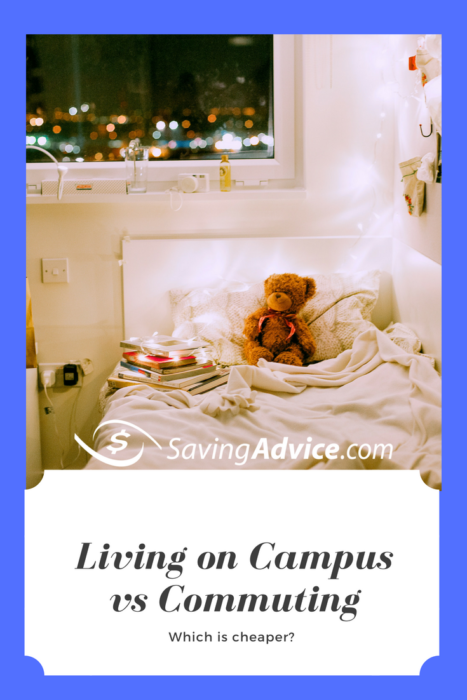 The price of college tuition is startling and, frankly, stressful for many parents and teens headed to school. That is before they even begin to consider the cost of housing in college, which exceeds $10,000 at many public universities in the United States. What is the difference between living on campus vs commuting when it comes to cost?
How Much Does It Cost to Live on Campus?
The main expense when it comes to living on campus is room and board. This usually includes your lodging and a meal plan for the year. For public colleges and universities, the average room and board fees are $10,440. Private schools charge around $11,890 for room and board, on average.
There is potential for saving money here though. You can pay less for fewer meals each week. Most of the time, college kids don't even wind up using their meal plans anyway.
Other Miscellaneous Costs of Living on Campus
Room and board costs don't cover 365 days of the year. Dorms oftentimes close during holidays and school breaks. Some schools won't allow you to stay in the dorm and, if you do, it will cost additional money.
If you are aiming to go home over holidays and breaks you'll also need to budget money for the trip home, whether you're flying, driving, or taking another type of transportation.
Living on campus requires you to spend money on things like sheets, pillows, toiletries, desk and school supplies, hampers, and other items you'd otherwise have in your home. You may also need a mini-fridge, TV, or bed. These things can add up quickly.
Students moving from one extreme climate to another may also incur significant costs when it comes to preparing their wardrobe. Moving to a colder climate will require purchases like winter coats, snow boots, gloves, hats, sweaters, warm socks, etc.
Although there are free events on campus, there may be some social expenses as well. You may need to pay dues to join a fraternity or sorority. It is also possible you may want to go off campus for social events that may come at an additional cost as well.
Most schools also require you to pay a fee for parking on campus. Depending on the school, this can cost hundreds of dollars per year.
The school may also require you to pay a health fee for providing on-campus health care.
You will have an additional line underneath your room and board costs for technology as well. This covers the WiFi, computers, and other available technology on campus you can use.
With each of those costs in mind, students and parents often consider taking out additional loans to cover these costs. However, you should carefully consider the total cost of the loan after interest before taking one out for sorority dues and other miscellaneous costs.
Living on Campus vs Commuting: What They Don't Tell You
While living on campus may seem expensive, unless you are continuing to live with your parents, commuting is just as much a burden when it comes to your finances. Commuters who rent their own apartment have to stress about paying rent each month. They'll also likely need to hold a job, spend money on gas traveling to-and-from school, and buy their own groceries. However, if you are planning to stay somewhere off campus free-of-charge and bring your lunch each day, you could stand to save some serious cash.
One spectacular example of this is Katie Thompson. Thompson bunked with family members and lived off campus her entire college career. She paid off her small student loan (only $5,500) within two years of graduating. While she acknowledges that living off campus may have had an impact on her overall experience, Thompson said she can't argue with the financial stability it has provided her in adulthood.
All in all, deciding between living on campus vs commuting will depend on your own personal needs as well as your financial standing.
Readers, did you live on campus in college? How much did you pay?
Read More
Amanda is a full-time website manager and blogger. She is currently hacking her debt by saving money and investing, all while trying to kickstart a family and enjoy her adult life. In her free time she enjoys spending time with friends, entertaining (throwing parties), reading, doing puzzles and kayaking.