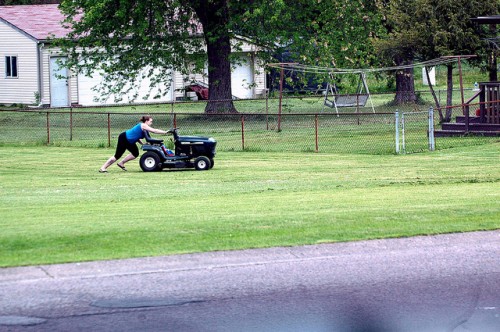 It's far easier to fall into the "keeping up with the Joneses" trap than most people believe. You look at your friends and all of the cool stuff that they have. You like what you see, so you begin to buy all that cool stuff as well. Before you realize it, you're surrounded by the latest and greatest model of everything and working 3 jobs to pay for it all. The easiest way to stop the madness is to recognize the signs and break the cycle before it gets too far. Let's look at a few of the possible signs that you might be trying to keep up with the Joneses, and the steps that you can take to avoid falling into this trap.
You drive a Cadillac, but can't make the rent payment
One of the most common status symbols is a car. Don't go overboard just to look good in your wheels. New car payments can easily break the budget. Better to drive a Saturn than to have to live in your new BMW. Find an affordable car that meets your needs rather than one that keeps your bank account empty.
You have to have the newest smart phone as soon as it hits the stores
New cell phones, tablet PCs and other personal electronic devices are as much about fashion as function in today's society. Consumers will stand in line for hours when a new model is released, even if there are very few new features. If you're one of those people, train yourself to wait a few weeks or even months to buy the new version. Chances are it's going to have bugs that need to be fixed, anyway.
You're a VIP at the rent-to-own stores
With the high price tag on new electronics, home furnishing and such, it's almost impossible to purchase them without financing. If you've over-extended your credit, the rent-to-own alternative is a seemingly easy solution. These rental centers fill an important niche, and even though interest rates are extremely high, it's even possible to improve your credit score through your purchases if you're careful. However, if you have accounts with more than one store at a time and you're receiving phone calls to let you know about new merchandise, you're probably in way over your head.
Your total credit card bill is as high as your mortgage payment
Most middle-class households have at least one major credit card. Credit cards have many advantages such as making buying easy, and in emergencies they can be invaluable. The down side is that credit card debt has a nasty way of piling up. Don't get caught in the loop of paying only the monthly minimum on your credit card bill. If you can't afford to pay off the balance at the end of the month, don't make any more purchases on the card until you do.
You have TVs you don't watch
That's a bit of a generalization. It's nice to have stuff, but stuff you don't use is a waste, whether it's televisions, furniture, electric corkscrews – anything, especially hi-tech, expensive gadgets. If you have things just to have them, it's likely that you're on your way to being in the trap.
You purchase what you see the stars wearing or using
If the items on the top of your to-buy list include the fashions you see on reality shows or kitchen gadgets you saw on your favorite daytime drama, you might want to consider why you're buying them. If the answer is simply that you saw it on Days of Our Lives and had to have it, consider not buying them at all.
The savings account is empty, but the closet is overflowing
If you're spending enough on clothes and nice things that you're not building any savings, it's time to take another look at the budget. Set yourself a minimum payment to your savings account every payday and stick to it. Have a rummage sale and bank the proceeds. Don't let your spending whittle away the emergency or vacation fund.
You eat out every payday even if you have to let a bill slide
We all enjoy a night out and dinner and/or with the boys or the girls on payday is a great way to unwind when you collect your pay. If you're juggling bills in order to have that night out, you're starting a cycle that's hard to break. Skip the night on the town and cover the rent, or you may find yourself eating at the soup kitchen.
You put more emphasis on name brand than fit or quality
Ladies, if you're carrying a Gucci bag, but can't fit everything you need in it, maybe you should have considered the one you saw at Target. You know, the one that was just right, but now you can't remember the name? Guys, Calvin Klein isn't going to care if you buy store-brand slacks; in fact he isn't going to know.
You don't know your debt to income ratio or credit score, but you know where to find the best price on Prada
This is a question of priorities. If you worry more about the state of fashion than your own financial state, it's time for an intervention.
Don't let your social status become more important than your wellbeing. Living beyond your means is a downward spiral to a very, very bad place.
(Photo courtesy of kennethkonica)