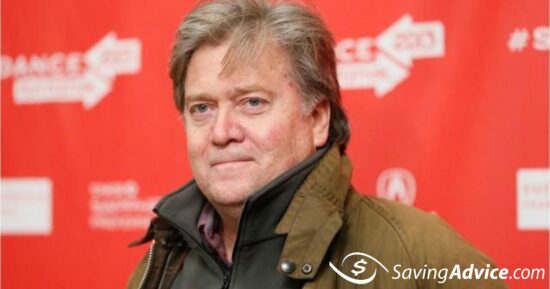 The 2016 election and the administration choices that have followed have been nothing short of amazing. During the transition period
President Donald Trump
began naming people to his cabinet, one of the being Steve Bannon. Bannon, a right-wing banker, has taken the position of assistant to the President and White House chief strategist but what does that mean for his wallet? What is Steve Bannon's net worth?
---
Steve Bannon's Profile:
Net worth in 2017: $10 million
Profession: White House Chief Strategist
Age: 63
Source Of Wealth: Producing, Breitbart News Network, Investment Banking and Political Career
Residence: Norfolk, Va.
Citizenship: U.S. Citizen
Marital Status: Divorced
Education: Georgetown University
---
Steve Bannon's Career
Stephen Bannon was born on November 27, 1953 in Norfolk, Virginia. To many people's surprise, Bannon was raised in a pro-Kennedy household with Democrat parents. However, it is no surprise that he eventually landed himself in the White House. Bannon has practically spent his life serving his country and working for some of the largest companies in the U.S.
After he graduated college, Bannon served seven years in the United States Navy. He was a warfare officer and served on the USS Paul F. Foster. When he was not at sea Bannon served as assistant to the Chief of Naval Operations.
Bannon's next career stop was in investment banking. He worked at Goldman Sachs for some time and when he left he'd graduated to being the vice president of the company. During his time at Goldman Sachs, Bannon and a few of his colleagues launched Bannon & Co. The new company, named after Bannon, was an investment bank that specialized in media. One of the largest deals the company handled was the sale of Castle Rock Entertainment to Ted Turner. Through this deal, Bannon landed himself financial stake in five television shows, including long-time hit "Seinfeld."
Related Articles
Mike Pence's Net Worth
Dave Ramsey's Net Worth
How Much is Apple Worth
Facts About Bill Gates
Since the launch of Bannon & Co. the new White House Chief Strategist has been sitting in the background of a large number of successful companies. In March 2012, Bannon became the executive chair of Breitbart News Net worth after Andrew Breitbart's death. Since he took over, Breitbart has taken a more conservative, alt-right standpoint. He's also had his hand in environmental planning, Hollywood production, various media companies and was the co-founder of the Government Accountability Institute.
In January 2017 Bannon took his place in the White House alongside Donald Trump. He will work with Trump during his four years of presidency but how will it affect his wealth? What is Steve Bannon's net worth and how will his new job add (or take away) to it?
Steve Bannon's Net Worth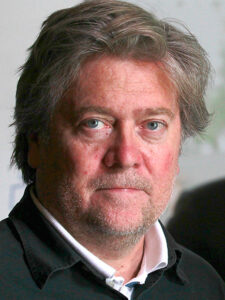 There's no doubt Bannon has been a wildly successful businessman. Steve Bannon's net worth is an estimated $10 million. There are a few things you should know about Bannon's finances though.
The bulk of Steve Bannon's wealth has stemmed from his company, Bannon & Co., as well as his stake in Breitbart News Network (an extremely popular news outlet). He has also earned a significant amount of cash through working with different media companies. His work will largely be paused during his time as White House Chief Strategist. However, Bannon will be able to continue to grow his overall net worth with his hand in politics.
Exact numbers for the amount of money Bannon will be raking in in Washington aren't known. Junior analysts for the White House tend to make around $42,000 a year and salaries go all the way up to $400,000 a year. So, not only will Bannon get to be an active member of the Trump administration (working alongside Kellyanne Conway), he'll also get to contribute to his net worth.
What do you think about Steve Bannon's net worth?