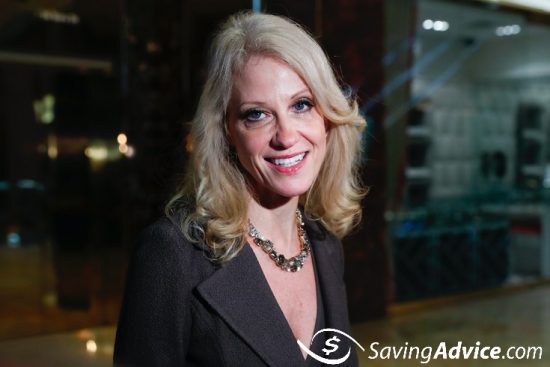 If you read or watch the news in the morning you are no stranger to the name Kellyanne Conway. She's serving as Counsel to
President Donald Trump
and has been a political activist for years. Conway has served as the Republican Party campaign manager, strategist and pollster for years. Now she's sitting alongside Steve Bannon and Dina Powell in office.
So, how has being a political activist affected Conway's overall wealth? What is Kellyanne Conway's net worth?

---
Kellyanne Conway's Profile:
Net worth in 2017: $4 million
Profession: Political activist
Age: 50
Source Of Wealth: Political campaigning
Residence: Alpine, New Jersey
Citizenship: U.S. Citizen
Marital Status: Married; George Conway
Education: George Washington University
---
Kellyanne Conway's Political Career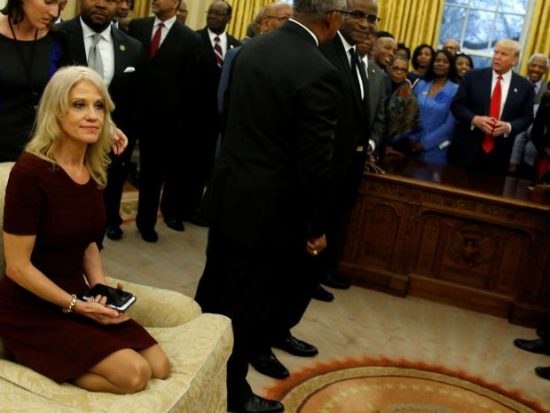 It is safe to say that Kellyanne Conway is not new to the political scene and her entire political career hasn't been spent sitting on her knees on the Oval Office couch either (as seen in the news today). In fact, she started her very own polling firm, The Polling Company, in 1995. Since then she's had her hand in politics.
Throughout the 1990s and early 2000s Conway appeared on many politically-based talk shows and worked alongside other female conservatives, like Ann Coulter and Laura Ingraham. She has also worked with political figures such as Congressman Jack Kemp, Senator Fred Thompson, Congressman (now Vice President) Mike Pence, Speaker of the House Newt Gingrich and former VP Dan Quayle.
What Conway is truly known for, however, is not her political campaigning. The 50-year-old conservative's expertise lies in political polling. She has appeared on a majority of the major networks as a commentator on polling and has performed survey projects for large companies like American Express, ABC News, "Ladies Home Journal" and Major League Baseball (MLB).
Related Articles
Mike Pence's Net Worth
Dave Ramsey's Net Worth
How Much is Apple Worth
Facts About Bill Gates
In 2016 Conway gained a bit more attention with her role as a television spokesperson for the Trump Administration. At the beginning of July 2016 Conway was hired for a senior advisory position on the Trump campaign. President Trump hoped Conway would help him attract more female voters. She served as his campaign manager for 10 weeks and became the first woman to run a Republican presidential campaign and the first woman to run a successful presidential campaign. In November Trump offered Conway a job in the White House as Counsel to the president, which she accepted and now she's in the spotlight more often than ever before.
Not everything has been great though. Conway's profession has been accompanied by plenty of controversy. In February 2017 Conway was officially banned from the MSNBC morning talk show "Morning Joe." So, how are her political stances affecting her pocketbook? What is Kellyanne Conway's net worth?
Kellyanne Conway's Net Worth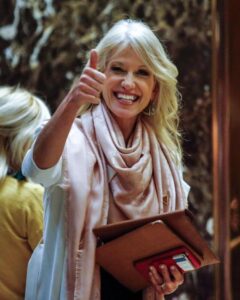 It's safe to say that the controversy surrounding her career hasn't hurt her that much. Kellyanne Conway's net worth sits at a comfortable $4 million. While this is just an estimate, there's no doubt Conway is doing well for herself.
So, how did she get her net worth to climb to millions of dollars? Well, the majority of her wealth has stemmed from her owning polling company. It is believed that Conway has been able to collect approximately $2 million since 1995. Now that only levels out to about $90,000 per year, however, she's earned a bit of cash on political campaigns and appearing as an expert on a number of news programs. Now that she's landed a spot in the White House her annual salary will likely raise to about $177,000 per year (plus what she's making from her polling company).
It doesn't hurt that Conway's husband is a wildly successful man either. George Conway is a litigation partner at a law firm. The couple has four children all under the age of 12 and own a gorgeous home in Alpine, New Jersey. Their kids' lives will likely change greatly during their mother's time in the White House with President Trump.
Not only is Conway doing well in the White House, she is likely to continue to get media coverage and more cash in the future. Think about the book deals and interviews she'll be able to land once her (and Trump's) time is over in the Oval Office, she'll make a fortune.
So, don't count on Kellyanne Conway's net worth or her strong political views to go anywhere any time soon. She's here to stay.
Photos: Philly Voice, The Independent and NY Daily News