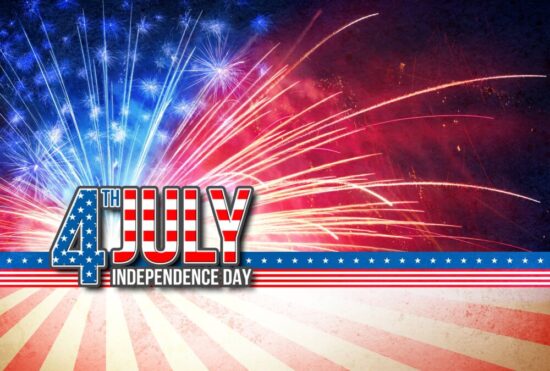 Since the year is almost halfway over, that means the 4th of July is just around the corner. For many, it's a time for gathering with friends and family for a celebration. Usually, that means a bit of barbecuing, along with some fun and games. Fortunately, it's possible to have a great time without busting your budget. If you want to know how you can save money on your Independence Day party, here are some tips.
Go with a Free Venue
Paying for a venue can add a lot to the overall cost of a 4th of July party. If you're working with a tight budget, go with options that won't cost you a dime.
The simplest way to go is to have the gathering at the house of an attendee. That could mean your home if it's a suitable size, or another person's if they're willing. By choosing a property with an ample backyard, you can enjoy the summer weather and barbecue, too.
If a person's home isn't an option, you may be able to gather at a local park. Some parks have first-come, first-serve pavilions, grills, and more, allowing you to potentially get a great spot. Just keep in mind that you may need to arrive very early if you want to get a great location, particularly if the park is a popular option.
Keep the Guest List Reasonable
Generally speaking, the more people attending a party, the more that celebration costs. If you're worried about your budget, consider paring down the guest list. By doing so, you can spend less on food and décor. Plus, it may make a smaller venue more viable.
Precisely how you go about scaling back may depend on your preferences. For example, you could transition to a family-only gathering instead of also including friends. You could limit attendees to only friends and family that live in your neighborhood, effectively using location to decide who to invite. You can also use any other approach. Just determine how many people you can reasonably host, and make sure to invite no more than that number.
Manage the Menu Effectively
Food is another major cost at most gatherings, particularly if you don't have a solid plan. If you want to keep costs down, start by creating a very simple menu. Choose a single main course, like burgers or hot dogs. Then, add a couple of sides and a dessert, and you've got a full meal.
The benefit of this approach is that you'll need to purchase fewer items, making it easier to use bulk purchases to keep costs down. Plus, you don't end up with an excess of food, as ending up with far more than you need is more common if you have a ton of dishes.
Comparison Shop to Find Bargains
Once you have your menu worked out, it's time to figure out the best place to buy. Many stores will put classic 4th of July foods on sale as a means of attracting customers. Additionally, some manufacturers may issue coupons to make their products more attractive.
Spend some time reviewing sales flyers, rebate apps, coupon sites, and similar places to determine where the best bargains are in your area. In some cases, that could mean heading to different stores for various items, an approach that could be worthwhile if it doesn't mean spending too much on gas.
When you do shop, take a list outlining exactly what you're after. Then, stick to it, ensuring you don't overspend because you were drawn in by an impulse buy.
Make the Desserts
In most cases, its far cheaper to make cakes, cupcakes, cookies, brownies, and other sweet treats than it is to buy them. If you're really worried about your budget, plan to make the desserts.
While baking from scratch is usually the most cost-effective, even going with a mix can lead to a significant savings. Just use the same approach as you do for other meal items to hunt down bargains. That way, you can whip up some amazing sweet treats for less.
Go with a Potluck
If you'd like more variety than a simple menu can provide, but you also need to stick to a budget, then don't take on the menu alone. Instead, make the event a potluck and have every household in attendance bring at least one dish with enough servings to handle everyone who comes to the party.
While you could simply allow attendees to bring any item they want, that isn't always wise. With that approach, you run the risk of multiple households choosing the same dish, leading to a lack of variety.
Instead, make a formal meal plan and divvy out dishes to attendees or use a signup list to ensure everyone knows what other households are bringing. That limits the chances that multiple attendees will come with the same foods, giving you the variety you're after.
Opt for BYOB
While you may want to make sure that there are some basic drinks for attendees, providing alcoholic beverages to everyone can add up fast. If you'd like to keep the cost down, let everyone know you'll handle the basics – like water and soda – but that the party is otherwise BYOB. That way, everyone who is choosing to partake is responsible for their own wine, beer, or liquor, keeping that cost off of your shoulders.
If you're going potluck, you could even reduce the cost of other beverages by making drinks an item someone else provides. Just be aware that soda costs can add up quickly, so make sure you don't ask a household to cover more than their fair share with the drink assignment.
Don't Go Overboard with Décor
While it might seem like a fun idea to cover every inch of your yard in flags and streamers, that isn't necessary. Often, just a few décor pieces in a space can make a big impact. Since that's the case, limit your purchases to just a few streamers, wall hangings, or similar items.
Additionally, keep the cost down by shopping in the right places. Skip traditional party stores and head to your local dollar store, as you may find some great bargains there. Even if they don't have star-spangled décor, there's likely some red, white, and blue decorations, as those are common colors for parties year-round.
The same can be true for disposable plates and utensils. If you can't find reasonably priced 4th of July themed options, go with solid red, white, and blue instead. White utensils and napkins with red plates and blue cups can give you the look you're after, all without the premium pricing that can come with themed items.
Skip Novelty Clothing
While donning a flag shirt might seem like fun, it's usually an expense that doesn't make much sense. Essentially, you're buying clothing that you'll only wear once a year, suggesting you wear it again at all.
Instead, use the same approach as you would with décor. Instead of 4th of July novelty items, choose red, white, or blue pieces that you'd wear again. For example, pairing blue jeans with a white cotton t-shirt and a red, short-sleeved overshirt can work well, as you may have other uses for those items.
Take Advantage of Free Fireworks
Buying your own fireworks can be a lot of fun if your budget allows for it. Like all other items, you can comparison shop to find discounts in your area, suggesting you live in a city or county that permits firework sales.
However, if you really want to limit how much you spend this 4th of July, explore free fireworks shows in your area instead. Many cities host their own events, and many don't charge for admission. Plus, you can view the show from outside of the event area in many cases, allowing you to enjoy the fireworks at no cost, regardless of entry fees.
Do you use any of the options above to keep the cost of your Independence Day parties down? Do you know of any other ways to save money on your 4th of July celebration that others may appreciate? Share your thoughts in the comments below.
Read More:
Come back to what you love! Dollardig.com is the most reliable cash back site on the web. Just sign up, click, shop and get full cash back!
Tamila McDonald has worked as a Financial Advisor for the military for past 13 years. She has taught Personal Financial classes on every subject from credit, to life insurance, as well as all other aspects of financial management. Mrs. McDonald is an AFCPE Accredited Financial Counselor and has helped her clients to meet their short-term and long-term financial goals.