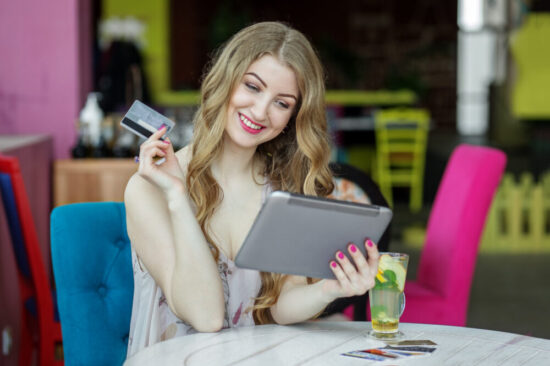 When you need to save money, you often have to conquer the need for instant gratification. Setting cash aside for the future means not using it in the "now," which can be hard to handle. Often, saving money is difficult, particularly if you don't feel rewarded for your effort as you make progress. This is especially true for long-term goals where the payoff may be years or decades away. Fortunately, it's possible to overcome instant gratifications when saving money. Here are six tips that can help.
1. Keep Goal Reminders in the Right Places
Usually, saving money is a pathway toward achieving a particular goal. If you want to stash cash for a specific objective, put a reminder of that target in the right places.
If your debit or credit card issuer allows personalized images on cards, make the picture align with your goal. Alternatively, use tape to attach a small photo that relates to your objective to the front of your cards. Every time you reach for your card for an unplanned purchase, you'll get reminded about your savings and why you're doing it.
Similarly, changing the nicknames on your bank accounts could work. It may prevent you from transferring money out of savings without a good reason. If you couple that with turning off overdraft protection that pulls cash out of savings to cover purchases, you may have a far easier time staying on target.
2. Use the 72-Hour Rule for Unplanned Purchases
If you're considering an unplanned purchase of any size, use the 72-hour rule to determine if it is actually something you want or if you're mindlessly splurging. Essentially, you require yourself to set the item down and wait 72 hours before buying it. That way, you aren't spending based on getting swept up in the moment.
After 72 hours, if the purchase still seems wise, you can potentially go forward if you can otherwise afford it. However, you may find that your desire for the product isn't there after that wait, allowing you to overcome instant gratification that could harm your savings plan.
3. Incorporate Fun Money into Your Budget
While it may seem counterintuitive, permitting yourself to spend a small amount of money each paycheck on pure wants can help you achieve your savings goals. You build in room for little splurges, giving you a chance to cut loose on occasion without derailing your broader plan. Often, it ensures you don't feel overly deprived, keeping your drive for instant gratification in check by feeding it a bit without going overboard.
4. Make Spending Money Clunky and Awkward
Swiping a card or tapping a phone against a payment reader makes spending incredibly easy. That's why it's wise to choose a spending approach that's a bit clunky and awkward. Since the process is cumbersome, you may be less likely to splurge.
One great way to begin is by only shopping in-store and using cash every time. In many cases, spending feels more real when you're actually handing over money. The feeling of a cash envelope getting thinner is surprisingly impactful and may cause you to think twice about a purchase.
You may also want to stick with smaller bills only. When you have to pass over a handful of one-dollar bills, it can feel like you're giving a lot away. The same can be true with fives. Plus, it causes your envelope to shrink more dramatically and in short order, which may make a difference.
If you can't avoid shopping online, then make that process harder by removing any stored card numbers. By having to enter your card details every time, you're making the process a bit unwieldy, particularly through mobile devices while on the go. That could also limit spontaneous splurges.
5. Write Down Every Unplanned Purchase, and Explain It to Someone
If you want to overcome instant gratification and have a friend or family member who is willing to assist during your journey, there is an approach that can be quite effective. Whenever you make an unplanned purchase – even if it's wrapped up in something normal, like a grocery trip – write down what the item was and what it cost. Add to that list for an entire month.
Then, meet up with your family member and friend and walk them through every purchase. Tell them what you bought, where you purchased it, what else you were doing at the time of sale, why you thought it was a good idea, and the amount it cost. Along the way, permit them to question every move.
In some cases, this exercise lets you see your habits in a new light. Plus, it may prevent you from making purchases you don't feel confident explaining. It can make it easier to make smarter financial choices down the line.
6. Hit Unsubscribe to Marketing Emails
Marketing emails are crafted to instill a fear of missing out in the reader. They cultivate a sense of urgency, even if the situation isn't dire.
If you struggle with wanting instant gratification, unsubscribe from any marketing emails that commonly tempt you. That way, you can avoid the anxiety created by the fear of missing out, allowing you to avoid some unnecessary spending.
Do you have any other tips that can help someone overcome instant gratification when trying to save money? Have you used any of the advice above and want to let others know about your experience? Share your thoughts in the comments below.
Read More:
Come back to what you love! Dollardig.com is the most reliable cash back site on the web. Just sign up, click, shop, and get full cash back!
Tamila McDonald has worked as a Financial Advisor for the military for past 13 years. She has taught Personal Financial classes on every subject from credit, to life insurance, as well as all other aspects of financial management. Mrs. McDonald is an AFCPE Accredited Financial Counselor and has helped her clients to meet their short-term and long-term financial goals.