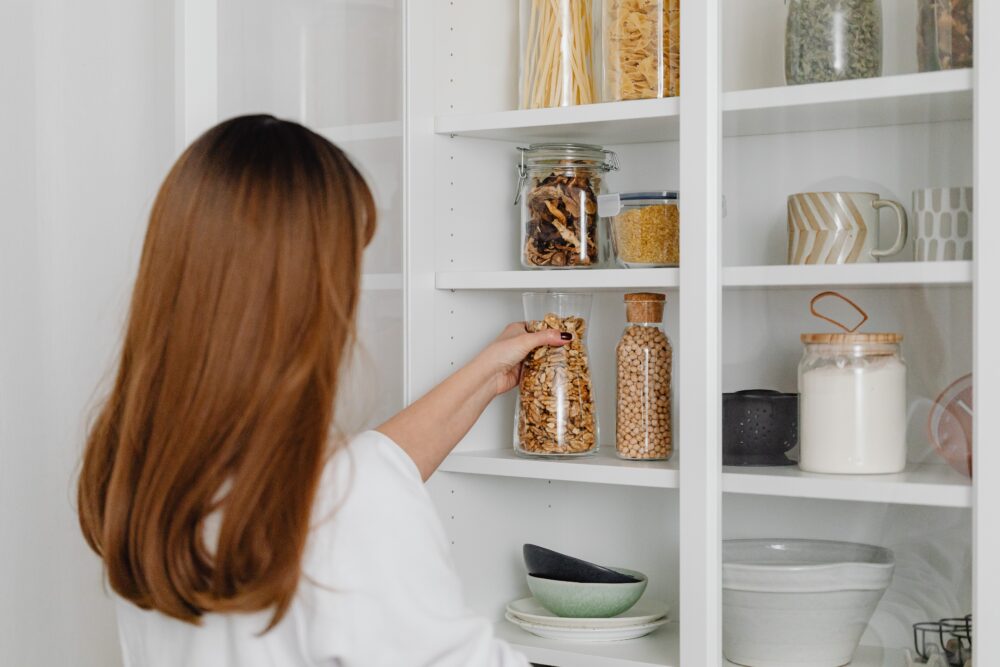 If you've read the news lately, you've probably seen all the headlines about a potential economic downturn. Economists say that a recession may be headed our way in the next year or two. While that's a pretty anxiety-inducing thought, there are things you can do to prepare, like building up a food stockpile.
Having a deep pantry has always proved useful for me. At the beginning of the pandemic when we all had to quarantine, I didn't have to worry about running out of food. I had a full freezer and plenty of shelf-stable staples like oatmeal, rice, and canned goods on hand. It was reassuring to know I could keep food on the table during such an uncertain time.
Now that we're entering into another period of uncertainty, I've decided to stock up on food again so I have a supply to fall back on. Here's why I'm focusing on building up a small stockpile of essentials, and how I'm doing it on a budget.
Reasons Why I'm Stocking Up On Food
Rising Grocery Store Prices
Food prices have already risen a lot and are expected to increase a further 3% to 4% in the near future. Stocking up on shelf-stable food when it goes on sale helps me keep my grocery budget down even while food costs increase.
If I have a few extra packages of the staples I use every day, I don't have to buy them at the regular, inflated price because I ran out. I can wait until the next sale or clearance cycle and replenish my supply when I see a good discount.
Food Shortages
The supply chain hasn't recovered fully from the pandemic yet, so there are still noticeable food shortages. For example, my local Walmart can't seem to keep pasta or frozen tater tots in stock.
Experts say shortages of essentials like meat, cooking oil, baby formula, wheat, and corn will persist through the summer at least. Biden warned that the war going on in Ukraine could also worsen food shortages, especially wheat. So it's not a bad idea to prepare by stashing a few extra bags of flour in the back of your pantry.
Having to go without the items expected to be in short supply isn't the end of the world. But it's nice to be able to pull out a box of pasta from my pantry and still get to enjoy noodles even though the store is out of them.
Potential Recession
As I mentioned above, the potential economic downturn that's looming is the main reason I'm stocking up on food now. It would be much harder to afford food if my partner got laid off or my business slowed down due to a bad recession. But creating a stockpile of food ensures we won't have to go hungry because of lost income.
Shelf-stable foods like rice, beans, and canned goods last for years and are kind of like an insurance policy. If we lose our jobs because of a recession, pandemic, or some other unforeseen event, we'll still be able to put dinner on the table, which gives me a lot of peace of mind.
What I'm Buying
I already have a small stash of food down in my basement, but I'm working on building it up now that a recession could be coming. For the past few weeks, I've been buying a bag or two of dried beans and an extra bag of rice whenever I go to the grocery store.
Beans and rice are a cheap way to get calories and protein, and they last for a long time if you store them properly. I empty my bags of beans and rice into food-safe buckets and keep them in a cool, dry area of my basement. Packed away like that, they could last for years without going bad.
Some other staples I'm planning to stock up on are oatmeal, dry pasta, and wheat berries so I can mill my own flour to make bread. I usually buy these items in big bulk packages to save money.
I already have a lot of canned goods on hand, so I probably won't add to my supply unless I see a good sale. But I always replace whatever I use the next time I go grocery shopping to make sure I don't run out of anything. I also keep an eye on the clearance racks at my local grocery store to see if I can get any discounted, shelf-stable foods to add to my stockpile.
Wrapping Up
Do you have a deep pantry? Does it help you save money and make you feel more secure in times of uncertainty? Let me know in the comments below!
Read More
How to Buy in Bulk Without a Warehouse Store Membership
8 Financial Benefits of Living in Tucson
5 Of The Best Paying Jobs in Major Banks
Come back to what you love! Dollardig.com is the most reliable cash-back site on the web. Just sign up, click, shop, and get full cashback!
Vicky Monroe is a freelance personal finance and lifestyle writer. When she's not busy writing about her favorite money saving hacks or tinkering with her budget spreadsheets, she likes to travel, garden, and cook healthy vegetarian meals.