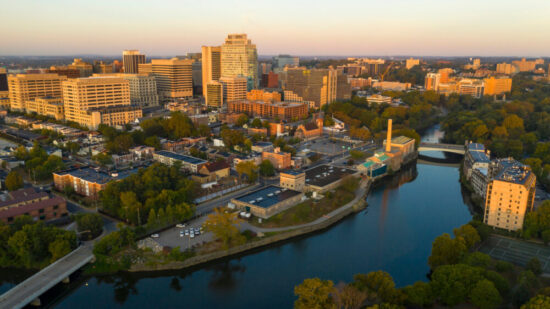 Every state has jobs that earn the most money in the state. In some states, almost all of the best-paying jobs seem to be in the same industry. For example, in some states, tech always earns the most money whereas in other states medical professionals get the highest pay. Delaware is a nice exception to that rule because the best paying jobs in Delaware are actually very diverse. As a result, this can be a good place for many different people to work.
Diversity in Delaware Career Options
Salary Explorer offers up-to-date information about the best paying jobs in Delaware in 2022. You'll discover that their top ten list includes a range of different types of jobs. You'll find high paying jobs in medicine, law, business, banking, and education. Pilots even make the top ten list in this state. Of course, most of these jobs do require higher education. Other than that, though, they are very diverse. If you're in a professional career and want to earn good money, Delaware is one state to consider.
Top 10 Best Paying Jobs in Delaware
According to Salary Explorer, the top ten highest paying jobs in the state range in annual salary from surgeons earning $339,000 down to marketing directors earning $122,000. Therefore, all top ten jobs in the state earn six figures. This isn't true of all states, so it's something worth noting. Here is a closer look at those top ten jobs:
Surgeons/ doctors in Delaware earn an average of $339,000. This is more than $50,000 per year than the next profession on the list. Therefore, this is definitely a job you want to consider if you're looking at the best paying jobs in Delaware.
Judges and lawyers are next up with an average annual salary of $285,000 and $231,000 respectively.
Then come bank managers, who average $217,000 per year.
Next up are CEOs and CFO's, earning $203,000 and $190,000 respectively. Notice that the five best paying jobs in Delaware earn more than $200,000 annually.
Orthodontists earn $183,000 per year.
In 8th place on the list you'll find college professors who earn a nice income at $163,000 per year.
Then come pilots, earning $136,000, followed by marketing directors who earn $122,000.
Salary Ranges for Top 10 Delaware Jobs
The numbers above are just the average. However, Salary Explorer also provides the salary ranges for these jobs. For example, the surgeons and doctors may earn as "little" as $180,000 per year but as much as over half a billion dollars per year! In the middle, the CEOs salary range is $108,000 – $309,000. What if you're a marketing director at the bottom of the top ten list? Your range is $64,700 – $186,000.
So, the range of annual salaries among the top ten highest paying Delaware jobs is a huge range between just under $65,000 and just over $500,000. This means that there is a lot of room for growth in any of these positions.
How to Find The Good Jobs in Delaware
Obviously, Salary Explorer is just one source for this information. Different sources use different statistical analyses models to figure out these types of lists. Therefore, it's helpful to look at other sources.
For example, you'll find that Zippia argues that the highest paying job in the state is "operator and truck driver." They say the starting salary for this position is $82,000 while the annual salary is just under $138,500.
On the other hand, USA Wage, using 2020 statistics, agrees with Salary Explorer that doctors are at the top of the list. However, they break the information down more to different types of doctors. They say that the highest-paid are family medicine physicians. They have a starting salary of $139,790 and an average annual salary exceeding $200,000.
As you can see, both of these resources look not just at the salary range and average but also specifically at the starting salary for each job. Many people are interested in this especially when starting a new career. Therefore, that's something that you'll certainly want to take into consideration if you're in such a position.
Other Best Paying Jobs in Delaware
With all of that in mind, here are some of the jobs that those other two resources above mention are among the highest paying in the state. All of those listed here are six figure jobs.
Various medical jobs including:
General Internal Medicine Physicians, with an average annual salary of just under $192,000
General Pediatricians who earn about $181,000
Nurse Anesthetists earning just under $170,000 per year
Podiatrists who earn about $147,000 annually
Also on the six figure medical jobs list are optometrists, pharmacists, nurse practitioners, physician's assistants, and medical/health services managers. Veterinarians also make the list.
Various management positions including:
Natural sciences managers who earn over $181,000 per year
Sales managers and financial managers who earn earn about $165,000 annually
Computer and Information Systems managers who earn over $150,000 per year
Architectural and Engineering managers, also earning over $150,000 per year
HR managers, earning over $139,000 annually
Other positions earning an average of over six figures in management include training and development managers, transportation and storage and distribution managers, general and operations managers, construction managers, industrial production managers, PR and fundraising managers, and more.
Other Six Figure Jobs in Delaware
Some of the other jobs on this list include:
Chemical engineers and chemists
Computer network architects
Sales engineers
Elementary and secondary school administrators
Software developers
Mechanical and electrical engineers
Truck driver owner/operators
As you can see, there are a diverse range of different jobs in Delaware that pay more than six figures on average per year. This is not common across the United States. Therefore, if you have a professional career or are thinking about getting one, then Delaware might be a state where you'd like to consider working. That said, most of these jobs do require advanced education, which is another factor to consider. You'll have to pay for the education in order to get the salary.
Read More:
Come back to what you love! Dollardig.com is the most reliable cash-back site on the web. Just sign up, click, shop, and get full cashback!
Kathryn Vercillo is a professional writer who loves to live a balanced life. She appreciates a good work-life balance. She enjoys balance in her relationships and has worked hard to learn how to balance her finances to allow for a balanced life overall. Although she's only blonde some of the time, she's always striving for total balance. She's excited to share what she's learned with you and to discover more together along the way.