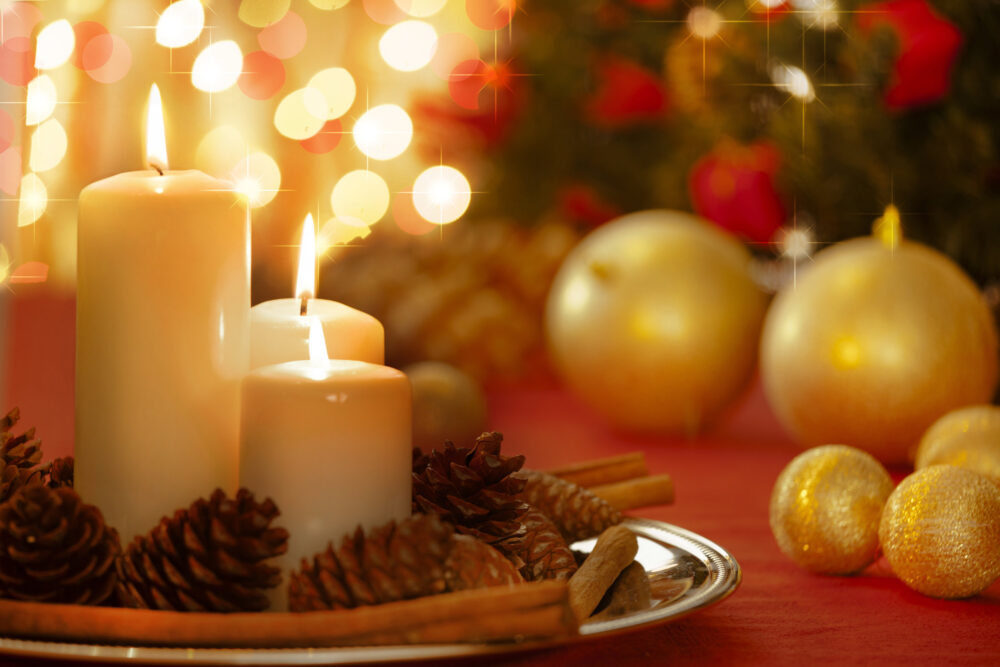 If you have a tight budget, finding ways to save money on Christmas decorations could be essential. That way, you can celebrate the season without breaking the bank, ensuring it's a joyous time for you and your family, as well as your wallet. Luckily, there are plenty of ways to get holiday décor for less. If you're trying to figure out how to save money on a tight budget for Christmas decorations, here are seven ways that can work.
1. Take Stock of What You Have
Before you do anything else, spend time taking stock of what you have available. Christmas decorations are usually only on display for about one month during the year. Since it's normal to box them up and store them for 11 months before bringing them out again, there's a decent chance that you don't remember everything you own.
Take some time to pull out all of your Christmas décor. See what you have available right now. Examine each item to see if you can use it as-is or if you could turn it into something new. That way, you explore its full potential.
After that, make a note of anything that you don't have available. That way, you can target your shopping, ensuring you don't spend money on something you don't actually need.
2. Make It, Don't Buy It
In many cases, making certain Christmas decorations is far less expensive than buying. You may be able to create your own garlands, wreaths, ornaments, and more, all with low-cost supplies or items you already have on hand.
If you aren't sure where to begin, you can find tutorials online. Craft stores often have free instructions for a range of projects. You can also find videos on YouTube that can guide you through many kinds of holiday décor projects.
Ideally, you want to focus on options that don't require many materials or that are made of stuff you already have available. If you do need to buy supplies, make sure to compare shops. That way, you'll get the best deal.
3. Wait Until Black Friday to Shop
During Black Friday, many retailers deeply discount certain holiday décor items and holiday-related craft supplies. The same can also be true on Cyber Monday, as well as Small Business Saturday.
By waiting for these massive shopping events, there's a good chance you can find what you need for less. Consider which stores might have what you're after, then make sure to explore their sale options. Large retailers commonly release sale flyers in advance, so you may be able to craft a plan well before the big day.
Just stick to your list when you start searching for discounts. Even if the price is great if you buy something you don't actually need, you aren't saving money. Make sure to limit yourself to genuine must-haves, allowing you to avoid overspending simply because a product is on sale.
4. Keep It Simple
When you shop for Christmas decorations, the more ornate version of an item is, the more it may cost. For example, simple ball Christmas ornaments in solid colors usually cost less than those that are intricately decorated or in harder-to-manufacturer shapes.
By keeping it simple, you can get the items you need for less. Plus, if you're a bit crafty, you may be able to elevate those classic versions using widely-available, low-cost supplies. Not only will that make them more decorative, but it lets you personalize the pieces.
5. Try Thrift Stores or Online Marketplaces
As with most items, buying used can save you a bundle. By heading to thrift stores or using online marketplaces like Craigslist or groups on Facebook, you might be able to find the perfect decorations at a fraction of the retail price. In some cases, you may even find items on Freecycle for no cost, though that isn't guaranteed.
Look for both ready-to-use décor and items you can upcycle into Christmas decorations. It's also wise to consider whether you can turn a piece into a craft supply by taking it apart. For instance, flannel shirts are often in holiday colors, so you may be able to cut one up to create ribbon or material for another project.
By staying open-minded, you can see the potential in what's available. That way, you can examine the situation from all angles and get the best overall deal.
6. Have a Christmas Decoration Swap
If your main reason for wanting new Christmas decorations is to mix things up a bit, consider setting up a swap with family members or friends who feel the same. Essentially, you can exchange décor with one another, allowing you to each get something different for this year's holiday displays.
Not only is this option free, but it is also a great reason to get together. As a result, it can be fun and functional, so much so that you may decide to hold the swap every year.
Just make sure to set some rules in advance. For example, you want to ensure that everything people bring to the swap is in good condition. Additionally, requiring a minimum number of contributed items could be a must, as well as setting a maximum to ensure you're not overwhelmed.
Creating a process for the swap is also intelligent. That way, it'll move forward smoothly and fairly.
7. Go to the Dollar Store
The Dollar Store can be an excellent resource when you want low-cost Christmas decorations. Along with some premade items, you may find craft supplies or versatile products that you can turn into Christmas décor.
For example, an inexpensive small picture frame and some ribbon could be the basis for a custom ornament or mantle display. A pack of gold bells and some floral wire can become a mini wreath, and glass candlesticks can be transformed with some glitter and glue.
In some cases, you'll need to think creatively to make the most of Dollar Store options. Just keep an open mind as you peruse the aisles. That way, you'll be ready for inspiration to strike.
Do you know of any other ways to save money on a tight budget for Christmas decorations? Share your thoughts in the comments below.
Read More:
If you enjoy reading our blog posts and would like to try your hand at blogging, we have good news for you; you can do exactly that on Saving Advice. Just click here to get started. Check out these helpful tools to help you save more. For investing advice, visit The Motley Fool.

Tamila McDonald has worked as a Financial Advisor for the military for past 13 years. She has taught Personal Financial classes on every subject from credit, to life insurance, as well as all other aspects of financial management. Mrs. McDonald is an AFCPE Accredited Financial Counselor and has helped her clients to meet their short-term and long-term financial goals.