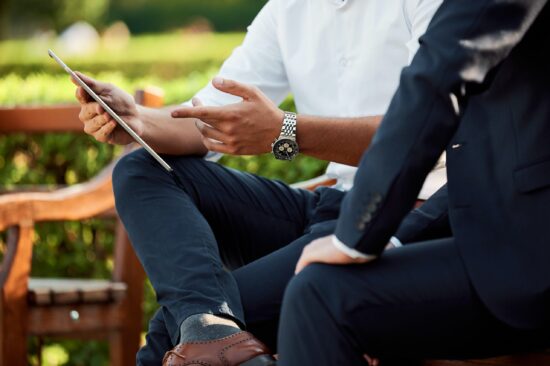 Many professionals would like to earn more money and with good reason. Over time, it's common to develop new skills or take on extra responsibilities. Thus, making a salary increase seem like a reasonable request. The issue is figuring out how to ask for a bump in pay. If you're not sure how to approach it. Here are a few ways to ask your boss for a raise.
Bring It Up During a Performance Review
One of the clearest opportunities you have to ask your boss for a raise is during performance reviews. However, you don't have to wait for your annual one to seize the moment. Any time you sit with your manager to get feedback on a project or achievement can also do the trick.
It is important to time your request. You don't want to bring up money if the feedback you're receiving isn't positive. If that occurs, focus on what your manager is sharing. Then, set goals with them and make a plan to improve. Once you begin meeting (or exceeding) those expectations, schedule a follow-up review to get feedback and, if that goes well, then you can consider talking about your salary.
Before you broach the subject of pay – or attend the meeting – you need to do some information-gathering. If you have evidence that you consistently exceed expectations and documents that show that your skills are genuinely worth more in your area, your case will be stronger.
Schedule a One-on-One Meeting
Technically, you don't have to wait for your manager to schedule a performance review to discuss a raise. However, you do want to make sure it's a formal one-on-one conversation.
A raise isn't something you want to bring up when you pass your manager in the hall or in a casual email. Instead, it's better to arrange for a private discussion.
How you approach scheduling the meeting can vary. If you aren't sure that you'd be eligible for a raise, you may want to err on the side of caution and ask to have a conversation about the future of your career. This method can help you learn more about how your manager sees your potential and could create opportunities to pivot into a pay-related discussion.
However, if you know that you've been exceeding expectations consistently, you could be slightly more forward. Set up a meeting to talk about what it would take to secure a raise or promotion. Then, prepare the same kind of evidence as you normally use for an official performance review.
Discuss It When Your Duties Expand
If your manager schedules a meeting with you and asks you to take on new responsibilities, effectively expanding your workload, this can also be a good time to talk about pay. If you're being given more to handle, it may be safe to assume that your manager views your performance in a positive light.
However, you may need to advocate for and justify a request for a bump in salary, as it isn't likely to be offered upfront. This can be tricky if the expansion in your duties wasn't anticipated, as you may not have prepared for the conversation.
In some cases, you can use a general approach when broaching the topic. If your workload is increasing in a notable way, you can simply ask if your compensation is going to be adjusted accordingly. It's a simple way to segue into the discussion and gives your manager a chance to explain their position on the matter, making that the starting point. Then, you can adapt your response accordingly, letting you find out what it may take to get a raise or if one can be part of the new arrangement.
Do you have any other tips to someone ask your boss for a raise? Share your thoughts in the comments below.
Read More:
If you enjoy reading our blog posts and would like to try your hand at blogging, we have good news for you; you can do exactly that on Saving Advice. Just click here to get started.
Check out these helpful tools to help you save more. For investing advice, visit The Motley Fool.
Tamila McDonald has worked as a Financial Advisor for the military for past 13 years. She has taught Personal Financial classes on every subject from credit, to life insurance, as well as all other aspects of financial management. Mrs. McDonald is an AFCPE Accredited Financial Counselor and has helped her clients to meet their short-term and long-term financial goals.