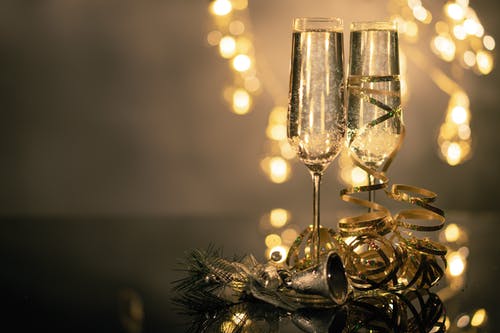 Ring in 2021 financially healthy with these New Year's deals and freebies. Just when you thought the holidays could not get any more expensive, New Year's comes around. Many individuals will plan parties, and whether lavish or not,
they can still be costly
. From food to drinks or even just going out for your New Year's Eve plans, the holiday costs can really add up. The good news is you can still start 2020 off in a positive way without overspending. Save money by taking advantage of these New Year's deals and freebies:
New Year's Freebies
Danone's: You can get a month's supply of water for free during Dry January. All you need to do to enter the giveaway is share new habits you are adopting in the new year or healthy recipes you plan to use on Instagram. Use the hashtag #VolvicStrongJan and tag the page @Volvic_USA.
Heineken Alchol-Free Beer: Heineken will be bringing back the "Dry January Pack." By visiting BeerForJanuary.com, you can get a pack of 31 alcohol-free cans for $0. Keep in mind, this is only while supplies last, so you'll want to get it as soon as possible.
Mattress Firm: Through January 20, Mattress Firm is offering a free adjustable base with the purchase of any queen mattress ($699 and up). To cash in on this freebie, use the code ELEVATE at checkout.
Smoothie King: Share your health and fitness goals with Smoothie King between December 29 and January 2 and get a free 12 oz. Metabolism Boost Smoothie.
New Year's Deals
Bath & Body Works: Bath & Body Works is holding its infamous end-of-year sale. It started on December 26 and runs through January. You can get up to 75% off storewide. You may also find some throwback scents that aren't typically sold throughout the rest of the year.
Crate & Barrel: If you're in the market for some home goods in the new year, Crate & Barrel has a great sale going on. They have 30% off holiday decor and a plethora of furniture items marked down by hundreds of dollars.
Dillard's: Dillard's department store  is known for its holiday sales. This year, they are offering 60% off clearance items starting at midnight on January 1.
Drizzly: New users can get $5 off alcohol delivery with Drizzly for New Year's by using the promo code HELLO. You can also use the code HOLIDAYS through December 31 to get $5 as well. This means you'll be able to stay in and stay safe while still getting to celebrate saying goodbye to 2020.
Express: The clothing brand is offering 40% to 60% off everything in their store (yes, everything, not just clearance items).
Kate Spade: Using the code BIGGESTSALE on Kate Spade's online store will help you get an additional 50% off at checkout now through January 5.
Overstock.com: Overstock is another company offering some great New Year's deals. You can get up to 70% off their products online or through their app. Not to mention, they offer free shipping too.
Where to Find More Deals
It is always nice to find more deals even after the holiday season. Check these brands out and sign-up for a membership in all these so that you'll get more deals in the coming days.
Platform:
Fees and Minimum:
Deals Best for:
Costco
Gold Star Membership
$60.00

The biggest deals and discounts if you are a member
Walmart
Free sign-up
Houseware, etc
Target
Free sign-up
Clothing and low-cost home accessories
Amazon
Free sign-up
Different options to choose from
These are just a few of the many deals happening to celebrate another year. You may find even more deals and freebies locally. With a little digging and patience, you can snag some awesome discounts and start the New Year with savings.
Do you have any deals or freebies to add to the list?
Read More