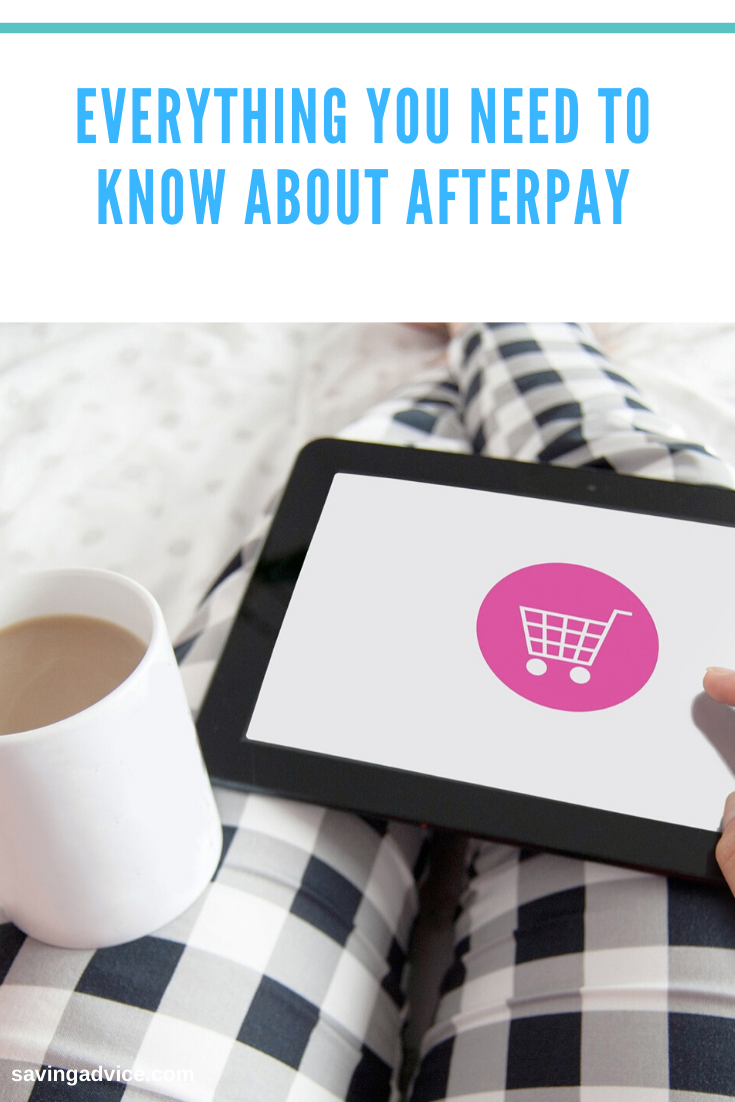 Clothing, beauty products, and other common purchases can be expensive. On average, a household spends $1,803 annually on clothing and $707 a year on personal care products and related services, such as haircuts. Many families can't afford to pay much at a time, even if they need to replace a substantial amount of old clothing or beauty products all at once. And that's a problem Afterpay is trying to solve. Here's what you should know about AfterPay.
What is Afterpay?
Afterpay is a service that allows shoppers to pay for purchases in installments. Instead of paying the full total of what's in the person's shopping cart, they can handle part of the cost right away. The rest is spread out over four installments, coming due every two weeks after making the purchase.
While Afterpay is easiest to use when shopping online, that doesn't mean you can't use it in stores. However, you will need to set up an account in advance of making a purchase at a qualifying store. This can be done through the Afterpay app, allowing you to use the account when checking out.
Retailers That Offer Afterpay
Not all retailers have Afterpay as an option. However, those that do usually list it under the other payment methods during checkout.
Here's a list of just some of the popular retailers that allow customers to use Afterpay:
Anthropologie
Carhartt
Cost Plus World Market
Dockers
DSW
L.F. Cosmetics
Finish Line
Forever 21
Jimmy Choo
Levi's
Shiseido
Skechers
Steve Madden
Tarte
Ulta Beauty
Urban Outfitters
The store options are quite varied. Some focus on men's or women's clothing, while others are children's clothing retailers. There are beauty product and home good stores as well.
However, they all tend to be higher-end retailers. The products are usually expensive. This is part of Afterpay's appeal, as it may make shopping at these stores seem more affordable. But you get less than two months to repay what you owe, so you still have to cover the full total in a very short time.
Qualifying for Afterpay
If you want to use Afterpay, you have to spend at least $35 in one shopping trip at a retailer that offers the service. If your cart isn't worth $35 or more, the option isn't available.
There is an application process with Afterpay. Not everyone will be approved to use it, so it's important to keep that in mind.
However, the process for determining if you qualify is quick and simple. There's a short form you have to complete. Then, you'll get an answer instantly. It doesn't involve a credit check, so it won't impact your credit score. But Afterpay doesn't report to any credit bureaus either, so a good repayment history won't boost your credit either.
It isn't completely clear how Afterpay determines which orders will be approved. However, previous successful Afterpay payment plans, the number of orders currently open, and the value of each order come into play.
Afterpay requires all shoppers to go through the approval process as they set up their account, and each time they attempt to complete another order using Afterpay. This allows the company to determine whether you can reasonably afford to follow through with the installment agreement.
Afterpay Interest Rate and Fees
Many shoppers are surprised to learn that Afterpay is predominately free to use. The company doesn't charge any interest or upfront fees.
The only time a person may encounter a fee is if they are late on an installment payment. If that occurs, you'll incur a late fee. If you keep missing the payment, the late fees can stack up fast, but the total of the late fees won't exceed 25 percent of the order value.
However, Afterpay does reach out if your primary payment method doesn't work. The company gives you an opportunity to use another payment method to avoid the fee. As long as you act quickly after the notification is sent, you may be able to fix the situation and not incur a late fee.
Is Afterpay a Loan?
Afterpay doesn't label themselves as a lender. Instead, the company simply considers them a service that is available through various retailers.
In many ways, Afterpay is like a short-term layaway, mainly because there isn't any interest or fees. However, unlike layaway, your products ship as soon as the agreement is in place. This makes the experience more like a loan or credit card since there's instant gratification.
Additionally, you'll end up with a spending limit with Afterpay, similar to a credit card limit. You can spend up to your limit at one store in one purchase, across several purchases at one store, or at multiple stores. For most new users, the limit is $500 or less. Over time, it can increase, reaching as high as $2,000.
Should You Use Afterpay?
Afterpay offers a lot of benefits. Since the company doesn't charge interest or any fees, suggesting you pay on time, it can act like a layaway. For some, this can make more luxurious or high-end goods easier to work into their budget.
However, if you genuinely can't afford what you want to buy, Afterpay isn't a great choice. After your initial payment (25 percent of the order total), you make three more payments in an amount equal to 25 percent of the order cost. There's a payment every two weeks, so you have to pay the full amount in less than two months. For some, that isn't much time, and the service ends up being a budget-buster.
In some cases, Afterpay may lead you to spend more than you otherwise would. The payment itself may look affordable, but you're still handing over the full total in less than two months. Before making a purchase, it's important to look at how much you'll owe and determine if your budget can genuinely support that spending amount. If you have any doubts, then it's better to save and make a purchase in cash.
Have you tried AfterPay? What was your experience like? Share your thoughts in the comments below.
Read More:
If you enjoy reading our blog posts and would like to try your hand at blogging, we have good news for you; you can do exactly that on Saving Advice. Just click here to get started.