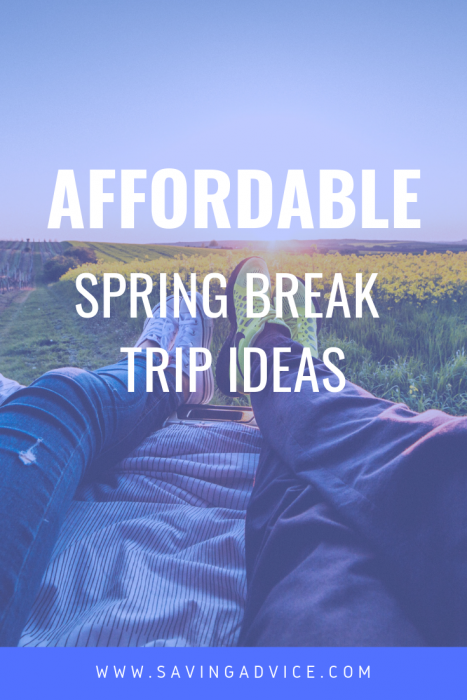 Spring break is a quintessential time for travel in the U.S. Set to take place at some point between March 11th and April 29th, 2019, in most areas, families, and college students often head out for some much-needed rest and relaxation. However, this year, some of the least expensive destinations are not the traditional options one usually explores. And, by keeping an open mind, you can save a ton on your travel plans with these spring break trip ideas.

Spring Break Trip Ideas and Travel Trends for 2019
While most spring breakers head to beach destinations, giving them a chance to soak up some sun and shake off the winter blues, a twist on the traditional trends is in full swing in 2019. According to Booking.com, more than half of all travelers are seeking out locations that are new to them and their travel companions.
And, while plenty of people still intend to hit the beach, there are a lot of city destinations on the popular list this year too.
Which destinations are the cheapest depends on the week you intend to travel. Here is the breakdown.
Get a $10 Costco Shop Card
March 11th – March 17th
Seattle, Washington: Visiting Seattle will cost 13 percent less than usual
March 18th – March 24th
Boston, Massachusetts: Booking a trip to Bost is 54 percent cheaper than usual
Biloxi, Mississippi: Travel to Biloxi for 39 percent less
Chicago, Illinois: Visitors to Chicago will spend around 30 percent less
Denver, Colorado: Trip cost estimates show hitting Denver is 21 percent cheaper than usual
Myrtle Beach, South Carolina: Travel for 24 percent less to Myrtle Beach
New York, New York: You could spend 36 percent less by heading to New York this week
March 25th – March 31st
Pigeon Forge, Tennessee: A trip to Pigeon Forge should be around 31 percent cheaper
San Francisco, California: Travel to San Francisco is also about 23 percent less
April 1st – April 7th
Anaheim, California: Heading to Anaheim will cost 14 percent less than usual
Austin, Texas: Not a typical spring break destination, but it is about 25 percent cheaper this week
Gatlinburg, Tennessee: Save around 11 percent by heading to Gatlinburg now
Los Angeles, California: Spring breakers could find prices approximately 8 percent lower than usual in Los Angeles
Miami Beach, Florida: A quintessential option, Miami Beach is around 20 percent cheaper
April 8th – April 14th
Honolulu, Hawaii: Between April 8th and April 14th, Honolulu will be about 8 percent cheaper
Houston, Texas: Head to Houston and you'll find prices about 24 percent lower than usual
April 15th – April 21st
Atlanta, Georgia: A trip to Atlanta is 33 percent cheaper this week
Las Vegas, Nevada: Head to Vegas this spring break and save 25 percent cheaper
Nashville, Tennessee: Prices in Nashville will be approximately 23 percent lower now
New Orleans, Louisiana: Mardi Gras is long over, so traveling to New Orleans now can save you 19 percent
San Diego, California: Plan a trip for 10 percent cheaper than typical San Diego prices
Washington D.C.: Check out the nation's capital this spring break and save 16 percent
April 22nd – April 29th
Clearwater Beach, Florida: Another spring break classic, Clearwater is 22 percent cheaper this week
Daytona Beach, Florida: Daytona Beach, a popular option, is 14 percent less expensive if you go between April 22nd and April 29th
Lauderdale, Florida: Prefer Ft. Lauderdale? Then you could save 39 percent by going now
Kissimmee, Florida: The home of Disney World, your travel costs could be 19 percent cheaper this week
Miami, Florida: Experience Miami for 36 percent less
Orlando, Florida: Head to Orlando and find prices about 10 percent lower than usual
Phoenix, Arizona: Phoenix is a surprising 41 percent cheaper now
Portland, Oregon: Check out the Pacific Northwest for 28 percent less by choosing Portland
Use Discount Sites to Save Even More
You can also save even more on your trip by using discount sites like Groupon, using Priceline to make travel arrangements, and checking out Airbnb for unique accommodations. Plus, Booking.com gives you access to more than just hotel rooms. You could also discover interesting options like apartments, treehouses, and yurts.
It is also important to note that these discounts may not last forever. As you get closer to your spring break week, there may be fewer openings on planes and at hotels, apartments, and other forms of accommodations. If you know when you want to go and where you want to stay, you might want to act fast and secure your travel arrangements at the best rate possible.
Are you planning on traveling this spring break? Have any tips for saving money? Tell us where you are headed and how you travel for less in the comments below.
Give the gift of savings! Learn more
Read More:
If you enjoy reading our blog posts and would like to try your hand at blogging, we have good news for you; you can do exactly that on Saving Advice. Just click here to get started.
James Hendrickson is an internet entrepreneur, blogging junky, hunter and personal finance geek. When he's not lurking in coffee shops in Portland, Oregon, you'll find him in the Pacific Northwest's great outdoors. James has a masters degree in Sociology from the University of Maryland at College Park and a Bachelors degree on Sociology from Earlham College. He loves individual stocks, bonds and precious metals.