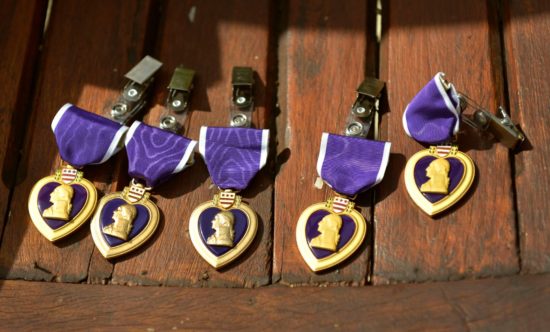 The Purple Heart, the military's oldest medal, was created in 1782 by Gen. George Washington. It was originally an award for bravery in combat but fell into disuse over time.
In 1932, the medal came back into prominence. Since the creation of the Military Order of the Purple Heart, there have been approximately 1.8 million Purple Heart awards. Members of every military branch can receive a Purple Heart. This is in recognition for being wounded or killed during a military action against an enemy.
When Is Purple Heart Day?
Purple Heart Day occurs on August 7 every year. It serves as a time to acknowledge and remember the sacrifices made by recipients.
Those who are awarded a Purple Heart are also recognized with specific benefits and entitlement as a sign of appreciation.
GI Bill Benefits
The GI Bill provides qualifying military personnel with money that can help make getting a higher education affordable. It covers up to the amount for in-state tuition at a public institution. Veterans can also attend nearly any school they choose.
Along with covering tuition and similar expenses, those who receive full Post-9/11 GI Bill benefits may also receive a living stipend. For example, this payment aligns with the Basic Allowance for Housing. This allowance is according to the school's zip code for E-5's with dependents. Additionally, there is an annual book and supply stipend of up to $1,000. Veterans in rural areas may also qualify for an additional $500 one-time relocation allowance.
In the vast majority of cases, a military service member must spend a minimum of 36 months on active duty to qualify for full Post-9/11 GI Bill benefits. However, Purple Heart Recipients become eligible for full Post-9/11 GI Bill benefits even if they don't serve the entire 36 months on active duty.
Those with at least 30 continuous days on active duty who are discharged for a service-connected disability can use 100 percent of the benefit as well. They get the benefit even if they don't receive a Purple Heart.
College Scholarships
Purple Heart recipients, along with their spouses, children, and grandchildren, may be eligible for a scholarship. The scholarship is through the Order of the Purple Heart Scholarship Program. Approximately 80 awards are given out each year. They go to students enrolled full-time in undergraduate programs at accredited US colleges.
The scholarship funds can help with managing a variety of costs. These costs include tuition, room and board, books, fees, and any other costs directly associated with earning a degree. Plus, a person can receive a scholarship from the organization up to two times.  This is as long as they are in non-consecutive years and the student is otherwise eligible.
Medical Priority
The Department of Veterans Affairs (VA) has eight priority groups for veterans in regards to medical care. Group 1 includes individuals with a disability rating of 50 percent or higher. Group 8 are those least in need. They usually base this priority on a low or 0 percent disability rating and a higher income.
However, all Purple Heart recipients are automatically placed in priority group 3 no matter the level of their income or disability rating. This increases their access to medical care.  It also ensures they are not responsible for co-pays for medical treatment or hospitalization at VA facilities.
If a Purple Heart recipient has a disability rating of at least 30 or 50 percent, they still qualify for groups 2 and 3, respectively.
Special Pay
As part of the Combat-Related Special Compensation (CRSC) program, Purple Heart recipients may be eligible for a tax-free entitlement payment every month. This is in addition to any retirement pay a person may receive.
To qualify, a person must be entitled to or be currently receiving military retirement pay. They must also have a VA disability rating of at least 10 percent, waive their VA pay from their retirement pay, and file a complete CRSC application with their military branch of service.
In some cases, a Purple Heart recipient may also be eligible for a retroactive payment. Typically, the date on which they qualify aligns with their Purple Heart eligibility date, the additional qualifications and limitations do apply.
Hiring Preference
When it comes to acquiring a civil service job.  Typically with the federal government, veterans can receive preference points. Federal job applications use a point system. Veterans automatically receive a points bonus for their military service.
The number of preference points a veteran receives depends on a few conditions. Most veterans receive a 5-point preference. However, Purple Heart recipients receive 10 points as long as they otherwise qualify.
If a veteran has a service-connected disability, regardless of whether they received a Purple Heart, and cannot work, then their spouse can receive a 10-point preference. Unmarried spouses of certain deceased service members also qualify. Parents of veterans who died while on-duty or became permanently and totally disabled may also use the 10-point preference.
However, a person only receives the points if he or she otherwise meets the job criteria. You must score at least a 70 on the evaluation scale first. If you do, then they add the preference points.
Veterans preference does not guarantee a federal job will go to a veteran. However, it increases the chances that, if a qualified veteran is available, that the hiring manager will consider them for the role.
Some other jobs may also give veterans preference. For example, state governments often extend this benefit. Private employers might as well, but this is at their discretion.
State Benefits
Many states also offer additional benefits to Purple Heart recipients and other veterans. However, what is available varies by location, and not every state has a program.
For example, Arizona has the Arizona Purple Heart Tuition Waiver program. Post-9/11 Purple Heart recipients who have a 50 percent or higher disability rating and were residents of the state during their service can receive the scholarship.
The state also provides state income tax exemptions up to $2,500 per year. Additionally, veterans with a 100 percent service-connected disability pay no taxes or registration fees for their personally owned vehicle.
Veterans and Purple Heart recipients can often learn more about potential benefits by contacting the associated department or agency within their state's government. In many cases, honorably discharged veterans, regardless of disability, may be able to secure discounts or cost exemptions on certain government products or services, ranging from fishing licenses to income taxes.
Coming Soon: Commissary and MWR Access
Beginning in 2020, recipients of the Purple Heart will have access to military commissaries and MWR services, if they choose to participate in a new program. This allows them to save money on groceries, as commissaries generally have lower prices than other area stores. Additionally, MWR can provide access to low-cost lodging options, making travel more affordable.
The new benefit is going to have a fee, which has not been fully defined by the Pentagon. Additional details should be available at some point in 2019.
How do you celebrate Purple Heart Day is you're a purple heart recipient? Tell us about it in the comments below.
Looking for more great articles on military personal finance? Read more below:
If you enjoy reading our blog posts and would like to try your hand at blogging, we have good news for you; you can do exactly that on Saving Advice. Just click here to get started.