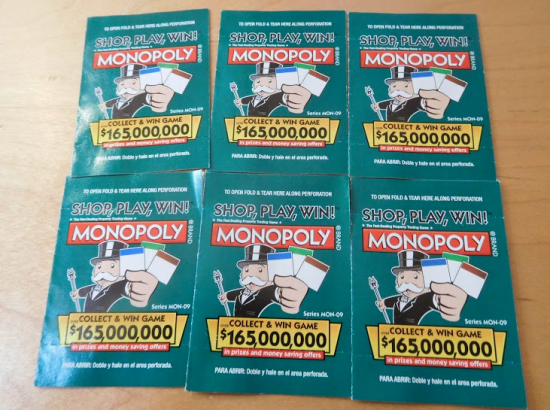 With the Safeway Monopoly promotion already started, it is well-known that the basic Collect and Win game pieces are not difficult to obtain; it's the rare and semi-rare tickets that are truly hard to find, not to mention the odds of actually winning the jackpot prize are stacked up even higher this year. Thus, you might find tricks to win Albertsons' Monopoly especially helpful.
For the Albertsons' tenth annual event, there are over $250,000,000 in prizes and money-saving offers, including four $1 million vacation homes, two $1 million cash prizes, grocery gift cards, and more; but with the chances of winning decreasing each year, how is one actually to win the game?
There are some tips and tricks you can use to win a few extra tickets as well as bonus tickets and work your way closer to those rare game pieces, which will lead you to the gold mine. Check them out below:
Tricks to Win Albertsons' Monopoly:
Team up with friends and family. Gather a large group of loved ones to divide and conquer. The more tickets you can collect and trade, the better your chances can be at finding those rare pieces and, ultimately, winning at least one of the bigger prizes. Essentially, this is a collect-and-win game. See if your family is interested in participating this year together. Plus, this can be a great family-bonding experience. Sharing is caring after all, right?
Peruse around on Cragislist.com and online forums. Craigslist is already starting to fill with individuals holding a handful of extra tickets they are willing to trade so that they can fill their own game boards. Other outlets like the comment sections on YouTube.com Albertsons' Monopoly videos also contain useful information from participants with markers to trade. You can always use competitions from the past to implement to the 2018 game. While you likely will never find a rare or semi-rare piece for free, you can at least still cash in on some of the other useful and fun prizes. Not to mention those bonus tickets can really come in handy too. Speaking of…
Follow this pair of traveling sisters' advice. These sisters previously posted their winnings on Youtube.com after doing a mini-road trip to a variety of Albertsons stores in the southwest.  You can read more about their journey and their strategy on their site. However, despite collecting thousands of tickets, they still did not hit the big prize. This will hopefully give you an idea of how many tickets you need to gain in order to increase your own chances.
Only buy your groceries from Albertsons and Albertsons-owned participating stores until May 8. Again, the more markers you gather the better your odds. So, by doing your regular grocery shopping at these chains, you can get an early start on collecting. Plus, you can mail-in requests for tickets as well.
In summary, you should do your research, start early and recruit a crew to tackle this promotion. Keep your eyes and ears peeled for how to obtain those bonus tokens as they often lead to more winning opportunities. Hopefully, these tricks to win Albertsons Monopoly will you help you with your efforts in 2018.
Are you playing this year? What tips do you have to offer? What has worked for you in the past?
More about Albertsons Monopoly:
Like Saving Advice? Subscribe!
Subscribe to get the latest Saving Advice content via email.