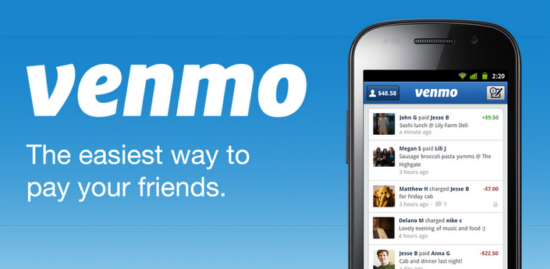 Say you are out at a nice restaurant with some friends. One friend pays for the whole tab and asks everyone else to pay him back. Unfortunately, you do not have any cash on you. What do you do?
Venmo is an application owned by PayPal, and allows ease of payment between friends. You can find friends through your contact list and through Facebook, and connect cards and banks to send and receive payments free of charge. However, because Venmo is such a new product people are wondering what the app is like, whether its security is up to par and if it is even worth downloading.

What is Venmo?
Venmo, as described above, is another way to pay from PayPal. You can use the app much like you would any other mobile pay app. Simply download it, sign up for an account and link your bank accounts/credit cards or PayPal account. Then, when you want to send someone money, pay for something or make a bank transfer you can just use the app.
A Venmo Review
Venmo's user interface is simple and straightforward. Its ease of use is perhaps its biggest selling point. Payments appear chronologically with newest first. Buttons that toggle whose transactions you see – yours, your friends', or everyone in your area. The app provides a step-by-step guide for adding your card and bank account, including providing a swift pairing option for those with larger banks. For example, I paired with my Bank of America account, and was able to simply put in my login information rather than hunting down my account and routing numbers.
How Does Venmo Work?
This app works with several large bank companies, such as Bank of America, Capital One, Suntrust, and more. Sending and receiving money via bank account is fee free with this app, as well as with debit cards. A 3% fee applies to credit card transfers, but with the multiple options Venmo offers, that fee is easily avoidable.
Transfers from your Venmo balance – after a friend has paid you – take very little time and are extremely easy. Once your bank account is linked and confirmed, you simply have to select the bank, type in your transfer amount, and hit send. In this regard, the app's functionality is almost identical to PayPal.
The app also allows connectivity across devices, making it easier to log into your account and manage information. This feature can also act as a secondary level of security since it allows you to monitor where and when your account is accessed.
Venmo Security
Security within the Venmo app is easy to personalize via the settings menu. While everything starts off visible to practically anyone, privacy settings allow you to select who can view your past transactions, as well as who can initiate transactions with you and what groups of friends will appear in your friends list. For example, if you would rather limit your friend interaction on Venmo to phone contacts and not Facebook friends, all you have to do is toggle off the Facebook Friends option.
Venmo Pay is the final positive feature of the Venmo app. It functions the same way PayPal does in that it allows you to pay merchants for goods and services. Most merchants who accept PayPal will accept Venmo Pay. Having an app that does it all in one is much more convenient than needing multiple.
Venmo's Negatives
There are, however, a couple downfalls to this app. Although the privacy settings are adjustable, you do start out with everyone having the ability to see everything. You have a general lack of privacy until you go in and set up your privacy preferences. Since the privacy settings are so simple, changing them does not provide a total sense of ease and security.
The most frustrating aspect of this app, however, is that the language is primarily emojis. When sending money to or requesting money from a friend, the app automatically suggests emojis in place of words. This results in transactions which are difficult to differentiate, which can cause problems when trying to organize payments. This ties in with another downfall of the app: the inability to organize any other way than chronologically. While organizing chronologically is not difficult, it can bog down the organization process.
Apps Like Venmo
Splitwise offers the most competition for Venmo. It keeps track of IOUs and bills in a more organized fashion. It divides bills and payments into categories – such as the house payment, your spring break trip, and random expenses – and tells you how much you owe and are owed. The catch is, this app allows you to either mark cash payments, or pay with PayPal or Venmo. While it may offer a higher level of organization and functionality than Venmo, it still relies on that system for transactions.
Ultimately, if you are looking for a way to keep track of payments you owe friends or payments friends owe you, Venmo is your best option. Its ease of use and high levels of connectivity allow it to fit perfectly into your lifestyle with little difficulty or disruption.
Have you used Venmo or a similar app? What was your experience? 
Photo: Canyon News
Other readers also enjoyed: