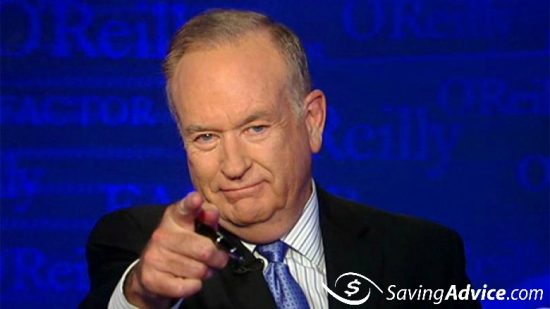 Over the past year or so there has been sex scandal after sex scandal in the United States. The most recent among said scandals was that of Fox News' Bill O'Reilly. A number of women came forward saying that O'Reilly made unwanted advances towards them on various separate occasions. Because of this, Fox News dropped the anchor from the network.
His show, "The O'Reilly Factor," has been canceled and he will no longer be a Fox News employee. O'Reilly had been employed by Fox for 20 years. So, what is Bill O'Reilly's net worth and how will this layoff affect his overall finances?

---
Bill O'Reilly's Profile:
Net worth in 2017: $85 million
Profession: News anchor, political commentator
Age: 67
Source Of Wealth: TV hosting
Residence: Manhasset, NY
Citizenship: U.S. Citizen
Marital Status: Divorced
Education: Harvard University
---
Bill O'Reilly's Career
Bill O'Reilly was born on September 10, 1949 in New York City. As a child O'Reilly attended St. Brigid parochial school in Westbury, NY and went on Chaminade High School and then Marist College. He received his bachelor of the arts degree in history in 1971, a master of arts degree in broadcast journalism (Boston University) in 1973 and his master of public administration degree in 1996 (Harvard).
His last degree was a mid-career degree. In fact, by that time O'Reilly had been in television for 16 years. In 1980 he anchored "7:30 Magazine," a local news feature in New York. Soon after his debut he joined the news station as an anchor and correspondent. He won an Emmy for an investigation he did on corrupt city marshals.
Two years later (1982) O'Reilly was promoted to CBS News correspondent. During his time as the CBS correspondent he covered the wars in El Salvador and his work with CBS landed him a job as a corespondent for ABC News in 1986. He worked on popular shows like "Good Morning America," "Nightline" and "World News Tonight."
Once O'Reilly graduated from Harvard University he was hired by Roger Alies who owned the Fox News channel (just a startup at the time). He was hired to anchor "The O'Reilly Report," later renamed "The O'Reilly Factor." The 67-year-old hosted the program for 20 years (until yesterday, that is). So, how much has Fox News contributed to Bill O'Reilly's net worth and how will it be affected since the layoff?
Bill O'Reilly's Net Worth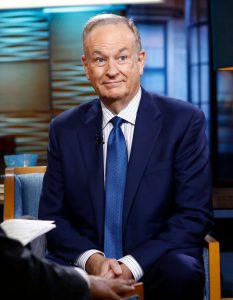 Bill O'Reilly's net worth is estimated to be about $85 million. Similar to television hosts like Oprah Winfrey, O'Reilly started from the bottom and worked his way up in the news anchor world until he had his very own program. How did his career choice affect his net worth?
Obviously Bill O'Reilly is an extremely successful anchor. The bulk of his current net worth came from his work with the Fox News network. He made at least $20 million per year during his time there. The 67-year-old anchor has also raked in a bit of cash through his writing.
O'Reilly has had numerous nonfiction books (and one memoir) published over the years. Ten of the books have even reached the number one spot on the New York Times best sellers list. He earns about $24 million from the sale of his books alone.
Like many other celebrities, O'Reilly also has a bit of money invested in property and the stock market. A few years ago he bought a $8.5 million oceanfront property and built a mansion (estimated to be worth $10 million). O'Reilly also has a number of undisclosed investments in the stock market but refuses financial advice. He says he likes to manage his hard-earned money himself.
Bill O'Reilly's net worth will likely be affected a tad from losing his job at Fox News. It is likely that another network will pick him up down the road though and, because he is 67, he could even retire with the money he's earned now. Either way, you probably haven't heard the last of Bill O'Reilly.
If you liked this article you may also enjoy reading "What Does a Billion Dollars Look Like?"
Photos: Liberty News and Independence Card