Recently-appointed Secretary of Education Betsy DeVos has had trouble staying out of the spotlight since being nominated for her position. DeVos has made a number of controversial statements since taking office (she compared school choice to the choice between Uber and a taxi just this morning).
Like many of Trump's appointees, DeVos didn't have much political experience prior to taking office and she's fantastically wealthy. So, what is Betsy DeVos' net worth and how much will she be making in Washington?

---
Betsy DeVos' Profile:
Net worth in 2017: $5.1 billion
Profession: Secretary of Education
Age: 59
Source Of Wealth: Business Dealings
Residence: Lake Michigan
Citizenship: U.S. Citizen
Marital Status: Married; Dick DeVos
Education: Calvin College
---
Betsy DeVos' Career
Betsy DeVos was born Elisabeth Prince on January 8, 1958 in Holland Michigan. She is the daughter of Elsa and Edgar Prince. Her father, Edgar, was the founder of the Prince Corporation, which produces car parts. DeVos grew up in Michigan and attended Holland Christian High School (private school) and then went on to receive her Bachelor's degree from Calvin College where she was involved with campus politics.
The new Secretary of Education grew up in one of Michigan's wealthiest families and then married into a family even wealthier. She and her husband have been able to amass a great amount of wealth together. In fact, DeVos is the chairwoman of Windquest Group, a privately held operating group that invests in technology and clean energy. She and her husband founded Windquest in 1989. Additionally, the two are chief investors and board members of Neurocore, a group of brain performance centers. The company does work to develop therapy for depression, ADD, autism and anxiety.
It seems the power couple has dipped their toes in just about every type of business. Dick and Betsy were also producers for a Broadway play in 2012. The show only ran for three weeks after receiving less-than-positive reviews. Politics is just another area in which the DeVos' are involved.
Related Articles
Mike Pence's Net Worth
Dave Ramsey's Net Worth
How Much is Apple Worth
Facts About Bill Gates
Since 1982, Betsy DeVos has been involved with the Michigan Republican Party. She and her husband have donated and volunteered for years. DeVos is also an activist for education (especially charter and private schools) and is known for giving to charities that deal with education.
Now she has taken the office of the U.S. Secretary of Education, which is likely to further her political agenda regarding education throughout the country. But what is Betsy DeVos' net worth and how will her new job affect it?
Betsy DeVos' Net Worth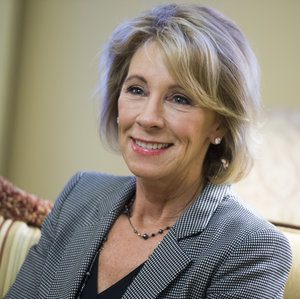 Betsy DeVos' net worth sits at $5.1 billion. She is a main driver of the Trump Cabinet's overall net worth of $11+ billion. The majority of her earnings, however, are from her career as a established businesswoman (and the successful business man she's married to).
Not all of her cash came from her successful adult life though. DeVos is also the daughter of Edgar Prince, as mentioned above. When Edgar died in 1995 the DeVos' sold his company (the Prince Corporation) for $1.4 billion.
The bulk of Betsy DeVos' net worth does come from her husband's company. Dick DeVos, Betsy's husband, is the 88th wealthiest person in the U.S. He even partially owned the Orlando Magic basketball team at one time.
Betsy and Dick took over DeVos' father's company Amway in 1989. Amway, which manufactures health and home care supplies, had $9.5 billion in revenue in 2015. As mentioned above, the couple also has significant holdings in Neurocore. Democratic senators raised concerns about DeVos' holdings in the company, however, so she will step down from the company's board. She does not intend to sell her shares in the company though, value between $5 and $25 million (which accounts for a fair amount of her overall net worth).
Another factor adding to Betsy DeVos' net worth is the family home they have in Lake Michigan. The home, which the couple built in 2010, is valued at $3+million. Not all of DeVos' cash is going to their expensive home though. The couple is famous for being philanthropists (they gave about $2.7 million to the Republican Party in 2016).
Now DeVos is able to work as the Secretary of Education for the United States and further her work as an activist for education reform. Betsy DeVos' net worth won't climb during her time in office though. In fact, the new Department of Education employee vowed she wouldn't take a salary for the position. Don't worry though, her $5 billion fortune won't walk away.
Photos: Huffington Post and NPR