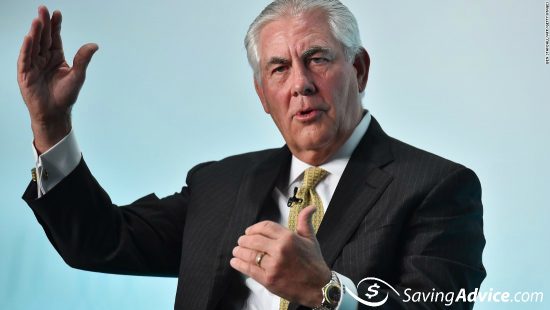 Although
President Donald Trump
vowed he wouldn't take a paycheck from Washington, he has and the rest of his rich cabinet members are too. The cabinet is compiled of elite United States citizens. Together they make up the
richest cabinet in U.S. history
(worth nearly $11 billion). So, what is Secretary of State Rex Tillerson's net worth and how much is he making in Washington?
---
Rex Tillerson's Profile:
Net worth in 2017: $330 million
Profession: Secretary of State
Age: 65
Source Of Wealth: Exxon Mobil
Residence: Bartonville, Texas
Citizenship: U.S. Citizen
Marital Status: Married; Renda St. Clair
Education: University of Texas, Austin
---
Rex Tillerson's Career
Rex Tillerson was born on March 23, 1952 in Wichita Falls, Texas. He grew up in a conservative, traditional family and spent his time as a child in groups like the Boy Scouts of America. Tillerson became an Eagle Scout in 1965. He went on to earn a Bachelor's degree in civil engineering from the University of Texas in 1975 and landed a job at Exxon Mobil immediately.
Tillerson got his start at Exxon as a production engineer. He is truly an example of working your way up the corporate ladder. After being a production engineer for 14 years he went on to be the general manager of the central production division of Exxon. By 1995 he was named President of Exxon Yemen Inc. and Esso Exploration and Production Khorat Inc.
Just three years later Tillerson became a vice president of Exxon Ventures and president of Exxon Neftegas Limited. This gave him responsibility over Exxon's holdings in Russia and the Caspian Sea. In 1999 he was named the executive vice president of ExxonMobil Development Company and by 2004 he became the president and director of ExxonMobil. And, two years after that, he was elected chairman and CEO of the company.
Now, Tillerson has cut his ties with Exxon Mobil in order to serve as President Donald Trump's Secretary of State. How will switching careers change affect Tillerson's overall wealth and how much does the Secretary of State make each year?
Rex Tillerson's Net Worth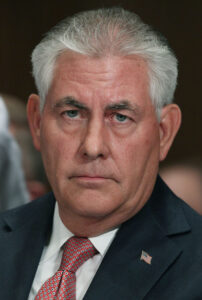 Rex Tillerson's net worth is estimated to be $330 million, according to Forbes. In 2015 he made nearly $25 million with his annual salary as CEO of Exxon Mobil and his investments. What many people don't realize, however, is how much Tillerson has given up to become Secretary of State.
Secretary Tillerson had no background in politics. In fact, the only place he's worked since he graduated college in 1975 was Exxon. He had to step down from his position with the company, of course, but Tillerson has had to make a number of other sacrifices as well.
For his job at Exxon Tillerson received a $180 million severance package. There are a few stipulations though. If he decides to follow his time in Washington by working with another oil or gas company he will forfeit his scheduled trust payments (his retirement). If this happens the money will go to charities helping to fight poverty or fighting disease in developing countries.
To avoid any conflict of interest Tillerson also offered to sell 600,000 of his Exxon Mobil shares (valued at $54 million). He won't completely have to withdraw from the stock market though. Due to a law that passed under George W. Bush, Tillerson can invest his holdings in "permitted properties" during his time in office.
Exxon isn't the only place Tillerson has stock either. It is reported that he had nearly $500 million in global assets before taking the office of Secretary of State. At least $200 million are Exxon-related holdings but he also has stock holding in Russian and Chinese companies (all $50,000 or under). The Texas native also has large holdings in Texas municipal bonds and a beautiful $25 million home he shares with his wife.
Tillerson is among the ranks of the richest presidential cabinet in history. With a net worth of $330 million he is still only third richest. He comes just behind Secretary of Commerce Wilbur Ross ($2.5 billion) and Secretary of Education Betsy DeVos ($1.25 billion).
Now the former Exxon executive will be making a base salary of $186,600 per year, though it won't likely affect Rex Tillerson's net worth greatly. What he chooses to do after his time in office (and how it affects his wealth) will be interesting to see but, until then, he'll be collecting a paycheck in Washington.
Photos: CNN and The Legacy Project