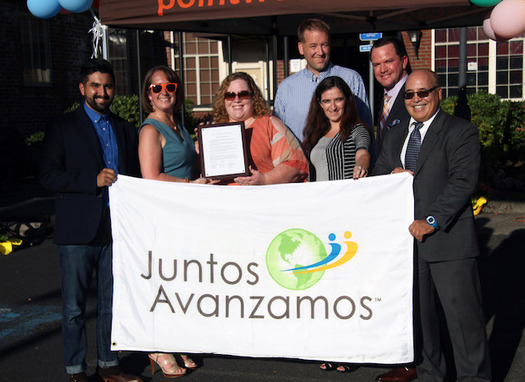 September 7. 2016
Point West Credit Union recently received the "Juntos Avanzamos" (Together We Advance) award for its service to the Hispanic community. (Point West Credit Union)
PORTLAND, Ore. – Oregon residents who aren't citizens might struggle for access to some services, but now it's much easier for them to get a loan.
If qualified, noncitizens can start a business or buy a car with a loan from Point West Credit Union in Portland. Steve Pagenstecher, vice president for member experience at Point West, which also has created a guide for credit unions interested in lending programs for noncitizens, said many ideas about the foreign-born population aren't based on facts.
"There's a lot of myths resounding around this whole idea," he said. "The end of the day, these people are here for the same reasons that all of us are here – which is, their family is here, there's an opportunity here, they're trying to make a life."
Since Point West restarted its noncitizen lending program 18 months ago, Pagenstecher said, the credit union has loaned more than $5 million to 600 families and has seen zero delinquencies on payments. The lending program does not include loans for home mortgages.
Pagenstecher said one of the biggest barriers to helping people who aren't U.S. citizens is speaking their language, so it's important to provide culturally appropriate services to these members.
"If you're not from this country, and you come from a different culture where banking isn't necessarily something that's considered part of your culture or is certainly not something that you would consider at your socioeconomic status," he said, "it can be a very different type of thing to try and wrap your head around, once you come to the United States."
Pagenstecher said credit unions are uniquely qualified to provide services to noncitizens because they are member-based institutions and focus much of their work on underserved communities. The program isn't a political choice, he said, but a look at the reality of the United States, where the noncitizen population tops 22 million.
"These people are already in our community. They're already providing goods and services to those that we live with, they're a part of who we are as Portland and as the Portland metro area," he said. "And if they're here and they need access to credit, just like everybody else, why wouldn't we be serving them?"
Source: Public News Service, Republished with permission.
Author: Eric Tegethoff, Public News Service – OR