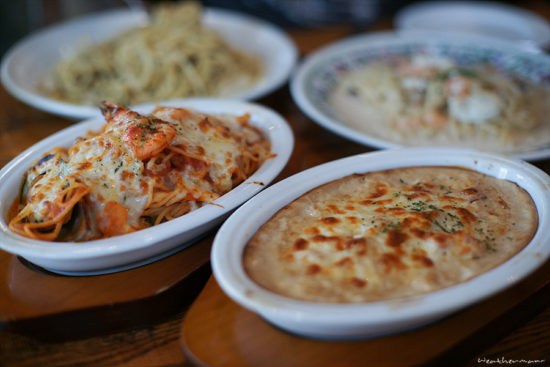 Father's Day is Sunday, June 19
. Many children and spouses will be searching for the perfect Father's Day gift or planning the perfect
Father's Day
outing. If you're planning to go to breakfast, brunch, lunch or dinner on Sunday, you may want to search around and see which restaurants are offering free or discounted meals for dad.
Each of these places is offering free (or discounted) food for dad on Sunday:
Beef 'O' Brady's: With a purchase of a meal of greater or equal value, your dad can eat for free (up to $10 value). Some menu restrictions may apply to this deal.
Fogo de Chao Brazilian Steakhouse: If you head to Fogo de Chao on Sunday, make sure you ask about a complimentary meal for dad. If your dad eats at the Brazilian Steakhouse on Father's Day, he'll receive a comp lunch or dinner for his next visit.
White Castle: If you pre-order White Castle's "10-sack special" sliders for Father's Day online, you will only pay $2.50. You will also receive a free White Castle Father's Day card. Simply use promo code "DAD" at checkout.
TCBY: Dads will receive a small frozen yogurt for free at all participating TCBY locations on June 19.
The Melting Pot: Throughout the week and weekend leading up to Father's Day, you can reap the benefits of many discounts at The Melting Pot. Discounts will vary from location to location.
Francesca's: Fathers can get a free meal with the purchase of another entree of greater or equal value.
Kincaid's: If you dine at Kincaid's over Father's Day weekend (Saturday or Sunday) will receive a special gift to celebrate Father's Day.
Zea Rotisserie & Grill: Bring your dad to Zea on Sunday and he'll receive a free 4-pack of handcrafted beer.
Stir Crazy: All fathers eat free on Sunday, June 19.
Hooters: Dine-in customers can receive all-you-can-eat ribs, chicken, cole slaw and curly fries on Sunday for the low price of $19.99 for the weekend of Father's Day.
Spaghetti Warehouse: Dad can eat Spaghetti Warehouse's 15-Layer Lasagne or any of the restaurant's original spaghetti dishes for free on Father's Day.
Hotshots Sports Bar & Grill: On Sunday, June 19, you can bring your dad to Hotshots for a free meal and beverage from "The Big 3" menu.
Wienerschnitzel: Dads can enjoy a free hot dog on Father's Day by printing a digital coupon from Wienerschnitzel.
The Claddagh Irish Pub & Restaurant: With the purchase of another entree, dad can eat free at Claddagh.
Roy Rogers: Purchase a kids' meal and dad can eat free on Father's Day at Roy Roger.
Hurricane Grill & Wings: Buy one entree and get dad's for free on Sunday at any Hurricane Grill location.
Primanti Bros: Visit any Primanti Bros on Father's Day and dad can eat for free.
III Forks: Dad can receive a free steak on Jun 19 with the purchase of any meal of greater or equal value. This free meal can have a value of up to $50.
Firehouse Subs: Get dad a free medium-sized sub when you buy a sub, chips and drink combo at Firehouse Subs on Sunday. Visit the restaurant's website for a printable coupon to take advantage of this promotion.
Outback Steakhouse: Outback is offering a 3-course meal for Father's Day. Prices for the meal start at $20.99. The restaurant is also offering a "free" $10 gift card when you buy a $50 gift card.
Do you know of any restaurants offering free and discounted meals for dad on Father's Day?
Photo: Flickr: iweatherman
Like Saving Advice? Subscribe!
Subscribe to get the latest Saving Advice content via email.