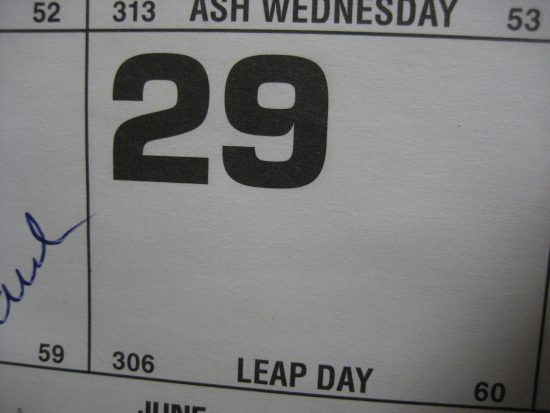 Every four years there is a leap year. This means that there are 366 days in the year instead of only 365. The "extra" day falls on the last day of February. This means that you have a full extra 24 hours to do whatever it is you want to do this year. However, you should use the extra day to try and make or save some extra money.
Of course, you can do any of these things any other day of the year as well. However, most of the time, everyone's excuse is there "isn't enough time." Well, there is a full extra day this year, so here's your time to start saving money or even make a little extra money.
Get Married
Okay, this may sound crazy, but if you've been planning on getting married, Leap Day is a great day to do it. Of course, you can't have a full-blown wedding (if you haven't been planning it for Leap Day). However, you can go to the Justice of the Peace and get married today. It is relatively cheap to get married that way and (here's the money saver), if you get married on Leap Day, you only have an anniversary to celebrate every four years.
Leap Day Deals
Keep an eye out for Leap Day deals. Many retailers are taking advantage of the "extra day" this year by offering deals and other specials. Some retailers will be offering a percentage off everything in the store. This is a great time to get discounted clothing for next winter also. Most stores are beginning to switch out their apparel selections.
Change Your Energy Provider
One thing you can do on Leap Day (February 29) is you can call up your energy provider. When you do that, you can also call their competitors and inquire about switching. This usually only takes about 10 minutes, but the full extra 24 hours opens up an entire day that you can get these things done. You can be saving money every single month by simply making a call and doing some price comparing.
Clear out Your Spare Room
Most people have a spare room full of things that they don't really use that much. You can go through that room and sell a few things for some extra cash. What better day to do that than Leap Day? You can usually find things like used books, used CDs and DVDs, unused gift cards and even old cell phones. All of these things are able to be sold or exchanged for cash.
Start a Blog
Another great way to take full advantage of Leap Day and start earning some extra money is by starting a blog. You may have been thinking about starting a blog for extra income for some time, however, you never seem to have the time to start one. Well, Leap Day is an extra day in the year that you don't normally have so why not do it then? If you are an expert on a subject (or even very passionate about something), you can start a blog. By using things such as Google Adsense and affiliate postings you can make decent money through your blog.
Become a Tester
You can also start making some extra cash by becoming a tester of products. This is usually something that takes very little time. However, you'll have to fill out a form online. You can sign up online and you usually can earn up to $10 per test that you take. This is an awesome way to rake in some extra cash not only on Leap Day but also throughout the rest of the year as well.
Photo: Flickr: Denise Krebs