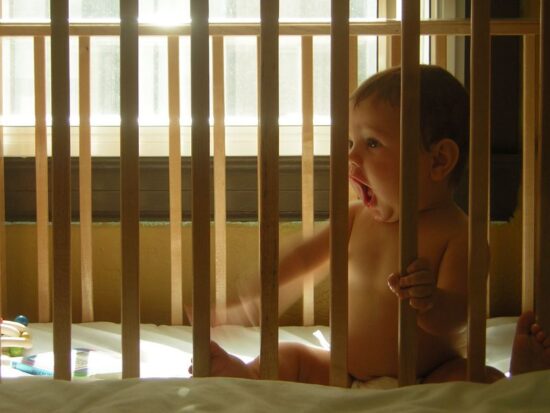 Babies can be a wonderful but
very expensive
. Many parents, especially in recent years, have opted to buy their baby's items used, which is great (you can save a ton of money this way). Newer items for babies can be priced extremely high. While wanting to buy used items is completely understandable, there are a few items that you shouldn't buy secondhand.
Used Cribs
Baby cribs can be incredibly expensive, but it's a well-known fact that you should not buy them used. Many used cribs are models that have been recalled in recent years as the cribs were deemed unsafe. This is especially true if you're thinking of using a crib that's over ten years old. Many of those cribs can no longer be sold in the U.S. due to safety or recall issues. It's better to shell out the money for a new crib than risk your child's safety with a potentially hazardous used crib.
Secondhand Crib Mattress
Most people would never buy a used mattress for their own bed, so it's best to avoid buying a used crib mattress as well. Unless you're receiving one from a very close friend or family member, it's a good idea to purchase an entirely new one. After all, you don't know how sanitary that used mattress is, if there are any germs or diseases in the material, or if it will even fit into the crib you own.
Pre-Owned Play Pen
Unfortunately, many play pens have suffered the same fate as cribs and crib mattresses. Older versions aren't as safe and are subject to recalls and buying newer versions can be strange if you don't know the usage history. As with a mattress, you don't know if a used play pen is sanitary or if it's been contaminated with an illness or cold the previous baby using it came down with. Again, as with many of the items on this list, unless you're 100% certain that everything is fine, you might want to avoid buying a used play pen.
Used Strollers
While strollers made after 2007 are generally okay to reuse, you should avoid buying a used stroller that was made before 2007. Many of the older models don't have the same safety precautions or standards that the newer models have.
Used Car Seats
Most car seats have an expiration date on them and within the past decade, many of them have also been recalled. While car seats can be pricey, it's best to avoid buying a used one unless you're certain that it's not expired and hasn't been recalled. Additionally, while a used car seat may look fine, it's often difficult to know whether or not all the parts are in working order. This is definitely an item you should consider buying new.
Secondhand Swing
Many people are split on whether or not baby swings are truly necessary, just as they're split on whether or not buying one used is okay. Some claim that it's fine as long as you personally know the person giving or selling it, but others claim that a swing could seem great at first glance but have wear and tear if it hasn't been used in awhile. It's also important to determine whether the swing has been made of safe materials, if it's out of date, how old it is, and if it's been recalled.
Used Breast Pumps
While a lot of items on this list could be bought used if you do your research, you probably shouldn't buy breast pumps used. These can be hard to sanitize completely and you don't want to run the risk of getting an infection. There are plenty of organizations that provide low cost breast pumps to rent or buy, so you should stick with buying a new one instead of using a secondhand one.
Used Bottles
Baby bottles can be very inexpensive, so they're something you should definitely buy new. For one thing, you may not be able to properly sanitize them after buying them used. For another, you have no idea what was previous held in the bottle. It might not have been just milk or formula. If you're worried about cost, a quick search on Amazon or any other internet retailer shows that you can receive packages of them for a decent price.
Secondhand Pacifiers
Pacifiers are another item you shouldn't buy used. You may not think that people buy used pacifiers, but they definitely do. A good reason for not buying them used is because like many other items, they have an expiration date. They also become brittle over time and can crack inside your child's mouth, making it a dangerous choking hazard.
Pre-Owned Bath Toys
While normal toys can often run the risk of recalls or containing dust mites or germs, those problems can be easily fixed. Bath toys are a different matter entirely. Many of these toys often retain water and you may not know what germs are being carried.
Photo: Flickr: Valentina Powers
Alexa Mason is the blogger behind Single Moms Income, a personal finance freelance writer, and an online entrepreneur. Come hang out with her on Facebook and Pinterest.