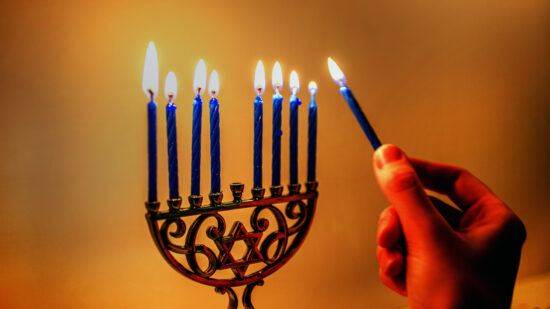 Sunday night, many Jewish families will begin celebrating Hanukkah, the Festival of Lights, It is a special time of year for many families to stop and remember the small (and large) miracles that happen in everyday life. Many will stop and remember how the lamps stayed lit for eight days and eight night in the Temple in Jerusalem thousands of years ago. Others will be worried about the expense that celebrating Hanukkah brings.
Oftentimes, people are too focused on splurging on travel, decorations and gifts instead of focusing on the meaning of the holiday. However, if more people kept the spirit of the celebration of Hanukkah in mind, it will make the season both meaningful and cost efficient.
There are a few places people can cut down on cost when it comes to celebrating Hanukkah. Travel is probably the biggest money-spender for the holiday. Here are some frugal tips to share during this special holiday season:
Travel
Obviously, most people want to spend the holidays around their families (wherever they may be), but sometimes spending time with family means traveling long distances. To save money on holiday travel, you should plan ahead. Make sure you book your tickets way ahead of time so that you won't have to pay an arm and a leg to travel to your family. However, there may be a few ways you can still save.
If you have the time (and the drive is plausible), drive to your family. Driving will always cost a lot less during the Christmas season. While it may take longer, it is less expensive, and if you have children, road trips can be very memorable. Also, if you have other family in the area (brothers, sisters, aunts, uncles, etc.) that also need to get a ride to the final destination, you can split the expenses.
The last option (always), if you don't have the money to travel to see family for the Hanukkah celebrations, you can video call through Skype. It is completely free and you will be able to see each of your family members and feel like you are there for the festivities. Other applications such as Facebook, Google Hangout and FaceTime also help you feel like you're at home even if your hundreds of miles away.
Decorations
Hanukkah decorations don't need to be over the top. Decor can be extremely expensive and, although they set the mood for the holiday, sharing stories and passing along other traditions to the younger generations of family is what is truly important. If you'd like to decorate and create a new tradition, consider creating decorations as a family. It is a frugal way to get your house looking like you want it to for the holiday and it will create new memories.
Menorahs are an important part of celebrating Hanukkah as well. There are many menorahs that can be passed down, so usually there is no reason for buying one. However, if you find yourself needing one, there are plenty of ways to craft your own. It would be a great father-son project to make the family menorah, and it is cost effective. Making your own menorah will give you a one-of-a-kind holiday decoration that will always be special.
Food
Oftentimes, celebrating Hanukkah means at least one (if not multiple) big family meals. However, opting out of catering the event isn't a terrible idea. Collaborate with some family members to have the meal at another hours. Share family recipes with them and help with preparation.
Gifts
Many people will be giving gifts throughout all eight of the festival days. You can keep your budget under control by mixing up the presents. The gifts don't have to be high-end every day during Hanukkah. In fact, handmade gifts, trinkets and one or two bigger gifts is a good balance between the days. Sometimes, the handmade gifts can be some of the favorites. Also, you can tap into technology to find good deals on the bigger gifts for the holiday online or compare prices from store to store.
Celebrating Hanukkah (or any holiday) can get expensive. However, there are ways you can cut down the cost and not be biting your nails over prices during the festival days. Enjoy the holiday, and remember the reason for the season.