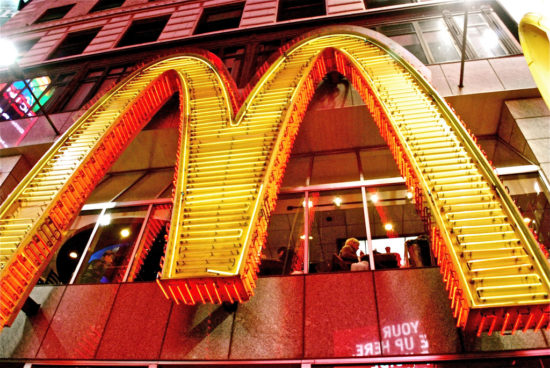 If you follow the stock market, it seems like McDonald's, the fast food giant, has been in a prolonged effort to turn its profits around. However, the company made some shocking announcements on Tuesday that have many questioning the company's approach.
On Tuesday, McDonald's announced that it would be increasing spending to buy back shares. This will cause the company to accrue a "meaningful" amount of debt, but it will allow it to send more cash to shareholders. MDs CEO Steve Easterbrook also said that the company would not be putting any of its real estate into a Real Estate Investment Trust (REIT), even though many investors called for it to do just that.
When company officials were asked why they decided not to put any of their assets into an REIT, the company's Chief Administrative Officer Pete Benson said, "We have concluded that any potential value creation from a REIT is outweighed by the significant financial and operational risks to our business and the continued progress of our turnaround, and we do not believe that pursuing a REIT would be in the best interest of McDonald's at this time."
Just one year ago, McDonald's real estate (which includes rental payments from franchise owners) accounted for about 22 percent of the company's revenue. Investors and analysts have been suggesting the company's higher-ups put their real estate assets into a public-traded fund. By placing its real estate into an REIT, McDonald's would have been provided tax advantages and would have been able to offset the declining profits.
Easterbrook said McDonald's decided not to put its real estate into an REIT after determining "the potential upside is not compelling."
The third quarter this year was the first good quarter McDonald's has seen in nine sessions. While the company did see an increase in the previous session, many of its investors believe that the company should have made the decision to put its real estate in an REIT.
"We've begun to feel traction take hold in the business," Easterbrook said. "And while we're realizing the benefits of our actions in recent weeks, it takes time for the actions underpinning this shift to take root."
Plans to increase the company's dividend by 5 percent in the fourth quarter this year was a welcome announcement to the investors, however, borrowing more money was not. Standard & Poor lowered McDonald's rating one notch from BBB+ to A-.
In addition to plans to increase McDonald's dividend, the company also announced that they plan to increase the number of restaurants they plan to sell to franchisees. In May, the company said it planned to sell 3,500, but it announced that McDonald's now plans to sell 4,000 restaurants to franchisees by 2018. The company, which is currently 81-percent franchise-owned aims to be 95-percent franchise-owned.
The company has already begun to make changes like offering breakfast all day. Analysts are still waiting to see any great revenue from the change, but Easterbrook is more than optimistic that the company's change in menu will provide a significant increase.
Board members said that these actions are an attempt to end its slump. Although McDonald's saw an increase last quarter, it wants to continue to trend upward, and although they did not take the advice of their investors by putting real estate into an REIT, the company believes it will see an increase soon.
Like Saving Advice? Subscribe!
Subscribe to get the latest Saving Advice content via email.