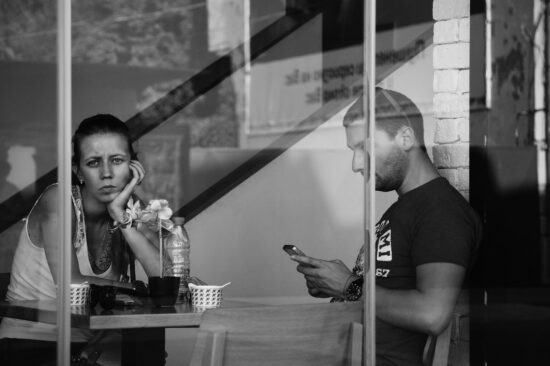 Attending to your smartphone while spending time with a romantic partner may have a far greater cost than you imagine. Recently researchers at Texas's Baylor University have found that use of cellphone can ruin romantic relationships and increase depression. 'When you think about the results, they are astounding,' said James Roberts, professor of Marketing at Baylor, 'Something as common as cellphone use can undermine the bedrock of our happiness – our relationships with our romantic partners,' Roberts noted. For his study, Roberts and colleagues conducted two separate surveys, accounting for a total of 453 adults in the US, to learn the relational effects of 'Phubbing' – or 'partner phone snubbing.'
Phubbing is the extent to which people use or are distracted by their cellphones while in the company of their relationship partners. 'What we discovered was that when someone perceived that their partner phubbed them, this created conflict and led to lower levels of reported relationship satisfaction,' Roberts said. Using their study of 308 adults helped the researchers develop a 'Partner Phubbing Scale', a nine-item scale of common smartphone behaviors that respondents identified as snubbing behaviours. The second survey of 145 adults measured phubbing among romantic couples.
What the results of the study are not surprising, what is surprising, is the frequency with which this sort of thing occurs. According to survey results, 46.3 percent of respondents said they'd been phubbed by their significant other, and 22.6 percent admitted that phubbing created problems in the relationship. 'In everyday interactions with significant others, people often assume that momentary distractions by their cell phones are not a big deal,' Meredith David, assistant professor of marketing at Baylor University's Hankamer School of Business. 'However, our findings suggest that the more often a couple's time spent together is interrupted by one individual attending to his/her cellphone, the less likely it is that the other individual is satisfied in the overall relationship'.
And even if it's as seemingly unimportant thing such as looking down at your phone every once in a while, the data's results appear to show that these few seconds can impact your partner's happyness eventually contributing to an overall feeling of dissatisfaction within the relationship.
If you're curious as to whether you are guilty of phubbing, consider answering some of the questions used in Roberts' study. But be warned, you may not like what you find.
1. During a typical mealtime together, my partner pulls out and checks his/her cellphone.
2. My partner places his or her cellphone where they can see it when we are together.
3. My partner keeps his or her cellphone in their hand when he or she is with me.
4. When my partner's cellphone rings or beeps, he/she pulls it out even if we are in the middle of a conversation.
5. My partner glances at his/her cellphone when talking to me.
6. During leisure time that my partner and I are able to spend together, my partner uses his/her cellphone.
7. My partner uses his or her cellphone when we are out together.
8. If there is a lull in our conversation, my partner will check his or her cellphone.
For more on this check out stopphubbing.com, where you'll find fascinating information not only on phubbing and its effects, but also on how you can help stop phubbing.
Otherwise if you don't care about snubbing your partner or are single, T-Mobile and Virgin are offering prepaid cell phone plans, but be careful not to make a long term commitment if you don't have to.