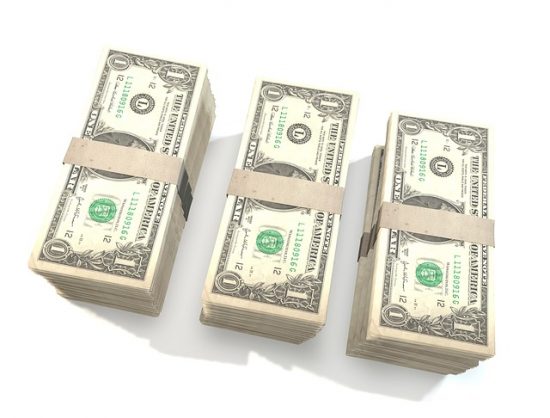 For some people, receiving a yearly bonus is the holy grail of rating someone's job performance. Bonuses for most people are received at the end of the fiscal year, or when an earnings goal has been met.
There are varying degrees of compensation for individuals receiving bonuses, but for most industries they tend to be fairly standard. Fairly standard unless you're in one of the following careers: finance, investing, or securities.
In fact, in the interest of showing how lucrative these bonuses are, I thought I would share a few of the more unbelievable amounts handed out.
#1 Steve Jobs
The former CEO of Apple received one of the most significant bonus payouts in the past 15 years. Again, bonuses are a percentage of the overall earnings of the company for which an individual works. As people compulsively purchased iPhones, iPads, and iPods all over the world, Apple's value grew. This buying frenzy resulted in Steve Jobs receiving a $43,511,534 bonus in 2001 as reported by Business Insider and CNBC.
Most people also know that Steve Jobs had a yearly salary of $1 dollar. But don't feel too badly for him because he also held a large percentage of Apple stock and received dividends from those stocks as well.
#2 Wall Street Bankers
The Guardian Newspaper reported that Wall Street bankers earned on average bonuses of around $172,860. Most people make much less working throughout the year than these bankers do once a year.
But, bankers are working with incredibly large amounts of money. So it is hardly surprising that they are receiving bonuses in line with the business sector in which they are working. They are tasked with one job and one job only–make more money.
Given these bonuses, many people may want to consider changing careers.
#3 The Tech Sector
It hardly comes as a surprise that companies in the technology sector pay out large bonuses. Bizjournals.com reported that Seattle in particular seems to be the epicenter for this trend. As the Seattle job market gets increasingly competitive, companies are looking to distinguish themselves not only through the creation of fun workspaces, but flexible hours, and no dress codes. These companies are also distinguishing themselves through how they compensate their employees.
Tech companies have deep pockets to pay their employees well.
It's important for these employees to ask if these bonuses are covering up another trend that may actually hurt their wallets over time. Employees should take the time to make sure that they are receiving pay raises that are at least in keeping with inflation. It is the employee's responsibility to decide if their yearly or quarterly bonus balances out the pay that they are receiving.
Most people, however, don't work for industries that pay out bonuses, and instead are structured to compensate employees through a yearly pay raise structure.
Ultimately, the bonus system is here to stay. If you are employed in an industry that has a bonus structure, take some time to decide how you can capitalize on the potential opportunity these bonuses offer employees.