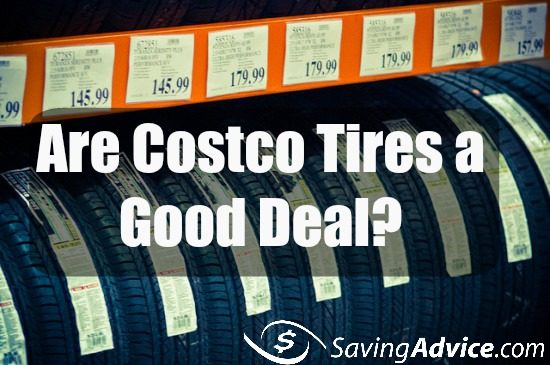 Costco
, the warehouse giant, is notorious for
saving shoppers money
. Customers can find everything from
food products
to home appliances and electronics. You can get prescriptions, eyeglasses, insurance, and
even a car
. Did you also know that you can purchase tires for your vehicle at Costco? The question is whether or not it's a good idea to purchase Costco tires. What are the advantages as well as the disadvantages of such a purchase?
Disadvantages of Buying Costco Tires
As someone always in favor of the bad news before the good, let's begin with the disadvantages.
Costco offers no advance appointments for either tire installation or balancing and rotation. This is probably not a deal breaker unless you have one specific day or time-frame in which you are available to get your tires done, or if you are in a hurry.
If you show up to have your tires either installed or maintained, you are at the mercy of that day's schedule. You may get lucky and have no wait time at all. On the other hand, it's more likely you may have to wait up to two or three hours. You could spend this wait time shopping inside of Costco, but the downside to that is that you will inevitably spend more money.
Another disadvantage to buying tires at Costco is a lack of selection. Typically, Costco carries Bridgestone, BF Goodrich, and Michelin tires. There is no denying that these are among the top brands of tires, but you will not have the option of choosing from other alternative brands.
As far as pricing, Costco is generally fairly competitive. However, you could probably research and find lower prices at a discount tire shop. You may end up paying the same price, though, once you consider tire disposal and installation fees.
Advantages of Buying Costco Tires
As far as advantages, the number one would probably be the lifetime warranty replacement of tires purchased at Costco. If you experience a flat tire, Costco will attempt to repair the tire or credit you for the amount of tread that is still remaining on your tire if it cannot be repaired. If the tire is fairly new at the time of the flat, Costco will replace it with a new tire.
The other perk that goes hand in hand with this is Costco's lifetime rotation and balancing service. This could save you money over the course of owning your tires. The issue here, like with getting tires installed, is there is no appointment system. That means if you want to get a quick tire rotation, you don't know how long it will actually take.
Costco also inflates tires using nitrogen instead of regular air. Tires inflated with nitrogen are said to stay better inflated than those tires inflated with air, and properly inflated tires can help save money on gas. Costco also offers cheaper installation prices in comparison to other tire shops, which could allow for a big savings.
Like most large purchases, there are pros and cons involved when making a decision. It seems that Costco's competitive pricing and extended warranty and maintenance services may be worth the extra wait time you may experience by not being able to schedule an appointment in advance.
Give the gift of savings! Learn more
Besides tires Costco has other things for your car, check them all out in these articles.
Costco Gas Hours
Does Costco Do Oil Changes?
Costco Gas Calculator: Will I Save Money Buying a Membership if All I Buy is Fuel?
(Photo courtesy of David Goehring)
I work as a freelance writer, and my passion is storytelling. I write blogs, feature articles, poetry, short stories, children's stories, and I'm currently writing a novel.