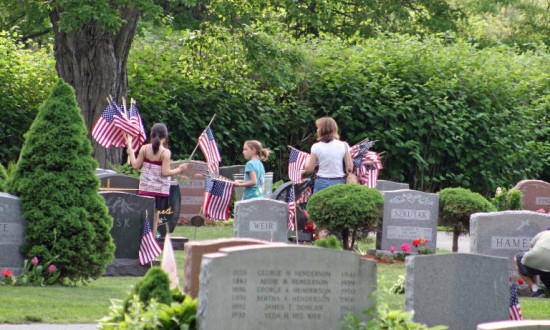 Memorial Day is a federal holiday put in place to honor those who gave their lives in battle for their country. While it's often
confused with Veterans Day
(a day to honor all those who honorably served in the military), in actuality it's a more somber event giving thanks to our nation's war dead.
There are many ways you can help to observe the holiday depending on how much effort you want to make. Below you'll find a number of activities you can participate in as part of Memorial Day services and events that will take place on May 25, 2015.
Minute of Silence
Congress has established the National Moment of Remembrance which asks Americans to observe a minute of silence at 3 PM local time on Memorial Day, The National Moment of Remembrance isn't supposed to replace traditional Memorial Day events, but is one to be added to the day's events to show national unity and honor those who gave their lives in service to the United States.
Pay Respect
There are many military cemeteries and monuments across the US. You can take the time to visit these place and give a moment of respect at them.
Attend Ceremonies and Celebrations
There are a lot of Memorial Day events which take place over the weekend. You can attend Memorial Day ceremonies, parades, festivals, fairs or concerts in remembrance of the holiday.
Volunteer
One of the events which take place at many military cemeteries is placing an American flag on each grave. You can volunteer to help doing this at a nearby cemetery. You can also volunteer to help out with the Memorial Day events (parade, ceremony, etc.) taking place in your town.
Fly a Flag
If you have flag display at your house, you can fly the flag over the Memorial Day weekend to honors those who died for our country.
Fun Runs
Many communities have "fun runs" over the Memorial Day weekend. These often support charities associated with the military. You can participate in these to get some exercise, have fun, and help others as well.
Donate
There are a lot of quality charities which help military families and veterans. You can make a donation to one of these charities in remembrance of those who died for their country.
These are just a few of the simple things you can do over the Memorial Day weekend to observe what the holiday is supposed to represent. No matter how you choose to spend the weekend, it's worthwhile to take a moment in whatever way you feel best to reflect on the day, and the reasons why it was created.
(Photo courtesy of my_southborough)