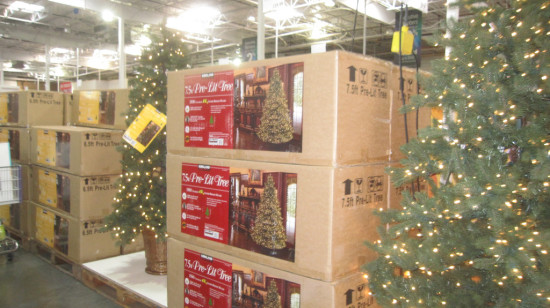 Update: Costco 2015 Holiday Schedule
There is a growing trend for stores to extend their store hours in the days leading up to Christmas to give the last-minute procrastinators more time to get all the gifts they need to buy. The reason stores are targeting this consumer segment is because those last-minute shoppers are a growing trend, and retailers are desperate to bring in as many holiday dollars as they can. While this is the general trend, Costco warehouses have decided not to participate in it for the most part.
While stores like Target have extended their hours, and others like Macy's have decided to stay open 24 hours a day as Christmas approaches, Costco has decided to stick with their normal operating hours in the lead-up to Christmas. Costco did extend its Saturday hours by an hour for November and December (they closed on Saturdays at 7 PM instead of 6 PM), but have not changed the hours in the days leading up to December 25. The only exception is they open an hour early and close early on Christmas Eve, and Christmas Day is a day the warehouse is closed.
With the trend of more stores opening longer hours becoming more established, there will certainly be pressure for other stores to follow suit in the future. This doesn't mean Costco will bend to that pressure. Costco is one of the stores which refused to open for Thanksgiving Day although the trend now is to do that, and it also closes for a few federal holidays when virtually no other store does in order to give time to their employees time to spend the day with their families.
For those who plan to do some of their last-minute shopping at Costco, the warehouse will be open at the following times.
December 21 (Sunday): Costco opens from 10:00 AM to 6:00 PM.
December 22 (Monday): Costco opens from 10:00 AM to 8:30 PM.
December 23 (Tuesday): Costco opens from 10:00 AM to 8:30 PM.
December 24 (Christmas Eve): Costco opens from 9:00 AM to 5:00 PM.
December 25 (Christmas Day): Costco is closed.
December 26 (Friday): Costco opens from 10:00 AM to 8:30 PM.
Even though the warehouse won't be open for extended hours, there should be plenty of time to do shopping there in the days before Christmas, and it can be a great place to stock up on bulk supplies if you are having people over. The drawback is the place is going to be crowded with a lot of other last-minute shoppers, and that's usually not a good way to save money. Most of the time when you shop last second in a crowded store, you don't make quality gift giving decisions, at least not as well as you do when you have more time and more space.
For those who do decide to shop Costco last second, there is one step you can take which will save you a lot of time, stress and aggravation when shopping with the crowds. Create a list of what you need to buy before you go. If you have someone on your list who you don't know what to get, head over to Costco's online website to browse for something there before you go, then add it to your list before you go. Looking for a gift online will make shopping a lot less stressful, and help you get in and out of the warehouse as quickly as possible.
For your friends who like Costco, or those who don't have a membership but your think might like to try it, you might want to consider getting them a Costco cash card. Costco doesn't have a free guest pass, but their cash card acts as one even for those who don't have a membership.
(Photo courtesy of Manuel Iglesias)