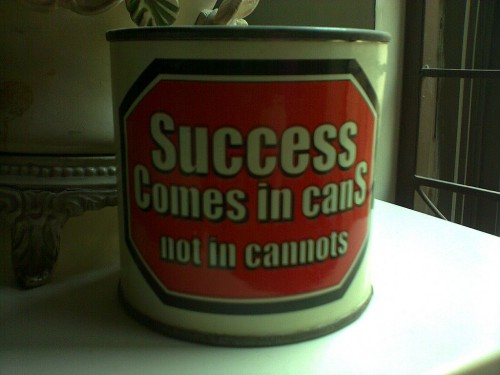 I'm always amazed when, in real life conversations or article comment trails about money related topics, someone inevitably says, "That [insert behavior that is not the norm] will never work for me. It simply cannot be done." Either that or they quickly dismiss someone else's success as the product of luck, incredible timing that can never be replicated, or some other gift sent down from the gods. Instead of examining what made a person successful, they choose to blind themselves to the options and opportunities that are available to them.
Choosing to be blind is easy. It's very easy to sit back and disparage someone's achievements, whether it's early retirement, a comfortable lifestyle with no debt, or buying a home with cash. It's certainly easier than doing the hard work of looking at another person's lifestyle choices and seeing where yours may have prohibited you from reaching that level of success. And you certainly don't want to put in the hard work required to match their achievements, so it's best to just flop on the couch and refuse to see that you could do better.
Let's say you're looking at someone who successfully retired at age forty. It's easy to whine about how lucky they were to work in an occupation that experienced a boom, or how they benefited from market timing, or how they never lost a job (or found one so quickly if they were laid off), or how their parents paid for their education, or how they got incredibly lucky to have invented the wonder widget, or even how fortunate they were to keep their expenses low during the recession so they could keep saving for retirement. What's missing in all the whining is the work that went into the success.
Okay, the person might have had a job in a great industry. But they went to work everyday, did good work, kept the job, and probably got some promotions. That's not all luck. And so what if the parents paid for an education? Granted, the person may have started out with less debt than someone who had to pay their own way but if they're successful now, it's because they used that education to its fullest. Any million dollar invention or business required a lot of work, probably more so than the guy working the corporate job. And if they managed to retire simply by keeping expenses low? That took work and creativity, as well. It's not easy to be the guy who doesn't have a TV subscription or a cell phone, or to eat at home every night instead of bar hopping.
But no one wants to look at the work, creativity, and sacrifices that go into success, much less try to replicate them for themselves. No one wants to admit that if they had made some better choices with money, worked a little harder, hustled more, made conscious choices to save more and spend less, or studied a little more that they could be in the same situation as their successful neighbor. Nope. It's easier to put the blinders on and attribute someone else's success to Fate because if you see what could be different, it puts a burden on you to change. And who wants that?
But imagine what would happen if you chose to see the work that went into that success. Even better, imagine what would happen if you tried to be more like this other person. What if, instead of saying how odd it is that Joe doesn't have a TV, you ditched yours and used the time and money for more productive things? What if, instead of lamenting Joe's good luck, you put in more quality hours at work (or into inventing that widget), learned some new skills, found ways to cut expenses, and generally improved your lot in life? What if, instead of dismissing Joe's DIY lifestyle as impossible for you, you learned to tackle some projects on your own? Hmmm.
Take the blinders off and accept the challenge that comes with seeing how other people achieve success. See where you could do better with money. See how some other fantastic, creative, smart people live their lives and make their financial situations work. Many people with small incomes achieve success with money every day. It's not just millionaires. They succeed because they see what others do not and then they change their actions accordingly.
(Photo courtesy of Seeker of Guidance)