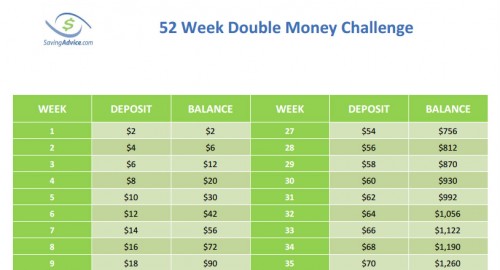 There continues to be a lot of interest in the 52 week money challenge, and especially different versions of it that people can attempt. For those who managed to complete the standard challenge last year, or who are simply looking to save more money than the standard version provides, you can try the 52 week double money challenge.
The concept for the 2x challenge is the same, but you save double the amount of the standard challenge. For example, during week one you'll need to save $2 instead of $1. In week two you'll need to save $4, in week three you'll need to save $6, and in week fifty-two you'll need to save $104. While this is certainly more difficult than the standard challenge, the benefit is that at the end of the year you'll end up with twice the money in your savings account. Instead of $1,378, your bank account will hold $2,756.
52 Week 2x Challenge (click on image to print)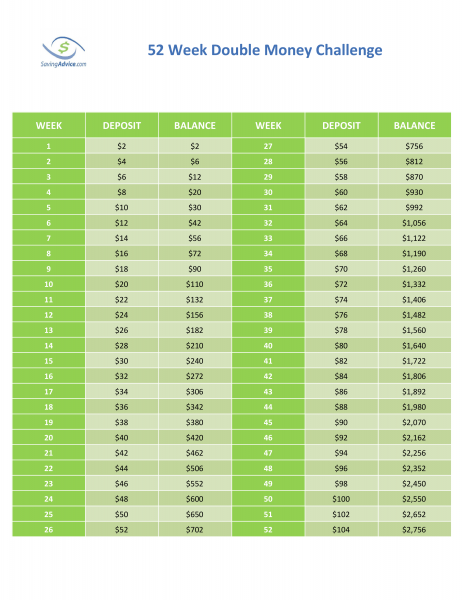 Following the above double challenge from week one through week fifty-two amplifies the issue of needing a lot of money in the later months. In the above version, you would need to save $404 in December alone. While this may not be a problem for everyone, the later months tend to be when money is tightest due to the holiday season. If this is the case, we would recommend doing the alternate double money version.
52 Week 2x Alternate Challenge (click on image to print)
This version will allow you the flexibility to choose the amount you'll put into the account each week depending on how your cash flow happens to be that week. That means that you can knock off the high amounts when life is going smoothly, and then fall back to putting in the smaller amounts on those weeks when life deals you the unexpected. The alternate version simply gives you the option of putting away the amount that makes the most sense for that week, rather than having an amount that has been predetermined.
As with all these challenge versions, this is another option to consider when choosing the one that best fits your needs. Finding the best fit can be an important part of the process, as it'll increase the likelihood that you both enjoy the challenge, and ultimately reach the goal. While it can be tempting to try to save as much as possible, in most cases it's far better to choose a smaller amount first. This will help you to get into the habit of saving money. This is more important than trying to save more and quitting in the middle because the challenge becomes too difficult. Once the savings habit has been formed and you feel confident with the challenge, that's when it's beneficial to move onto versions which require you to save more.
There are actually a wide variety of 52 week challenges and variations that you should consider when determining which is best for you and your personality. Below is a list of some of the alternatives to take the time to consider.
The 365 Day Money Challenge
52 Week Challenge – Standard
52 Week Challenge – Variations
52 Week Make Money Challenge
52 Week Money Challenge For Kids
26 Bi-Weekly Money Challenge
24 Bi-Monthly Challenge Chart
12 Monthly Money Challenge Chart
Fun Reading From Around The Web
Lastly, there are a ton of reasons why you want to save money. The Free Financial Advisor has a nice review article on the advantages and disadvantages of saving money. The Financial Geek has a list of nine benefits of saving money in the bank. And finally, Grant Sabatier over at millennial money has an excellent write up of how he saved 1.25 Million in 5 years.
Readers, do you have any savings tips, or have you taken a savings challenge? If so, please leave us a comment below.
Jeffrey strain is a freelance author, his work has appeared at The Street.com and seekingalpha.com. In addition to having authored thousands of articles, Jeffrey is a former resident of Japan, former owner of Savingadvice.com and a professional digital nomad.