I've had a few people request a monthly chart that uses the
52 week money challenge
numbers. I've been hesitant to make this one because my initial thought was that it was so far removed from the 52 week money challenge that it doesn't even look much like it anymore. The more I thought about it, however, the more it became apparent that if you're only paid once a month, probably the best way to save that money is to immediately pay yourself first, rather than each week. I finally realized that if this version helps even one person follow through and create an emergency fund, then it's worth creating.
Monthly Challenge (click on image to print)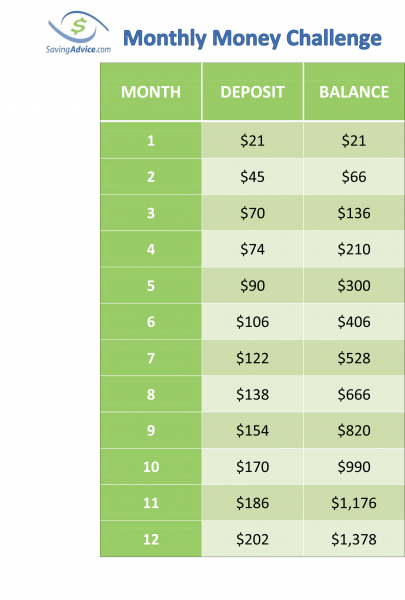 There were a few issues when creating this monthly money challenge chart. The 12 months don't work well when incorporating the 52 weeks, so there are four extra weeks that need to be squeezed in over the course of the twelve months. If you strictly followed the calendar year, these payments would end up throughout the year, but I felt that the beginning numbers are so low that the best time to sneak those weeks in was at the beginning. I did it as follows:
Month 1: $1 + $2 + $3 + $4 + $5 + $6 = $21 (six weeks)
Month 2: $7 + $8 + $9 + $10 +$11 = $45 (five weeks)
Month 3: $12 + $13 + $14 + $15 + $16 = $70 (five weeks)
Month 4: $17 + $18 + $19 + $20 = $74 (four weeks)
Month 5: $21 + $22 + $23 + $24 = $90 (four weeks)
Month 6: $25 + $26 + $27 + $28 = $106 (four weeks)
Month 7: $29 + $30 + $21 + $32 = $122 (four weeks)
Month 8: $33 + $34 = $35 + $36 = $138 (four weeks)
Month 9: $37 + $38 + $39 + $40 = $154 (four weeks)
Month 10: $41 + $42 + $43 + $44 = $170 (four weeks)
Month 11: $45 + $46 + $47 + $48 = $186 (four weeks)
Month 12: $49 + $50 + $51 + $52 = $202 (four weeks)
It's not exactly pretty, but it works. This standard version runs into the issue that it's heavy on saving money at the end of the year when money may be tightest due to the holidays. It therefore made sense to create an alternate version for this as well. This allows you to choose which of the twelve amounts to deposit each month depending on how your finances are doing that month. Once you input that amount, you cross off the box at the bottom. It simply gives you a bit more flexibility, which will hopefully allow you a better chance to complete the challenge.

Monthly Variation Challenge (click on image to print)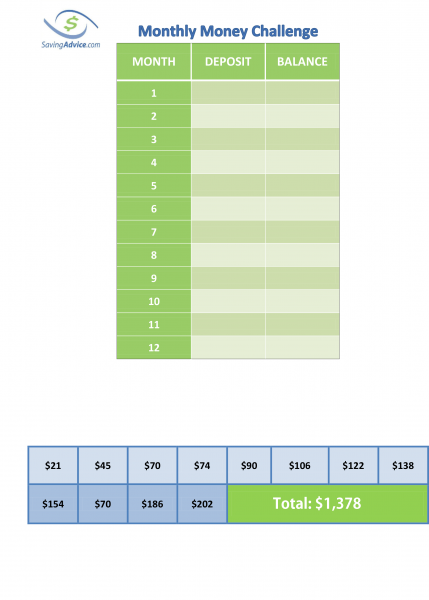 The problem is that even though this alternate version gives more flexibility than the standard monthly chart, it has a lot less flexibility than the original challenge, as there are only 12 choices rather than 52. While this is certainly one option to try to do the challenge, it seems to me to make more sense to shoot for saving $1200 by saving $100 each month, $1500 by saving $125 a month, or $1800 by $150 each month, etc. You could even do it with a smaller amount, and then increase that amount as the months go by and you become more confident in your ability to save.
What this monthly version does do is give you another option to consider while searching for which challenge ultimately best fits with your personality. It also has the distinct advantage that when you get paid your monthly check, it makes it fairly easy to save this amount right then and there before all the money gets spent on other things. If you're disciplined enough to make sure that you pay yourself first when your paycheck arrives, you should succeed at completing the challenge, and that's really the key to this game.
For those searching for alternate variations of the 52 week money challenge, here are a number of other option to consider:
365 Day Money Challenge
52 Week Standard Save Money Challenge
52 Week Variation
52 Week Make Money Challenge
26 Bi-Weekly Money Challenge
24 Bi-Monthly Challenge Chart
52 Week Money Challenge For Kids
Getting Cash To Fill The Monthly Money Challenge Chart
To save money you need to have income. Most of the time this comes from a regular nine to five job, but a lot of people are looking to supplement their regular income. The internet has an unending amount of ideas to do this, but here are a few lists you may not have read. Walletsquirrel has 70 creative ways to make extra money, Gathering Dreams has a good list of ways to make $100 per day. Finally dollarsprout has a comprehensive list of 190 side hustle ideas.
Here are couple of ways to make extra money that you might not have thought of.
Getting free shares of stock. A lot of brokerages are offering shares of stock as an incentive for signing up. These are Robinhood, Public, Firstrade and Webull. The idea here is to sign up with all of them, get the shares of stock and either sell the stock or collect any dividend payments and add those to your savings total. Signing up with all of them could get you betwen $50 and $200.
Selling your data. Due to regulatory changes a number of data brokerages have started that pay you to share your personal data with them. How it works is you let them track your spending, social media and other information. In return, you get paid a specific amount. Its usually just a couple of bucks a month. Even though its low, its mostly passive, so you don't have to work too hard for it. Companies to look into are Nielson Opinion Rewards, Invisibly, Reklaim and Upvoice.
Readers, are you having any trouble saving? Do you have any ideas for making money that we might not have heard of? Leave us a comment below.
Jeffrey strain is a freelance author, his work has appeared at The Street.com and seekingalpha.com. In addition to having authored thousands of articles, Jeffrey is a former resident of Japan, former owner of Savingadvice.com and a professional digital nomad.