When people talk about making small changes that can save a lot of money over time, the daily cup of coffee is often the example used. If you skip that $4 morning cup each day, you save $20 a week which comes to over $1000 saved for the entire year. The thing is, even if you skip out on buying the cup of coffee, your body is still going to crave it.
There are a number of ways to save money on coffee. I often carry a thermos of coffee (or tea, which I actually prefer) when I leave my house. A thermos provides me with about eight cups of coffee and that is more than enough to last as I do my daily errands. Nevertheless, sometimes a thermos of coffee is just not enough to satisfy my desire to get a hot beverage that I do not have to make for myself, so I decided to do some exploring. Surely there must be ways to get a free beverage somewhere nearby. Fortunately, I found several.
Bank or Credit Union
Local banks and credit unions often have coffee brewing in the morning. Some larger banking institutions do as well, but it seems to be more common for the smaller ones to do this than the larger ones. My local credit union even serves free doughnuts on Saturday morning which is a double savings bonus.standard
Library
While this isn't a standard service that all libraries do (and they do offer a lot of other free services), I have been to more than one where there is coffee served in the morning. It's great to be able to wake up with a fresh cup in hand as I browse through different books to see what I want to take home to read.
Local Bookstores
Much like the library, many local independent bookstores offer a pot of fresh brewed coffee each morning if you happen to still have one in business in your town. The larger chain bookstores tend to have chain coffee shops in them these days instead of free cups. Again, it's a great way to get your morning fix and to spend some time looking for books that you might be interested in purchasing.
Hotels
Most hotels will have coffee brewing in their lobby in the morning, and many of them will have it available all day. You can go in and ask them about their rates and grab yourself a cup on your way out. Hotel lobbies are also a great place to get free wifi if you need it. If it is pass code protected, you can usually get the password from the person at the front desk if you ask nicely.
Building Supply Stores
Many building supply stores such as Home Depot and Lowes will have free coffee available in the morning for their customers. It makes sense. Most construction workers have coffee running through their veins. While it might depend from store to store if they actually serve it, my local Home Depot does.
Work
if you happen to work in an office where they offer free coffee, be sure to take advantage of it. While it's not as common as it once was, there are still a lot of office coffee pots that run each morning. If the reason you avoid the office brew is because you never know if it's fresh, use this easy cup/time trick that everyone in the office will greatly appreciate: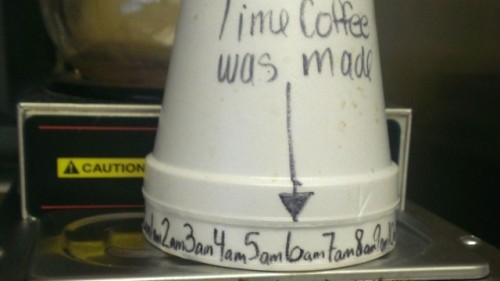 Restaurant Promotions
While you won't be able to walk into a restaurant everyday and score a free cup of Joe, free cups are often a popular way to promote new promotions that restaurants are having. There are also holiday celebrations and specific days of the year that many fast food chains will promote free coffee. Stay on the lookout for these promotions and you can get free cups a number of times a year this way.
Grocery Stores
My local grocery store (Publix) has two large urns of freshly brewed coffee (regular and decaf) at the entrance to each store. I spend a lot of time shopping for groceries, usually visiting Publix at least 4 or 5 times per week as my first chore of the day. Conveniently, I can start my day with a cup of Publix coffee at no charge. My son will stop into Publix just to get a cup of coffee if he is walking by the store. Who says there no such thing as a free cup of coffee.
Decor Stores
This may seem a bit strange, but some furniture and decor stores will sometimes offer free coffee and tea samples. World Market is one that comes to mind. It make sense. With a free coffee in hand, you are more likely to stick around a little longer to look at what they have to offer. Just make sure you don't buy anything that you weren't already going to buy or that no-cost cup will quickly be quite expensive.
Gyms
Our local YMCA has an urn of coffee available to members every morning. I stop by on Saturday mornings especially (but I confess I have not worked out in a long, long time) and enjoy a cup while I am on my way to watch my sons play baseball nearby. The coffee tastes good and the price is just right!
Churches
When I was a young man, my friends and I mapped out all of the churches at which we could get free food on different nights of the week. At one point, a friend who was particularly aggressive in getting free meals managed to get a free dinner from the Hare Krishnas on Fridays, a vegetarian meal at a local Seventh Day Adventist church on Saturdays and another meal from yet another church on Sundays. I was less aggressive in that regard, but I did always manage to find churches that offered free coffee (and often ended up visiting events at a Unitarian church because they had the best coffee). Today, I can stop by the parish life center at my local church and find a free cup of coffee many days of the week.
Barber Shops
If you have to pay to get your hair cut, look for a barber shop or salon that offers perks such as free beverages. We have several local barbers who offer coffee, soda and even beer or wine while patrons are getting their hair cut. Admittedly, a patron has to be waiting for a haircut to get the free coffee, but if you have to spend money, you might as well get as much as you can for it!
Aveda Beauty Stores
If you are wandering around in a shopping mall and you have a thirst that you need to quench, Aveda beauty stores offer complimentary tea to patrons even if they are merely browsing.
Teavana
Teavana is a tea retailer with stores in thirty states. Although Teavana does not sell tea by the cup (bulk teas only, at least at my local store), they do offer several complimentary cups of tea in their stores.
Where do you go if you want a free cup of coffee or tea? Are there any stores near you that offer complimentary beverages while you browse?
(Photo courtesy of AtOMiCNebula)