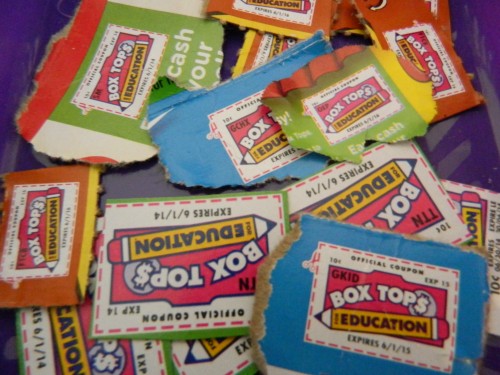 I always find it interesting when I come across things that can be sold that the vast majority of people would never even consider selling. I discovered the other day that there is a robust market for selling Box Tops for Education (BTFEs). While most people simply ignore these, those with kids likely save them for their own kid's schools. What most people don't realize is that anyone who collects them can make a few extra dollars. BTFEs sell for between 5 cents to 10 cents each, and closer to 8 cents to 10 cents when grouped in lots of 100 or more. That means for every 100 that you can collect, you can expect to get $8 – $10 for them. On rare occasions, they can sell for as much as 15 cents each.
The beginning of the school year is one of the best times to both collect and sell them. Many manufacturers that use them on their products offer two or three of them on their packaging at this time of year instead of just one. It's a great time to sell them because schools often like to begin their yearly collection of these right away, and often will offer prizes for classes that can collect the most to get the ball rolling. This means that they are in high demand at the beginning of the school year and command higher prices than they would at other times due to the competition for them.
While the demand is high for these on eBay and you should have no problem selling them there at any time of the year, it probably makes sense to try to sell them on Craigslist or a similar local free advertising market. Due to the fees associated with eBay, you'll likely keep more money after expenses selling on alternative sites even when you sell them for slightly less than you could get for them on eBay. I have heard from others that these sell well at flea markets and garage sales.
The question is, who would buy these Box Tops when they are free on packages? The usual buyers are parents, relatives and alumni of schools who want to help both their child and the school. Schools or Parent Teacher Associations (PTAs) will often hold contests in an effort to get as many BTFEs as they can for the school (each is worth 10 cents to the school toward a variety of supplies such as computers and PE equipment). The more that the schools can collect, the more options they have to get needed supplies at no cost. While most parents will do their best to collect as many from the products that they normally buy, there are always a minority of parents (and often grandparents) who want to make their child (grandchild) shine, and they're willing to buy the BTFEs to help in this cause. There are enough of these parents and relatives that there is always a robust market for those willing to sell the BTFEs that they have collected.
One of the best parts about collecting these is that they are easy to store and send. They can easily be placed into a baggie in a kitchen drawer near the trash can or where you keep your kitchen scissors. This way it will be automatic to cut them out of packaging before they end up in the trash. Since they are so light and compact when cut out, they are easy to send to anyone who is interested in buying them.
While collecting the BTFEs on the everyday items you purchase is one way to collect them, there are additional ways that you can collect even more.
Recycle Centers
If you have a recycling center near you, this can be a wonderful place to search. Since most people don't remove the BTFEs before they recycle the packaging, there should be plenty for you at any local recycling center. They key is to be familiar with the packaging that will contain these (see list below). Once you are familiar with what products carry them, you should be able to come away with quite a few with every visit.
Dumpster Diving
Dumpster diving is a great way to find extra BTFEs (just make sure that it's legal in your town — it still is in most places). Dumpster diving at supermarkets is an especially good place to find these. Even if you aren't one to eat nearly or recently expired food (this really should't discourage you), the packaging can still mean some extra money for your wallet.
Friends & Family
Just like many parents ask friends and relatives to collect their BTFEs for their children's schools, you can do the same. Ask as many people as you can to begin collecting them for you and you should soon have a steady stream of them coming to you.
Extreme Couponing
A lot of the products that have BTFEs are products that can be purchased for very little (and sometimes for free) if you extreme coupon. In addition to giving tens of thousands of dollars in free food to local food banks through extreme couponing, I have also donated thousands of Box Tops to local schools while doing this. If you incorporate collecting these with your current couponing, the amount you make from selling these can lower your overall monthly food bill even more.
Freecycle
It never hurts to ask, and a great place to do this would be your local Freecycle board. There are likely a large number of people who would be more than willing to collect these (or may have a pile of them at home and not know what to do with them) if they knew that someone wanted them.
Arbitrage
If you can find a local distributor who buys a lot of these products and takes them out of their packaging for redistribution, you can offer to pay a couple cents for each one and then resell them for a higher prices. It's probably packaging that they were throwing away anyway and it gives them the opportunity to earn a bit more money. Here is an example where a local distributor helped a man collect nearly $200,000 worth of Box Tops for a local school.
The best part of this whole process is that when you sell, you aren't taking money away from schools, and are in fact making sure that schools get even more money. When people buy them from you, you can be sure that they will be donated to a local school somewhere. By collecting ones that would have otherwise been thrown away, you not only make a little money for yourself, you guarantee that schools will get more money from this program by ensuring more get to them isntead of end up in the trash.
The following items and products have Box Tops for Education on them for the 2013 – 2014 school season
APPAREL
Hanes printed shirts/sweatshirts
Hanes boys/girls underwear
Hanes boys/girls socks
Hanes specialty marked products
BAKING & BAKEWARE
Betty Crocker Bars & Brownies
Betty Crocker Cake & Frosting
Betty Crocker Complete Pancake Mixes
Betty Crocker Dessert Mixes
Betty Crocker Gluten Free
Betty Crocker Muffin and Cookie Mixes
Betty Crocker Pizza Crust
Betty Crocker Quick Breads
Bisquick
EZ FoilBy Hefty Disposable Pans
Fiber One Mixes
Gold Medal Flour
Reynolds Staybright Baking Cups
Reynolds Genuine Parchment Paper
CEREAL
Basic 4
Cascadian Farm
Cheerios
Chex
Cinnamon Toast Crunch
Cocoa Puffs
Cookie Crisp
Fiber One
Golden Grahams
Oatmeal Crisp
Kix
Lucky Charms
Raisin Nut Bran
Reese's Puffs
Total
Trix
Wheaties
FOOD STORAGE
Ziploc Containers
Ziploc Storage Bags
FROZEN
Grands! Breakfast Sandwiches
Green Giant vegetables
Old El Paso Frozen Entrees
Pillsbury Egg Scrambles
Pillsbury Pancakes
Pillsbury Pastries
Totino's Pizza
Yoplait Frozen Yogurt Bars
Yoplait Greek Frozen Yogurt Pints
Yoplait Frozen Yogurt Original Pints
Yoplait Greek Smoothies
Yoplait Smoothies
MEALS & SIDES
Betty Crocker Mac & Cheese
Betty Crocker Specialty Potatoes
Chicken Helper mixes
Green Giant Vegetables
Hamburger Helper mixes
Old El Paso Dinner Kits
Old El Paso Refried Beans
Old El Paso Shells & Seasoning Mixes
Old El Paso Taco Seasoning
Old El Paso®Taco Shells
Old El Paso Tortillas
Progress® Bread Crumbs
Progresso Recipe Starters sauces
Progresso Soups
Suddenly Salad mixes
Tuna Helper mixes
PAPER PRODUCTS
COTTONELLE FRESH Flushable Cleansing Cloths
KLEENEX Dinner Napkins (50 count)
KLEENEX Facial Tissues
SCOTT Bath Tissue
SCOTT Do It Yourself
SCOTT Naturals
SCOTT Paper Towels
PRODUCE
Green Giant Fresh
REFRIGERATED & DAIRY
ALPINE LACE Pre-Sliced Deli Cheese
Horizon Organic Milk
LAND O LAKES Butter Products
LAND O LAKES Cheese Products
LAND O LAKES Sauté Express Saute Starter
LAND O LAKES Spreads & Margarine
Pillsbury Big Deluxe Cookies
Pillsbury Crescent Rolls
Pillsbury Grands! Biscuits
Pillsbury Grands! Sweet Rolls
Pillsbury Pizza Crust
Pillsbury Refrigerated Cookies
Yoplait 4-Packs
Yoplait Baby
Yoplait Fridge Packs
Yoplait Go-GURT Yogurt
Yoplait Greek
Yoplait Kids Yogurt
Yoplait Pro Force Yogurt
Yoplait Trix Multipack Yogurt
SCHOOL & OFFICE SUPPLIES
Avery Binders
Avery Dividers
Avery Flash Cards
Avery Glue Stic
Avery Labels
Avery Name Badges
Avery Report Covers
Avery Sheet Protectors
Avery T-Shirt Transfers
Avery Tickets
Boise HD: P Paper
Boise FIREWORX Colored Paper
Boise X-9 Multipurpose Paper
Hi-Liter Brand Highlighters
Marks-A-Lot Markers
SNACKS
Betty Crocker Fruit Flavored Snacks
Bugles
Cascadian Farm Granola Bars
Chex Mix
Cereal Treat Bars
Fiber One Bars and Brownies
Food Should Taste Good Chips:
Gardetto's snacks
LÄRABAR snack bars
Mott's Applesauce
Mott's Fruit Flavored Snacks
Nature Valley Bars
Ocean Spray Fruit Flavored Snacks
Pillsbury Baguette Chips
TABLEWARE
Hefty Crystal Clear Plates and Cups
Hefty Deluxe Plates and Platters
Hefty Easy Grip Cups
Hefty Everyday Cups
Hefty Everyday™Soak Proof Plates, Bowls
Hefty Printed Cups
Hefty Style Plates
Hefty Zoo Pals Plates, Bowls and Cups
WASTE BAGS
Hefty BlackOut Tall Kitchen Drawstring Bags
Hefty Cinch Sak Large Trash Bags and Lawn & Leaf Bags
Hefty Easy Flaps Tall Kitchen Bags and Large Trash Bags
Hefty OdorBlock Tall Kitchen Drawstring Bags
Hefty Renew Tall Kitchen Bags and Trash Bags
Hefty SteelSak Trash Bags
Hefty Twist Tie Tall Kitchen Bags and Trash and Lawn & Leaf Bags
Hefty Ultra Flex®Trash Bags
Like Saving Advice? Subscribe!
Subscribe to get the latest Saving Advice content via email.